17 Dazzling Blossoms: Construction Paper Flower Crafts (Tutorials)
www.bengalpapercrafts.com
Hey there, artsy amigos! Let's talk about the wonders of construction paper when it comes to creating beautiful flower crafts.
Trust me, you don't need to be a crafting wizard to bring these vibrant blooms to life.
Grab your scissors, glue, and some construction paper, and let's dive into a world of creativity!

Construction Paper Flower Crafts (Step by Step)
From simple designs that are perfect for beginners to more intricate creations that will challenge your skills, these tutorials will help you create stunning paper flowers. Let's explore the variety of construction paper flower tutorials:
Easy Peasy Petals:
Learn how to create a classic five-petal flower using simple shapes and basic folding techniques. It's the perfect starting point for beginners!
Flower petals out from heart shapes – onelittleproject

Delightful Daisies:
Discover how to make adorable daisies with layered petals and a sunny yellow center. These cheerful flowers will brighten up any space!
Make attractive construction paper daisy flowers without Cricut – Paper Luv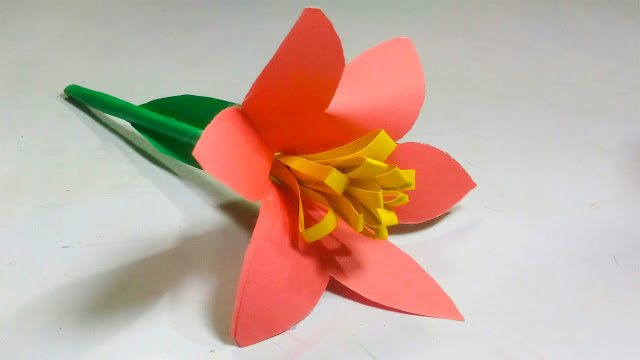 Radiant Roses:
Unleash your inner florist and craft beautiful roses with intricate layered petals. Follow the step-by-step guide to create stunning and realistic blooms.
How to make spray rose flowers with paper –Apartmenttherapy
Step-by-step instructions on making elegant rose flowers – Dreamypossy


Fantastic Fringed Flowers:
Explore a unique technique and create fringe-style flowers that add texture and dimension to your paper garden. Get ready to wow with these eye-catching blooms!
DIY fringed paper flowers – lovely rose flower – Jenifer Tran

Whimsical Waterlilies:
Dive into the world of waterlilies as you learn to construct these elegant and serene flowers. Master the art of shaping petals to create a floating beauty.
Making paper water lily with colored paper and glue – Mutha art
Easy to make paper water lily Step by step instruction – Sky goddies


Captivating Carnations:
Get your crafty hands busy with creating lovely carnations using clever folding and cutting techniques. These paper blossoms will impress with their ruffled petals.
Make a bridal bouquet carnation with paper – Dreamyposy

Graceful Gerberas:
Discover the art of crafting gerbera daisies with their distinct and vibrant petals. Follow the tutorial to create these charming and colorful flowers.
Template and tutorial for paper gerbera flowers –sweetredpoppy
Paper gerbera printable templates –paper-shape


Majestic Magnolias:
Learn how to create stunning magnolias with their large, delicate petals and captivating beauty. These paper blooms will make a statement in any floral arrangement.
How to make paper magnolias – Tutorial video – Sunflower Summer co
Paper Flower Wall Backdrop – lovelyindeed


Exquisite Orchids:
Embark on a crafting adventure to create elegant orchids. Follow the tutorial to master the intricate details and create these graceful and exotic flowers.
Orchid paper flowers template and tutorial video – paper luv
How to make paper flower dahlias for wall decor –Abbikirstencollections
DIY hand-cut paper flowers for flower theme party –Projectnursery 



Blooming Sunflowers:
Capture the essence of summer with vibrant sunflowers. Follow the step-by-step instructions to create these cheerful and iconic flowers that will brighten any space.
DIY giant sunflowers for photobooth and crafts- sunflowersummerco

Remember, each tutorial provides detailed instructions and visuals to guide you along the way.
Why Construction Paper Rocks
Versatility at its Finest:
Construction paper is like a superhero of crafting materials! It comes in a rainbow of colors, allowing you to create flowers in every shade imaginable. From bold reds to sunny yellows, the possibilities are endless.
You can easily fold, cut, and shape construction paper to create various flower designs. Whether you want classic roses, cute daisies, or unique fantasy blooms, construction paper has got your back!
Accessible and Affordable Fun:
Here's the best part: Construction paper is super accessible, meaning you can find it at your local craft store, school supply shop, or even your own home. It's like having a craft supply treasure right at your fingertips.
Not only is construction paper easy to find, but it's also pocket-friendly! You don't need to break the bank to get started on your flower crafting journey. Crafters of all ages can enjoy the art of constructing paper flowers without emptying their piggy banks.
What Makes Construction Paper Crafts Fun
Let Your Creativity Blossom:
With construction paper, you have the power to let your imagination bloom. Cut out petals in different shapes and sizes, layer them together, and watch your flower come to life.
Add some pizzazz by gluing on buttons, sequins, or glitter to give your flowers that extra sparkle. Don't be afraid to mix and match colors to create unique and eye-catching combinations.
Crafting Together:
Construction paper flower crafts are perfect for crafters of all ages. Whether you're a little artist or a seasoned pro, everyone can enjoy the joy of creating these vibrant blooms.
Gather your friends, family, or even your classroom buddies to embark on a flower crafting adventure. It's a fantastic way to bond, unleash your creativity, and brighten up any space.
So gather your construction paper, grab your scissors and glue, and let's bring these stunning paper flowers to life!