Beyond the Brew: 80 Vibrant Coffee Filter Craft Ideas & Activities
Hey there, crafty coffee lovers! Did you know that your humble coffee filters can do more than just brew your morning cup of joe?
That's right! They are fantastic materials for some fun and fantastic craft projects!

Today, we're diving into the exciting world of coffee filter crafts – a delightful way to unleash your creativity and add a touch of DIY magic to your day.
Whether you're a seasoned crafter or just starting on your creative journey, coffee filter crafts are perfect for everyone!
These versatile little wonders can be transformed into colorful butterflies, vibrant flowers, mesmerizing suncatchers, wonderful party decor items, dolls, animals, and birds.
And the best part? You probably have a stash of these filters right in your kitchen!
So, let's grab our craft supplies and explore the endless possibilities with coffee filter crafts.
From whimsical projects for the little ones to elegant decor ideas for adults, there's something for everyone in this creative world.
Get ready to have a blast crafting with coffee filters and making your home and heart bloom with joy!
Get your imagination brewing, and let's start this colorful adventure together! ☕🎨✨
Colorful and Bright Coffee Filter Crafts

Coffee Filter and Pipe Cleaner Flowers step by step – firstpalette
Coffee Filter Flowers: Crafting vibrant flowers from coffee filters, watercolors, and green pipe cleaners.
Diy coffee filter flowers with two different shades of pink twoshadesofpink.blogspot.com
Coffee filter paper flowers in rich colors www.funathomewithkids.com
Bold papercraft coffee filter flowers www.doodlecraftblog.com




Easy Coffee Filter Flowers littlebinsforlittlehands

Quick and easy coffee filter butterfly craft handsonaswegrow.com
Spin art coffee filter streamers: a messy summer craft for naughty kids handsonaswegrow.com
Diy quick spring craft: colored coffee filter flowers handsonaswegrow.com





Starched coffee filter flowers crafts with popsicle stick stems and button pistils handsonaswegrow.com
Coffee Filter Tie-Dye: Using coffee filters as a canvas for tie-dye designs with vibrant colors.
How to Tie Dye Coffee Filters for Crafts – creatingreallyawesomefunthings

Creating Coffee Filter Flower Garland Step by Step

Coffee Filter Butterflies: Creating colorful butterflies using coffee filters, markers, and pipe cleaners.
Colorful Summer Coffee Filter Butterflies  – onelittleproject

With just a few simple materials, you can create beautiful and colorful butterflies that flutter with creativity. Here's how to make Coffee Filter Butterflies:
Materials Needed:
Coffee filters (white or unbleached)
Washable markers or liquid watercolors
Pipe cleaners (chenille stems)
Spray bottle with water (if using markers)
Googly eyes (optional)
Glue (if using googly eyes)
Instructions:
Flatten the coffee filter: Lay the coffee filter flat on a protected surface, such as a plastic tablecloth or newspaper.
Color the coffee filter: Using washable markers or liquid watercolors, let your imagination soar as you create vibrant designs and patterns on the coffee filter. Experiment with various colors to make your butterfly unique and eye-catching.
Add water (for marker users): If you're using washable markers, lightly spray the coffee filter with water using a spray bottle. Watch as the colors blend and spread, creating a beautiful watercolor effect.
Let it dry: Allow the coffee filter to dry completely. You can use a drying rack or lay it flat on a clean surface.
Fold and shape: Once the coffee filter is dry, gather it in the center and accordion-fold it back and forth, like a fan. Secure the folded filter in the middle with a pipe cleaner, leaving some extra length on each side for the butterfly's antennae.
Create the antennae: Twist the extra pipe cleaner length above the fold to form the butterfly's antennae. You can also curl the ends to make them more playful.
Optional: Glue googly eyes to the center of the butterfly's body if you want to give it an adorable face.
Coffee Filter Art: Experimenting with different art techniques, such as tie-dye or watercolor, on coffee filters to create unique masterpieces.
Beautifully Crafted Coffee Filter Ballerina Dancers – onelittleproject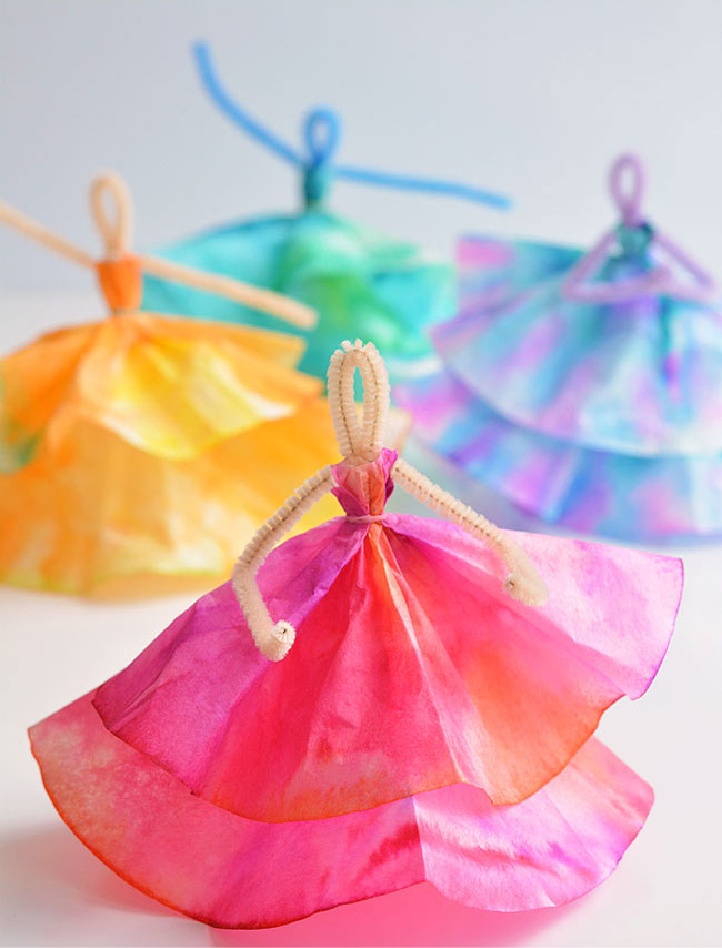 Coffee Filter Puppets: Make cute animal or character puppets with coffee filters, markers, and craft sticks.
Fancy coffee filter paper flower christinasadventures.com
Diy coffee filter snowball wall light www.craftynest.com
Toddler easter activity: coffee filter bunny www.kids-craft-ideas.com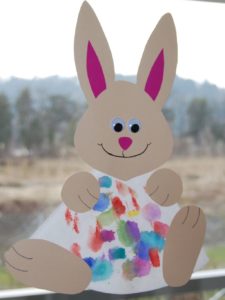 Coffee Filter Stained Glass: Creating stunning stained glass-like designs on coffee filters using markers or liquid watercolors.
DIY own sunshine: pretty floral coffee filter suncatcher for kids innerchildfun.com
DIY easter wreath with stained coffee filters happyhooligans.ca





Super quick coffee filter rainbow: a beautiful spring craft for kids www.lookwerelearning.com
Upcycled spring flower crafts for kids with a coffee filter and food coloring twitchetts.com



What Makes Coffee Filters a Better Craft Material
Coffee filters are an excellent choice for crafting due to their unique properties and versatility. Here are some reasons why coffee filters are ideal for crafting:
Affordability: Coffee filters are inexpensive and readily available, making them a budget-friendly crafting material.
Thin and Absorbent: The thin and absorbent nature of coffee filters makes them perfect for various crafting techniques, like watercolor painting or tie-dyeing.
Easy to Manipulate: Coffee filters are soft and pliable, making them easy to fold, cut, and shape into different designs.
Large Surface Area: Coffee filters usually come in a generous size, allowing for more significant artistic expressions and larger craft projects.
Complementary Material: Coffee filters pair well with other crafting supplies like markers, watercolors, and pipe cleaners, offering endless creative possibilities.
Safe for All Ages: Coffee filters are generally safe for kids and adults to use in crafting, as they are non-toxic and do not require any harmful chemicals.
Quick Drying: If using watercolors or markers, coffee filters dry relatively quickly, reducing waiting time for completing the craft.
Coffee Filter Crafts for All Ages
Imperfection is the perfection here, so kids will love to show their creativity on these inexpensive craft supplies with marker scribbling and water and watch the colors blend to create a unique piece of art and am sure they will have hours of engaging fun. Now let us jump on to the best-handpicked coffee filter crafts
1. Vibrant Coffee Filter Peonies Flowers for Room Decor www.thecraftedsparrow.com
2. Coffee Filter Pom-Poms for Festive Decoration thetomkatstudio.com




3. Beautiful Coffee Filter Roses in Subtle Shade www.emmalee-design.com
4. Coffee Filter Snowball Wall Light as Snowy Room Decor www.craftynest.com




5. Coffee Filter Angel Wings for a Perfect Angelic Costume alicewingerden.com
Coffee Filter Garland: Stringing coffee filters together to make decorative garlands for parties or home decor.
6. Amazing Coffee Filter Garland for a Nice Hall Decoration 31bits.com




7. DIY Coffee Filter Craft: Large Pendant Light www.parlourhomeblog.com
8. Letter Art Craft with Coffee Filters lilluna.com




9. Brilliant Coffee Filter Gift Wrap Idea acreativemint.typepad.com
10. Easy-to-Make Coffee Filter Tea Bags www.nelliebellie.com




11. Used Coffee Filter Bowl- A Nice Upcycled Project www.popsugar.com
12. Coffee Filter Christmas Tree for a DIY Xmas Decoration www.stonegableblog.com



Coffee Filter Snowflakes: Crafting delicate snowflakes with coffee filters and scissors, perfect for winter decorations.
13. Mesmerizing Coffee Filter Snowflakes mom.me
14. DIY Lamp Crafts from Reused Coffee Filter www.recyclart.org




15. Coffee Filter Kids Craft- Quick & Easy Butterfly thesimplecraftdiaries.blogspot.com
16. Homemade Paintbrush Set from Coffee Filters www.therealisticmama.com




17. Pretty Coffee Filter Flower Bouquet with Vibrant Colors www.funathomewithkids.com
18. DIY Fall Wreath from Watercolored Coffee Filter placeofmytaste.com




19. DIY Easter Crafts: Coffee Filter Flowers & Carrots urbancomfort.typepad.com
20. DIY Halloween Project: Coffee Filter Jack-O Lantern kidsactivitiesblog.com




21. Colorful Coffee Filter Autumn Leaves with Stem: A Fall Decor alittlepinchofperfect.com
22. Utterly Pretty Coffee Filter Feathers with Nice Color Strokes www.thecraftycrow.net




23. DIY Coffee Filter Kids Craft- Hot Air Balloon Window Display innerchildfun.com
24. Coffee Filter Turkey: An Easy Thanksgiving Preschool Craft kidsactivitiesblog.com




25. Colorful Coffee Filter Fall Leaves Garland for a Catchy Hall Decoration www.popsugar.com
26. A Complete Tutorial for Coffee Filter Halloween Monster raisinglittlesuperheroes.com




27. DIY Ocean Animal Crafts from Coffee Filter alittlepinchofperfect.com
28. Fall Window Art: Coffee Filter Leaf Suncatchers www.funathomewithkids.com




29. DIY Fall Craft- Coffee Filter Apples www.momto2poshlildivas.com
30. DIY Fall Tree: Easy & Wonderful Coffee Filter Crafts for Kids alittlepinchofperfect.com




31. Coffee Filter Wheel for Window Display pinkandgreenmama.blogspot.com
32. Bunches of Coffee Filter Peonies in Subtle Pink Shade prettypetals.typepad.com



Coffee Filter Sun Catchers: Make sun catchers by decorating coffee filters with markers or liquid watercolors, then hanging them in windows to catch the light.
33. Simple Coffee Filter Bugs and Flower Crafts kidsactivitiesblog.com
34. Coffee Filter Kids Crafts – Snail Suncatchers for Window Display www.notimeforflashcards.com




35. Wonderful Coffee Filter Rainbow Fish Craft Idea www.craftymorning.com
36. Coffee Filter Flower Decor with Catchy Twinkling Lights craftyourhappiness.com




37. Lavish Coffee Filter DIY- White Hydrangea Wreath www.picklee.com
38. Coffee Filter Flower Basket for The Perfect Easter Preparation www.auntpeaches.com




39. Video Tutorial for DIY Coffee Filter Topiary www.youtube.com
40. Coffee Filter Candle Bowls for Colorful Lighting www.lbrummer68739.net




41. DIY Coffee Filter Fall Leaves Garland Craft Tutorial www.sheknows.com
42. Sunset Cowboys Wall Art from Coffee Filters www.busybeekidscrafts.com




43. Coffee Filter Spooky Owl Wings for Yarn Owls buggieandjellybean.blogspot.com
44. Easy Tutorial of How to Make DIY Poppy Flower out of Coffee Filters craftscollection.net




45. DIY Wreath from Tea Stained Coffee Filter www.atkinsondrive.com
46. All White Coffee Filter Winter Tree with Gorgeous Ornaments centsationalstyle.com




47. DIY Bouquet of Colorful Coffee Filter Roses www.craftster.org
48. Super Trendy Coffee Filter Brooch craftingagreenworld.com




49. DIY Kids Project: Coffee Filter Barik www.lbrummer68739.net
50. Earth Day Preschool Craft for Kids: Coffee Filter Earth with Hands easypreschoolcraft.blogspot.com




51. DIY Coffee Filter Lamp Shade Craft Tutorial www.shelterness.com
52. Sparkling Angel Wings- Festive Ornaments Made Out of Coffee Filters www.craftsalamode.com




53. Coffee Filter Pumpkins- Perfect DIY Halloween Crafts for Kids www.thehappierhomemaker.com
54. Butterfly Mobile Craft from Colorful Coffee Filters www.firstpalette.com



Coffee Filter Wreaths: Designing beautiful wreaths by folding and shaping coffee filters into floral arrangements.
55. DIY Ideal Fall Decor- Coffee Filter Sunflower Wreath –smallfryandco.blogspot.com
56. Coffee Filter Spring Flower Treat Bowl Decor www.marthastewart.com




57. DIY Patriotic Wreath from Red, White, and Blue Coffee Filter craftingmom.com
58. Coffee Filter Thanksgiving Craft Idea: Turkey Napkin Decor brasspaperclip.typepad.com




59. Easy St Patrick's Day Craft: Coffee Filter Shamrock for Kids www.weknowstuff.us.com
60. DIY Autumn Tree with Colorful Coffee Filter Leaves patchodirtfarm.blogspot.com




61. Fancy Coffee Filter Napkin Rings Turkey Craft for Thanksgiving Day www.crayola.com
62. How to Craft a Party Poms with Coffee Filter www.youtube.com




63. DIY Coffee Filter Flowers for Halloween thesirenstale.wordpress.com
64. Fun DIY Craft- Fall Leaves from Coffee Filter and Watercolor www.havingfunathome.com




65. DIY Coffee Filter Craft Rainbow Fish with Paper Plate Background ourcraftsnthings.com
66. Intricate Coffee Filter Stars with Floral Embellishment seagypsystudio.blogspot.com




67. Admirable Coffee filter flowers www.designsponge.com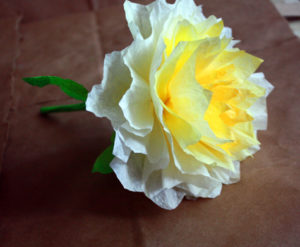 5 Reasons How Coffee Filter Crafts Are Beneficial
Engaging in coffee filter crafts offers a range of benefits beyond just creating visually appealing artwork. Here are some advantages of getting crafty with coffee filters:
Boosts Creativity: Crafting with coffee filters encourages creativity and imagination, as individuals experiment with different colors, techniques, and designs.
Stress Relief: Crafting can serve as a therapeutic activity, helping to reduce stress and promote relaxation.
Enhances Fine Motor Skills: Working with coffee filters, folding, cutting, and manipulating them, helps improve fine motor skills, especially in young children.
Sense of Accomplishment: Completing a coffee filter craft project provides a sense of accomplishment and boosts self-confidence.
Family Bonding: Coffee filter crafts can be a fantastic way for families to bond and spend quality time together during crafting sessions.