64 Quick Halloween Costume Ideas: Complete Guide for Halloween 2019
Some Quick Halloween Costume Ideas for everyone in the family, yes! including few cute costume ideas for the little pooch too. While Halloween is around the corner, you don't have to stress yourself up on whether to choose something scary spooky or go with your besties as sexy trio or opt for a funny or smoking hot couple costume or choose a vintage style or hop on to classic fairy tale or a Hollywood Halloween costume to stay on the frame, be creative and DIY a last-minute Halloween costume with the things you have at home or be it whatever we have your back. Just relax and scroll down for huge collection of clever Halloween costume ideas for Creative Couples to DIY teen group, Simple Adult costumes to easy and cute toddler make up ideas and yes for skinny to plus size ideas too.
Scroll to bottom if you are just looking for Ideas without images (Disney, Hollywood, and BFF ideas)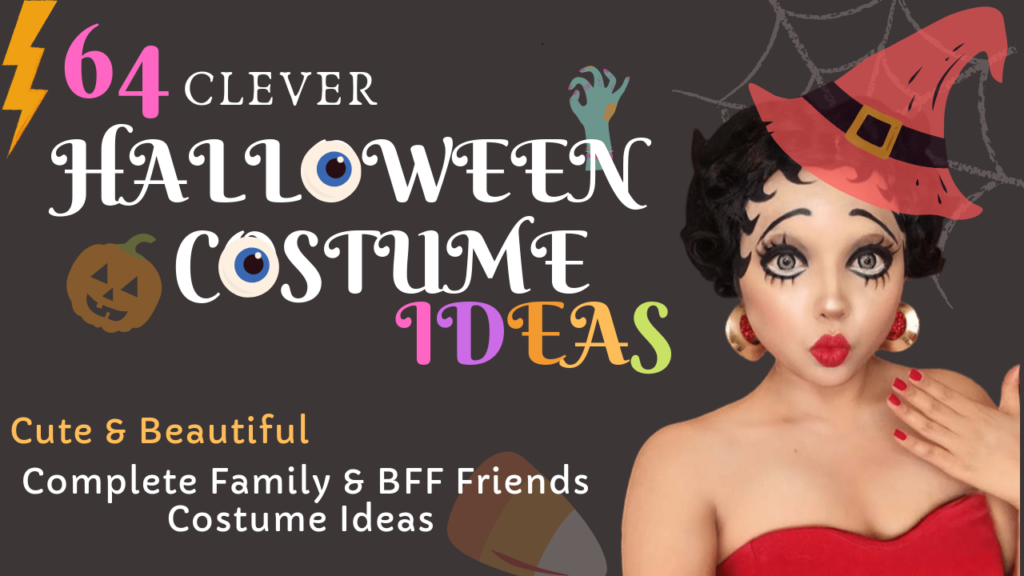 And meanwhile, if you have missed our 60+ Halloween craft ideas for kids, have a glance you will surely love the section to keep your toddlers and grown-ups engaged and also to help you with your homemade party decor.
Halloween Costume Ideas
Betty boop plus size costume and makeup idea – all you have to is Large dolls size eyes hairline makeup, gold hoop earrings, and with bright red lips will get you the look – if you looking this at last minute check the betty boop costume

Maternity Halloween Costume: Grocery store spaghetti sauce staple – all you need is red dress for the sauce and a brit.co pregnant halloween costume tutorial

Quick and Sea Anemone Halloween Costume: just blow up some long pink balloons and choose the gradient clothing you have with yourself. – buy pink balloons


Funny Halloween Couple Costume Robin & Winnie the Pooh: DIY it with neck crop tops, Disney Winnie the pooh ears, Yellow skirt and the ones you have at home.

DIY Avocado costume: It is cool idea for pregnant women along with kids for a complete foodie family costume with avocado, egg, and toast. all you need is foam, elastic and paint (washable) and avocado tutorial

Teen black cat cheap and easy Halloween costume: with black tops, gloves and bottom with you, just have to buy a tutu and a cat set and you are done.

Easy Burrito Quick Halloween Costume: You love taco and Burrito here you go, just get a silver skirt, cream top and felt pieces, your burrito costume is ready.

Game of Thrones Khaleesi, Wonder women and solar system Costume idea: get the wig and dress if you cant braid, Wonder women and buy a black dress and few solar props to DIY

Popeye Olive Oyl Plus Size Costume

Attractive Butterly Halloween Costume: Its comes under your budget, just put on your black set and wear this butterfly shawl, you are almost done and a butterfly facepaint is added a bonus to it

Mr and Mrs Potao Halloween DIY Costume – tutorial at inspiration made simple

Bob Ross and a Happy Little Tree Couple Halloween Costume: Just felt leaves on your tops and a wig beard set for your spouse will do the magic

Princess Jasmine Aladdin Halloween Costume: Just a little DIY is little need for this costume, get the blue harem pant and wrap blue and gold tulle as needed, tada Princess Jasmine is ready to Party.

Sexy Mr Rogers Halloween Teen Costume Idea: found at yandy

Goofy Max and Roxanne Halloween Costume Ideas for Couples @twitter:

Pregnant Women Halloween Couple Costume: Juno and Paulie Bleeker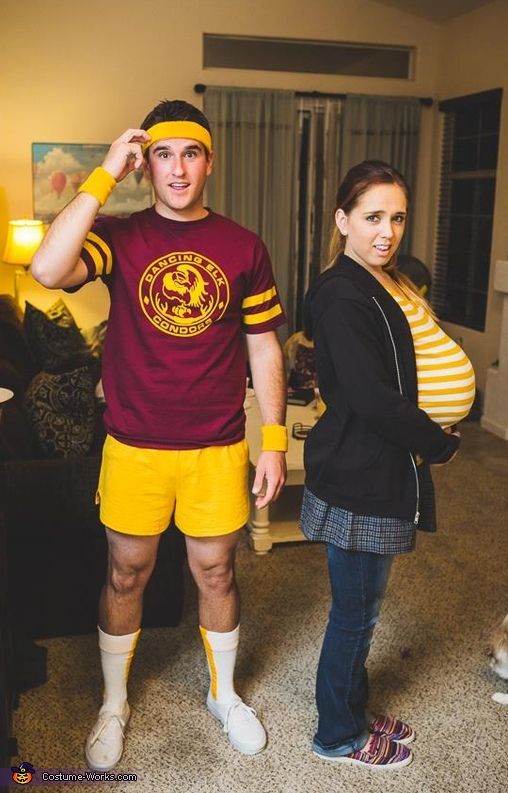 DIY Emoji Costume Ideas for Teens: step by step video

Fruit Salad Group Halloween Costume Ideas for Teen. @brit.co

Game of Thrones Family Halloween Costume: Have two kids and love game of thrones, you should try as King, Queen, Warrior, and the Dragon. via barefootblonde

The devil and Angel Bestie -BFF Best Friend Halloween Costume: Have a bestie you can live with, here is a duo who too cant live without each other A cute red devil and a lovely angel.

Tweedle Dee and Tweedle Doo: for this Alice in the wonderland costume you will need a bow tie, suspender, cap and tutu
BFF Halloween Costume Idea: Snapchat filters with Yellow Tshirts, dog ears set and face makeup

Popeye Costume: Sailorman Halloween costume

checkout 15 cute Halloween costume ideas for babies at redbookmag

Baby Taco Costume: mom and dad get the sauce toppings and soda costumes to math the foodie family Halloween costume – if you are watching this at last minute  get the taco or DIY the taco costume with tutorial at wayfarerfamily

Disney Movie Halloween Costume Ideas
Darla and Fish Finding Nemo – Mom and daughter costume
Sulley from Monsters, Inc. – BFF
Mary Poppins
Elsa and Anna from Frozen – BFF and Cute Sisters
Minnie Mouse & Mickey Mouse- Couple
Tinker Bell and Fawn – BFF
Incredibles 2 Costumes for Family
Lilo & Stitch – Twin Kids
Toy Story  – ANDY and Toys
Lizzie and Miranda – Lizzie McGuire – Friends
Nemo, Dory, and Marlin -Finding Nemo – Trio and Family
Kuzco The Emperor's New Groove – Solo
The Seven Dwarfs -Snow White and the Seven Dwarfs – Office Party Friends complete costume
Big Hero 6 – Dad and Son or complete family
The Emotions -Inside Out- Joy and Sadness BFF friends or all five as Family ( also can make use of bing-bong, dream characters)
Ralph Breaks the Internet
Dalmatians – 101 Dalmatians
Monsters University
The Muses from Hercules
Roxanne and Barret Girl Goofy Movie
Aliens of Toy Story
Traci Van Horn, Hannah Montana from Hannah Montana
Hollywood Movies Halloween Costume Ideas
Pirates of Carribean
Superman, Batman, IronMan, Hulk, Black Panther, Thor, Black Widow, Avengers, Spiderman, Captain Marvel, Antman for superhero lover costumes
Godfather – could use it up for your kids
Lord of Rings- couple ideas
Toy Story – family or twin kids
Avatar – for couples
Men in Black – couples, and BFF
Wizard of OZ for complete family Halloween costume
Mad max – Funny scary Couple costume
Star wars – Trio and kids costume
Dead pool – Couple or trio
The upside for BFF
Up Movie – Dad kid, BFF, Mom, and Son
Aladdin – hot couple
Teenage mutant ninja – Besties and Friends and complete family
Annabelle, It movie, Joker, Indiana Jones, Robocop – Solo
Angry Birds- Cute for kids or kids as eggs and mommy and red bird daddy
300 movie- Cute and Hot Family with Young Warriors
Knocked up, Juno, backup plan, what to expect – for Maternity themed Halloween costume idea
Whenever something strikes my mind soon will update it here, please leave your comment or give us a thumbs up at Facebook and Pinterest.


Cheers 🙂