Paper Plate Magic: 100 Animals & Celebration Craft Ideas for Kids
www.momjunction.com
Paper plates, those humble and unassuming items, have an incredible superpower—they can transform into a menagerie of animals, fantastic creatures, and vibrant works of art with just a dash of imagination and a pinch of creativity.
Craft Ideas: Paper Plate Animals & Celebration
Paper Plate Triceratops -The perfect craft for dinosaur-loving kids. Simple and fun, for at home or within a preschool setting. A great extension for kids learning about dinosaurs.
1. Paper Plate Triceratops www.artycraftykids.com
2. Summer Craft: Paper Plate Swimmer Mask www.pinkstripeysocks.com



Welcome to the world of paper plate animals and a gallery of craft ideas that invite you to craft, create, and smile.
Learn to craft easy paper crafts and turn them to your favorite bugs with these simple DIY instructions.
3. Easy Diy Craft: Paper Plate Bugs www.scholastic.com
4. Simple Paper Plate Craft: Diy Tabourines www.education.com



Instigate the imaginative quality in your kids with this cute paper plate craft.
Make the winter day shinier for your kids with this super easy paper plate craft.
5. Cute Paper Plate Seahorse www.gluedtomycraftsblog.com
6. Wonderful Paper Plate Showman With Snow Globe www.notimeforflashcards.com



Paper plates are the perfect blank canvas for crafting, and in the hands of creative minds, they can become the wings of soaring birds, the furry faces of beloved pets, or the expressive eyes of imaginative creatures.
If you are looking for a easy Life Science project then craft this simple butterfly life cycle system on a paper plate easily with this quick tutorial.
7. Diy Paper Plate Craft: Cute Leprechaun Hat simplytodaylife.com
8. Paper Plate Project Idea: Butterfly Life Cycle buggyandbuddy.com



This is a wonderful paper plate project for toddler to celebrate the love day with a happy creative feeling.
This is a simple kid craft to make a DIY centerpiece using paper plates as the sunflower weaving through an easy crafting process.
9. Quick And Easy Paper Plate Valentin's Wreath happyhooligans.ca
10. Paper Plate Sunflower Weaving www.muminthemadhouse.com



This is one of the easiest paper plate craft using only some acrylic paints and glue to be made perfectly, apart from a couple of plain paper plates.
11. Super Adorable Paper Plate Owl craftsbyamanda.com
12. Cute Paper Plate Craft: Birds In The Nest www.kraftykid.com



Some easy tutorials of super trendy party hats using paper plate as the base crafting component.
Make a cute doggy face with a cute expression using some paper plate pieces with a nice stroke of red paint.
13. Quick And Simple Paper Plate Party Hats wonderfuldiy.com
14. Diy Paper Plate Clifford Doggy Face www.craftymorning.com



Show your farm love with these click clack moo cows mask using paper plates as the base crafting element.
15. Super Creative Paper Plate Noah's Ark artsycraftsymom.com
16. Moo Cows Paper Plate Mask simplytodaylife.com



Make a simple paper plate nest base and decorate it creatively with some tissue paper birds along with the tissue made nest straws around the nest.
17. Paper Plate Diy Ear Mask Craft iheartcraftythings.com
18. Creative Paper Plate Nest With Tissue Paper Birds www.craftymorning.com



This is a cute and fun paper plate craft for kids needs only some dark acrylic paint apart from a large paper plate to be made.
Craft the face of these two adorable cartoon characters ernie and bert face with a simple DIY tutorial.
19. Diy Animal Face: Paper Plate Badger www.craftsonsea.co.uk
20. Paper Plate Craft Of Ernie And Bert Face www.craftymorning.com



This quick and simple paper plate project will inspire your crafting skill instantly with its cute look and the easy crafting methods.
21. Beautifully Painted Paper Plate Flowers www.pinkstripeysocks.com
22. Extremely Cute Paper Plate Gingerbread Man happyhooligans.ca



Make this cute and colorful dinosaur out of painted paper plate with this easy tutorial with a smart 3D effect.
23. Super Simple Paper Plate Dinosaurous Craft todayscreativeideas.com
24. Paper Plate Frog Goofy Craft www.education.com



Recreate the experience of marine world with this famous Little Mermaid character flounder with this easy paper plate fish craft.
25. Diy Hedgehog: Paper Plate Craft www.craftymorning.com
26. Diy Fish Craft: Paper Plate Flounder iheartcraftythings.com



Make this super easy paper plate project for this upcoming Easter celebration.
27. Utterly Adorable Paper Plate Sheep Mask www.danyabanya.com
28. Cute Paper Plate Rooster www.freekidscrafts.com



Show your love of Paddinigton Bear from the storybook through this easy paper plate craft.
This is a fun zoo project made of simple painted paper plates in step by step tutorial.
29. Paddington Bear Face: Diy Paper Plate Craft jdaniel4smom.com
30. Paper Plate Animal Craft Rhino www.craftymorning.com



This is a perfect paper plate craft for kids.
31. Paper Plate Spiderman Mask intheplayroom.co.uk
32. Paper Plate Craft: Diy Flying Saucer craftsbyamanda.com



This is a perfect summer craft for kids using plain paper plate and some colorful construction paper sheets to make this wonderful DIY craft effortlessly.
33. Paper Plate Rainbow Fish www.momontimeout.com
34. Easy Paper Plate Craft: Cute Ocean Crab simplytodaylife.com



It is one of the popular Dr Seuss-inspired crafts using paper plate pieces as the base of this easy craft.
This is one of the best paper plate crafts for your kids especially, for those who like animal stories to the utmost. Check out this easy tutorial and make the story time more enjoyable for your little ones smartly.
35. Diy Paper Plate Fox Face www.gluedtomycraftsblog.com
36. Super Simple Paper Plate Wolf Face www.gluedtomycraftsblog.com



It's a wonderful tutorial of arctic animal craft using paper plates and some tissue paper as the main crafting supplies.
37. Simple Paper Plate Rainbow www.happinessishomemade.net
38. Paper Plate Kids Craft: Arctic Fox iheartcraftythings.com



This is a very simple and cute paper plate project for kids and the beginners.
39. Diy Kids Paper Plate Game Craft www.learnwithplayathome.com
40. Diy Paper Plate Lady Bug Craft www.notimeforflashcards.com



One more paper plate owl project in step-by-step making tutorial.
41. Easy Paper Plate Owl Craft ourpotluckfamily.com
42. Diy Paper Plate Koala Face iheartcraftythings.com



Craft your own mask based on your favorite Avenger character through this tutorial.
43. Diy Paper Plate Hulk Mask www.craftsonsea.co.uk
44. Arctic Animal Craft: Paper Plate Walrus www.daniellesplace.com



This is favorite boy craft using paper plate to make a bunch of colorful cars to offer your little one an adventurous playing session.
Show your animal love with these interesting paper plate projects.
45. Quick And Easy Paper Plate Cars www.gluedtomycraftsblog.com
46. Paper Plate Zoo Animal Faces www.firstpalette.com



47. Diy Groundhog Paper Plate Craft www.craftymorning.com
48. Cute Paper Plate Lion Craft mrskarensclass.blogspot.com



Change the mood of your kids with this easy circus game ring toss equipment made of simple paper plates through the quickest way.
Make your Christmas decoration more amusing in the most inexpensive way with this cute DIY paper plate Christmas tree crafts.
49. Paper Plate Ringtoss Gaming Craft fromabcstoacts.com
50. Pretty Paper Plate Christmas Tree Craft iheartcraftythings.com



Quickly craft some fresh fruit slices with paper plate and some nice paint strokes.
51. Paper Platefruit Slices www.allfreekidscrafts.com
52. Utterly Creative Paper Plate Nature Island thepinterestedparent.com



This is a unique paper plate craft that is displaying the beautiful view underwater place, like you are seeing through a ship's porthole.
53. Paper Plate Ship's Porthole Craft craftsbyamanda.com
54. Diy Paper Plate Crafts For 4th Of July www.handmadecharlotte.com



Check out this easy paper plate craft which is a perfect for the Halloween preparations.
55. Diy Paper Plate Skeleton www.the36thavenue.com
56. Paper Plate Gum Machine iheartcraftythings.com



57. Diy Snake Craft: A Paper Plate Creation www.craftymorning.com
58. Paper Plate Apple With A Cute Worm iheartcraftythings.com



Stop spending your money on buying cookie basket and craft this super easy paper plate basket quickly with is easy tutorial.
59. Paper Plate Craft: Diy 2-minute Cookie Basket www.itsalwaysautumn.com
60. Diy Easy Paper Plate Whale funcraftskids.com



Say your nightmares goodbye forever with these pretty DIY dream catcher projects.
61. Paper Plate Dream Catcher www.redtedart.com
62. Super Charming Paper Plate Minions www.herecomethegirlsblog.com



This is an easy free printable paper plate project for Disney lovers.
63. Scary Paper Plate Spiders iheartcraftythings.com
64. Paper Plate Minnie Mouse Ears blog.chickabug.com



This is a super quick DIY Marble Run Track craft made of simple paper plate pieces.
65. Colorful Paper Plate Dragons www.pinkstripeysocks.com
66. Paper Plate Marble Run Track Craft frugalfun4boys.com



Be your favorite Avenger with this amazing DIY shield of Captain America made of a simple paper plate.
67. Paper Plate Captain America Shield www.craftsonsea.co.uk
68. Diy Paper Plate Fish Aquarium www.directorjewels.com



These are super adorable Christmas craft in the form of Rudolph, Santa and Frosty face using some colorful paper plates as the base materials.
69. Utterly Easy Paper Plate Clock frugalfun4boys.com
70. Cute Paper Plate Christmas Crafts onelittleproject.com



This is a Star war-inspired craft for kids.
Instigate the music fantasies in your kids with this cute and simple paper plate banjo craft.
71. Bb-8 Droid Paper Plate Robot funlearninglife.com
72. Diy Paper Plate Banjo www.parents.com



This is creative animal craft with mosaic pattern over paper plate base.
73. Diy Paper Plate Turtle Craft www.busybeekidscrafts.com
74. Smart Ad Innovative Paper Plate Magnet Maze mycakies.com



Check out the apparent tutorial of this creative paper plate craft here.
75. Diy Paper Plate Craft Sensory Heart pagingfunmums.com
76. Cute Paper Plate Turkey Face www.housingaforest.com



This is a fun project for kids inspired by Star War stories.
77. Paper Plate Craft: Delicious Candy Corn blitsy.com
78. Paper Plate Yoda Puppet www.coffeecupsandcrayons.com



This paper plate craft featuring a structure of spaceship along with a cute alien inside it.
79. Paper Plate Earth Day Craft www.craftymorning.com
80. Diy Paper Plate Craft: Spaceship And Alien craftulate.com



A fun and simple Easter craft for kids! Learn how to make this easy paper plate Easter bunny craft. Kids will love making them!
81. Paper Plate Easter Bunny Craft – Easy To Craft www.thebestideasforkids.com
82. Colorful Paper Plate Tropical Fish www.makeandtakes.com



83. Paper Plate Llamas Very Colorful And Cute Crafts For Kids www.handmadecharlotte.com
84. Did You Know You Can Make Spiral Marble Tracks With Plate Plates – Easy To Craft For Kids frugalfun4boys.com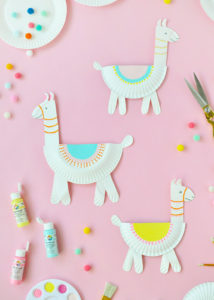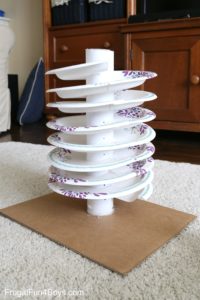 Make a paper plate cow for Valentines day! It's a fun heart shaped craft for kids to make.
85. Paper Plate Animals: Paper Plate Penguin Craft www.craftymorning.com
86. Animal Crafts: Paper Plate Cow Valentine Craft For Kids www.craftymorning.com



Make a paper plate rhino craft for kids! It's a fun rhinoceros art project that involves cutting, painting, and gluing! A fun zoo craft!
Have your kids make this cute paper plate duck craft! It's an easy and cheap art project for kids to learn about ducks.
87. Kids Animal Crafts: Paper Plate Rhino Craft For Kids www.craftymorning.com
88. Quack Quack Paper Plate Duck Craft For Kids www.craftymorning.com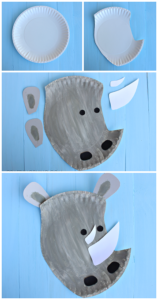 As part of our paper plate crafts series we have a easy and fun unicorn project This Unicorn paper plate idea is simple and has a downlodable template for the ears and horn.
Challenge your kids to build the best marble maze in this open-ended paper plate maze STEM challenge! Kids will have a blast!
89. Fantasy Crafts For Kids: Paper Plate Crafts An Easy Unicorn Project www.theinspirationedit.com
90. Learning Activities For Kids Paper Plate Craft: Maze Stem Challenge raisinglifelonglearners.com



91. Animal Paper Plate Craft: Hatching Chicks Paper Plate Craft For Kids frugalfun4boys.com
92. Gnome Paper Plate Craft With Mini Marshmallow – Easy To Craft For Kids www.craftymorning.com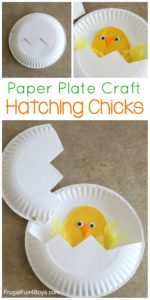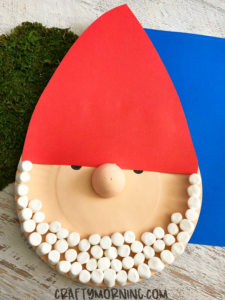 Make a fun paper plate pepperoni pizza craft for Valentines day! It says "You're the pepperoni to my pizza!" great gift idea.
How to make a pot of gold paper plate craft with sequins, paper, and glue. This is a fun st patricks day craft for kids to make. Very cheap and easy DIY.
93. Paper Plate Pepperoni Pizza Valentine Craft www.craftymorning.com
94. Paper Plate Craft For Kis Pot Of Gold For St. Patrick's Day www.craftymorning.com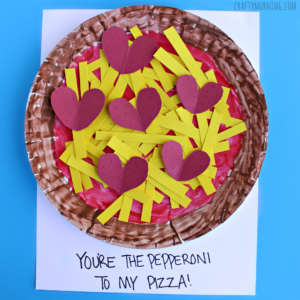 Make a leprechaun face out of a paper plate for St. Patrick's Day! It's a fun craft for the kids to make and very easy to do.
This interactive Paper Plate Apple Lacing Craft is adorable with the cutest worm for kids to thread in and out! What a fun way to build fine motor skills.
95. Paper Plate Leprechaun St. Patrick's Day Craft For Kids www.craftymorning.com
96. Paper Plate Apple Lacing Craft -kids And Toddlers Activities kidscraftroom.com



These paper plate baubles are simple, mess-free and perfect for younger children, plus they look amazing.  Can you imagine a giant tree with these on perhaps in a classroom?
97. Paper Plate Baubles Craft – Giant Christmas Decorations Craft For Kids www.muminthemadhouse.com
98. Paper Plate Haircuts (scissor Practice With Kids!) Kids Activities www.pinkstripeysocks.com



Collection of Paper animal and crafts will provide hours of fun for kids of all ages.
99. Paper Plate Pufferfish Craft For Kids – Cutting Practice For Little Hands buggyandbuddy.com
100. Creative Paper Plate Animals – Make Paper Plate Duck www.momjunction.com



Here's a fun summer craft for kids- paper plate and pasta octopus craft! Not only is it fun to make, but it also provides all kinds of fine motor practice and can be done over and over
101. Fine Motor Craft For Kids – Paper Plate Octopus buggyandbuddy.com
102. Construction Paper Owl – Making Paper Animals www.youtube.com