Sew to Sell: 99 Home Sewing Project Ideas & Fabric Crafts
Fabric crafts and sewing projects have become really popular these days! More and more people are discovering the joy of creating handmade items using beautiful fabrics.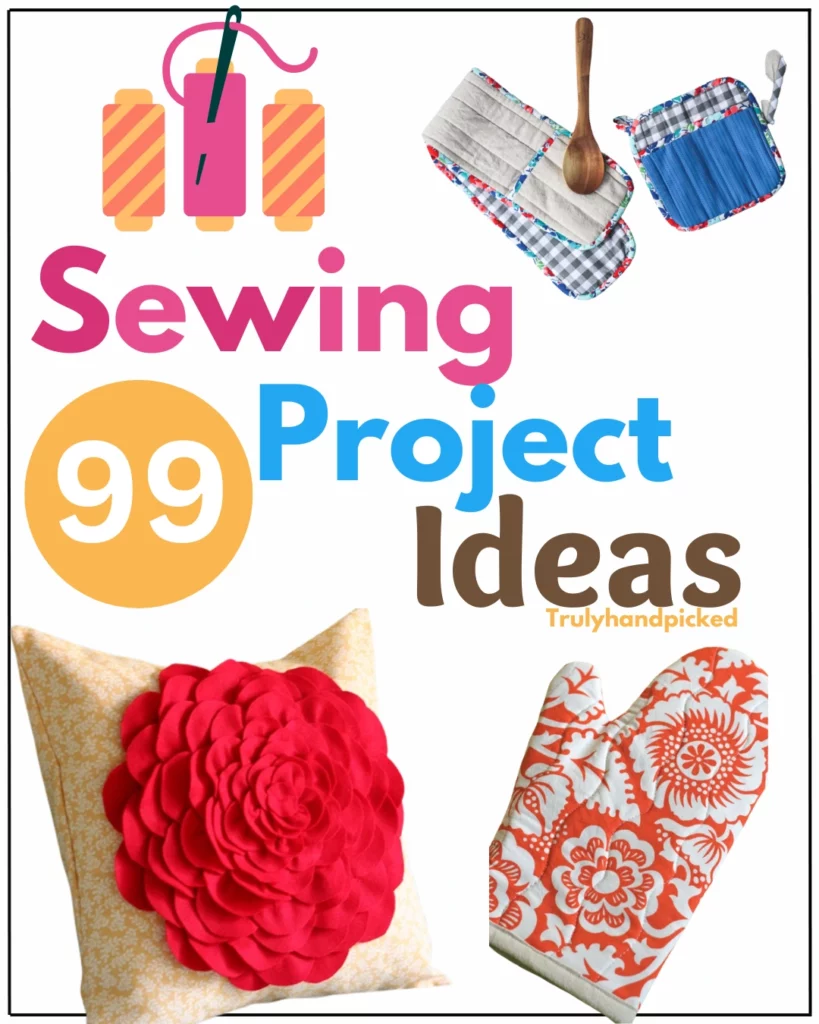 From cute plush toys to stylish home decor, there's a wide range of things you can make with fabric. DIY culture and social media have played a big role in making fabric crafts trendy and accessible to everyone.
People love the idea of having unique and personalized items that they can't find in stores.
Many customers appreciate the craftsmanship and care that goes into handmade products.
You can sell your creations online through platforms like Etsy or even at local craft fairs and markets.
Fabric crafts and sewing are all the rage, and you can be a part of this creative movement!
Handmade items have a special charm that people adore, and they are willing to support independent artisans.
Sewing Projects for Home & Fabric Crafts to Sell
1. DIY Felt Flower Pillow Decor with Multicolor Felt Pieces in No-Sew Patchwork Pattern www.smilingcolors.com
2. DIY Piñata Pillow Tutorial with Lots of Colorful Felt Scraps By Cozy Reverie www.cozyreverie.com



Below is a list of sewing and fabric projects, each tailored to suit different preferences and skill levels. From practical items for everyday use to delightful gifts and home decor, these projects cater to a wide range of interests and purposes. So, grab your favorite fabric, thread your sewing machine, and let's embark on a crafting journey filled with inspiration and joy!
Trending Fabric Crafts and Sewing Project Ideas for You
From making adorable plush toys to creating fashionable face masks, there's a lot to explore.
Sewing projects like tote bags, throw pillows, and baby blankets are also quite popular.
Nature, fashion, and home decor trends are fantastic starting points for your sewing projects.
Where to Check for Inspiration? Join crafting communities and groups online to connect with other creative minds. Pinterest, Instagram, and YouTube are fantastic places to find endless ideas and tips.
3. A Scrappy Quilted Pillow Cover with The Diversity of Fabric Scraps in A Free Sew Pattern www.thewillowmarket.com
4. DIY Circus Animal Cookie Pillows: Totally Adorable DIY Craft with Felt studiodiy.com



Few Trending Suggestions on Sewing Crafts
Face Masks
Tote Bags
Baby Blankets and Quilts
Plush Toys
Pillowcases
Aprons
Fabric Pouches and Bags
Hair Accessories (Scrunchies, Headbands)
Fabric Bookmarks
Fabric Coasters
Pot Holders and Oven Mitts
Fabric Keychains
Table Runners and Placemats
Cloth Napkins
Fabric Headrest Covers for Cars
5. DIY Emoji Heart Pillow with Sparkling Golden Accents By Studio DIY studiodiy.com
6. DIY Oversized Floor Pillow Tutorial with Attractive Yarn Pom-Pom Embellishments abeautifulmess.com




7. Easy-to-Craft Artek Fabric DIY Floor Pillow with Pretty Pattern Fabric Prints www.dwellbeautiful.com
8. How to Make a Cushion Letter: DIY Sewing Project with Cotton Fabric Scraps www.dreamalittlebigger.com




9. How to Sew a Simple Baby Blanket with Minky: A Fabulous DIY Sewing Project with Fabric Bubb www.thewillowmarket.com
10. DIY Diaper Changing Pad Cover: A Nice Sewing Project for Comforting Your Baby littleredwindow.com




11. Pretty and Vibrant DIY Pom Pom Dinner Napkins with Fancy Hemlines theproperblog.com
12. DIY Tasseled Table Runner with a Fancy Wooden Ball Decor Beneath The Cotton Made Base makerssociety.com.au




13. All-Sewn Illustration Dessert Mat with Scrappy Applique Work on The Corner www.minkikim.com
14. Fabric Storage Bins in Reversible Pattern: A Recycling Fabric Project Idea abeautifulmess.com




15. DIY Fancy Sewing Project: Charm Square Fabric Tray with Nice Floral Prints aspoonfulofsugardesigns.com
16. DIY Fabric Pots: All-Sew Planter Project with Exterior and Interior Fabric Works www.prettyquirkypants.com



Sewing and fabric projects offer a wonderful way to unleash creativity and transform simple materials into beautiful and functional items.
Understanding the various types of fabrics and their best uses is essential for crafting successful projects.
Whether you're a seasoned seamstress or a sewing enthusiast exploring new horizons, knowing which fabric works best for specific applications can elevate your creations to a whole new level.
Top Fabric Suggestions for Projects:
Cotton: Known for its versatility, breathability, and softness, cotton is a popular choice for various sewing projects, including clothing, quilting, home decor, and accessories.
Polyester: Appreciated for its durability, wrinkle resistance, and affordability, polyester is commonly used in activewear, outdoor gear, and home textiles.
Denim: Recognized for its sturdy and rugged nature, denim is often utilized in making jeans, jackets, bags, and other durable items.
Fleece: Admired for its warmth and softness, fleece is a go-to fabric for cozy blankets, jackets, and cold-weather accessories.
Knit: Stretchy and comfortable, knit fabrics are favored for making T-shirts, dresses, leggings, and other comfortable clothing items.
Silk: Revered for its luxurious feel and drape, silk is commonly used in elegant eveningwear, scarves, and accessories.
Linen: Valued for its lightweight and breathable qualities, linen is popular in summer clothing.
17. Wild Olive Project: Pentagon Mouse Pad with Vinyl Fuse Front Lamination wildolive.blogspot.com
18. DIY Magnetic Ironing Mat with Fancy Fabric Cover By A Beautiful Mess abeautifulmess.com



List of Must Have Tools for Home Sewing Projects
A reliable sewing machine that suits your needs and skill level.
Sharp fabric scissors for precise cutting without fraying edges.
Straight pins to hold fabrics in place while sewing.
Measuring tape for accurate dimensions in your projects.
Seam ripper for undoing stitches and fixing mistakes.
Iron and ironing board to press seams and achieve polished results.
19. DIY All-Sew Rustic Folding Magazine Rack Made of Wood and Fabric www.manmadediy.com
20. DIY Home Decor Craft: Deer Head Wall Art on Rustic Wooden Pallet Surface www.lizmarieblog.com

Basic Sewing Techniques to Learn from Website and Youtube
Straight stitch: The foundation of sewing for joining fabric pieces together.
Zigzag stitch: Ideal for finishing edges and preventing fraying.
Backstitch: Securing stitches at the beginning and end to prevent unraveling.
Topstitching: Adding decorative stitches along the edges for a polished look.
Gathering: Creating controlled gathers for ruffles and gathering fabric.
Hemming: Neatly finishing the edges of garments or projects.
Inserting zippers and buttons: Enhancing functionality and design.
21. All-Sew Trendy Strawberry Pot Holders with Fabric with The Exact Color Accents www.sewsomestuff.com
22. DIY Car Wheel Doorstop or Cushion: A Magnificent DIY Sewing Project with Fabric Stuffing the-thud.com



Decorative Stitches to Learn
Experiment with decorative stitches on your sewing machine for unique designs.
Add embroidery or appliqué to personalize and customize your creations.
Incorporate lace, ribbons, or trims for a touch of elegance and charm.
Use fabric paints or fabric markers for creative designs and patterns.
Explore beadwork or sequins for a sparkling and eye-catching finish.
23. Football Bean Bag Chair Tutorial: The Simplest Way to Make a Seating Object for Your Home crazylittleprojects.com
24. Ruched Throw Pillow with Pleated Pattern: A Fancy Comfy Cushion for Outdoors thegirlinspired.com

25. Tutorial of How to Make a DIY Professional Pintuck Duvet Cover at Home www.viewalongtheway.com
26. DIY Home Decor Craft Gathered Pillow Covers with Super Sleek Satin Fabric makeit-loveit.com

27. DIY Nursery Bedding Stuff Sewing Project: Ruffled Crib Skirt Tutorial www.positivelysplendid.com
28. DIY All-Sewn Fabric Bedskirt Craft with Contrasting Box Pleats craftysisters-nc.blogspot.com

29. Petal Pillow Tutorial: A Beautiful Sewing Project with Felt over Fabric Base cluckclucksew.com
30. Totally Fancy Shag Pillow Cover Made of Classy Green Jersey Fabric Scraps www.vanessachristenson.com

31. Gathered Dust Ruffle Bed Skirt for Cribs and Toddler Beds in Pretty Pink Shade www.merrimentdesign.com
32. Ribbon Tabbed Curtain Tutorial: A Classy DIY Sewing Project By U Create www.u-createcrafts.com

33. Anthropologie Smoldering Hues Shower Curtain with Various Ruffled Tires jessicapeck.blogspot.com
34. Tutorial of How to Re-Upholstered Swivel Armchair Smartly with SImple DIY Sewing Project makeit-loveit.com

35. Felt Lattice Pillow: A Wonderful Sewing Project with Fancy Cris- Pattern persialou.com
36. LEGO NINJAGO Pillowcase Tutorial By Crazy Little Projects crazylittleprojects.com

37. Utterly Functional Sewing Project DIY Fabric Storage Boxes with Two Holding Loops makeit-loveit.com
38. Simple-to-Sew Box Cushion Cover in Centsational Style: A Creative Sewing Project Idea centsationalstyle.com

39. DIY Throw Blanket Tutorial: Easy Sewing Project Idea for the Beginners makinglemonadeblog.com
40. Easy DIY Two Story Curtain Panels Tutorial with Simple 5 Steps By Our Home Made Easy www.ourhomemadeeasy.com

41. Remodelaholic Sewing Project: Semi-Homemade Pom-Pom Bed Skirt with Nice Color Contrast www.remodelaholic.com
42. Inexpensive and Pretty Sewing Project: Simple Pillow Covers from Dish Towel thecrazycraftlady.com

43. Super Soft & Cozy Winter Flannel Blanket: Cheapest DIY Sewing Project Worth Less Than $10 www.ourhomemadeeasy.com
44. Homemade Colorful Cloth Napkin Tutorial with An Easy Step-by-Step Tutorial cnz.to

45. Tutorial of Simple Zipper Pillow Case with a Unique Side Closer Style www.heytherehome.com
46. How to make a DIY Yarn Pom Pom Throw Blanket within Budget www.makinghomebase.com

47. DIY Fabric Doorstop with Colorful Holi Prints: Roundup All-Sewn Projects for the Beginners swoodsonsays.com
48. Quick Sewing Project for Regular Use: DIY Burlap Curtain in Free Pattern Style www.ourhomemadeeasy.com

49. DIY Map Pillow with State-to-State Hearts: A Sewing Project with Learning Skill jennifermaker.com
50. DIY Simple Sewing Project for Regular Use: Paddy Potholder for Your Kitchen radianthomestudio.com

51. Easy Peasy Tote Bag Tutorial with Cotton Fabric in Pattern Prints and Fabric Straps www.ourhomemadeeasy.com
52. Reusable Swiffer Refills: A Recycling Project with Cotton Fabric Scraps afewshortcuts.com

53. Fabric Heart Coasters Tutorial: An Amazing Scrap-Busting Project in Heart Shape www.thirtyhandmadedays.com
54. DIY Bed Pocket Caddy with Beautiful Fabric Scrap: The Perfect DIY Gift Idea within A Limited Budget hearthandvine.com

55. How To Make a Fabric Tray: A Quick-to-Make Storage Craft with Cotton Fabric swoodsonsays.com
56. A New Adjustable Apron Plus Simple Dishtowels with Carrying Pockets www.purlsoho.com

57. DIY Sweater Pillow: A Smart Recycling Project from An Old Sweater reusegrowenjoy.com
58. Quick and Easy Pillowcases: Catchy Cushion Cover with Bold Color Accents amber-oliver.com

59. Easy DIY Outdoor Cushion Covers with Polyester and Decorative Fabric diyjoy.com
60. DIY Reversible Fabric Storage Bin: Quick-to-Make Organizer haberdasheryfun.com

61. DIY Reversible Tablerunner with Two-Side Catchy Prints www.tealandlime.com
62. DIY Ribbon Trimmed Roman Shades By Life Love Larson for a Classy Interior Look www.lifelovelarson.com

63. How to Make a Cozy Pillow Bed By Dabbles & Babbles: A Cozy Sewing Project for Kids dabblesandbabbles.com
64. DIY Paddy Pot Holders with Classy Blck & White Color Accents www.wecanmakeanything.net

65. Super Simple Dishtowels Tutorial Out of Super Soft Cotton Fabric and A Few Stright Seams www.purlsoho.com
66. DIY Colorful Curtains from Vintage Scarves By Apartment Therapy www.apartmenttherapy.com

67. DIY Thermal Insulated Blackout Shade: Quick Sewing Project with Metallic Ring Holes www.bybrittanygoldwyn.com
68. Simple yet Chic DIY Woven Pillow Tutorial: A 5-Minute Sewing Project Idea biggerthanthethreeofus.com

69. Easy Color-Block Throw Pillow Tutorial By Plaster & Disaster www.plasteranddisaster.com
70. Tutorial of DIY Oven Mitt By Gingercake: A Beautiful Handmade Gift Idea with Quilting Fabric gingercake.typepad.com

71. Anthropologie Tassel Pillow Knock Off Tutorial: A Pretty House Decorative Stuff www.sewinginnomansland.com
72. Tutorial How to Make Adorable Acorn Coasters By The Seasoned Homemaker www.seasonedhomemaker.com

73. DIY 5-Minute Cloth Napkins Tutorial: A Wonderful Arry of Sewing Project for Regular Use www.vivaveltoro.com
74. Anthropologie Ruffle Shower Curtain with Unique Light-to-Dark Color Accents www.elleapparelblog.com

75. DIY Grab Bags with Quilting Fabric and Silky Linenning Sewn with Pattern of Right Sides Together www.bhg.com
76. DIY Sewn Project: Quilted Tablet Cover With Zippered Pockets for Charging Cords so-sew-easy.com

77. How To Make DIY Placemats from Reusable Fabric Scraps with Reversible Style growingupgabel.com
78. Dinner Napkins with Free Sewing Pattern Out of Colorful Fabric Scraps overthebigmoon.com

79. Enco-Friendly Reusable Snack Bags with Zipper Closer and Plastic Linenning yesterfood.blogspot.com
80. Hanging Dishtowels with Free Sewing Pattern: A Smart DIY Kitchen Project www.allfreesewing.com

81. DIY WIndow Curtain from Old Bed Sheet: A Brilliant Recycling Project for the Beginners www.nalleshouse.com
82. DIY Rustic Macrame Curtain Tutorial By A Beautiful Mess abeautifulmess.com

83. Quilted Floor Cushion Tutorial with Beautiful Printed Fabric Piece: A DIY Cozy Sewing Project Idea dobleufa.blogspot.com
84. DIY Bay Window Curtains: All-Side Sew Rod & Back Tab Curtain Tutorial By Domestic Imperfection www.domesticimperfection.com

85. Large Chair Cushion Tutorial with Pattern Print Cotton Fabric: A DIY Deck Chair Makeover Idea missmustardseed.com
86. DIY Tufted Storage Ottoman with Luxurious Foam Pad Cover over Sturdy Wooden Base www.hometalk.com

87. Easy Peasy Floor Cushion DIY or Large Bed Pillow Tutorial with Step-by-Step Instructions www.hometalk.com
88. DIY Home Decorative Stuff: Puffy Floor Pillow with Free Sewing Pattern www2.fiskars.com

89. DIY Pillowcase Using the Burrito Method with French Seams www.seasonedhomemaker.com
90. Easy Tutorial of DIY Vintage Style Pillow Cases ByTown & Country Living town-n-country-living.com

91. DIY Travel Pillow with Free Sewing Pattern: An Useful Craft Idea with Adventurous Prints yesterfood.blogspot.com
92. DIY Sweater Pouf Ottoman By Alice Wingerden: The Quickest Way to Craft A Woolen Ottoman At Home alicewingerden.com

93. DIY Arrow Floor Pouf Tutorial with White Quilting Fabric By Dragonfly Designs twindragonflydesigns.com
94. Faux Bois Log Slice Pillow DIY Kids Pouf Sewing Tutorial swoodsonsays.com

95. DIY Sewing Project Kids Bean Bag Chair A 30 Minutes Craft with Pretty Printed Fabric projectnursery.com
96. How to Make a Classy Pillow Cover with an Invisible Zipper www.polkadotchair.com

97. DIY Bean Bag with Pouf Pattern with Jewel Prints Easy Crafts and Homemade Decorating & Gift Ideas www.hgtv.com
98. Fun Sewing Project: DIY Elegant Pillow Cover with Gold Arrow Designs simplydesigning.porch.com

99. Super Soft Funnel Fringy Throw Blanket Tutorial with Mini Puff Ball Trims www.joann.com
100. DIY Sewing Crft Idea: Fancy Flower Pot Cozy with Pretty Embroidery Headings www.acharmingproject.com

101. Tutorial of How to Sew a Pillow with a Zipper By The Chronicles of Home www.thechroniclesofhome.com
102. Hammock Chair DIY Tutorial: An Easy Homely Project with Old T-Shirt abeautifulmess.com

103. How to Make a Pillow: Basic Pillow Tutorial with Bold Color Accents diyjoy.com
104. DIY Fabric Bins Tutorial with Free Sewing Pattern: A Wonderful Storage Solution Idea www.love-to-sew.com

105. DIY Dropcloth Rug: A Super Quick Home Utility Project with Free Sewing Pattern diyjoy.com
106. DIY Cornered Tablecloth Tutorial with Stright Simple Stich Line By Happy Strong Home happystronghome.com

107. Rustic Burlap Runner with Fancy Tassel Ends: An Inexpensive and Easy Sewing Craft Idea www.onsuttonplace.com
108. Fun & Frugal Summer Project: Easy DIY Bandana Tablecloth www.thegraciouswife.com

109. Classy Easy DIY Table Runner Tutorial with Pattern Fabric Scraps www.sewmuchado.com
110. How to Sew a Drawstring Laundry Bag with Patterned Utility Fabric www.ehow.com

111. Mesmerizing Flower Garden Table Runner with Whimsical Yarn Flower Decorations www.bloglovin.com
112. Tutorial DIY Floral Table Runner with Tulip Appliques By Southern Fabric www.southernfabricblog.com

113. DIY Slip Covered Ottoman with Washable Cotton Cover www.heytherehome.com
114. How to make an Ironing Board Cover DIY Craft with Elastic Closer in Trendy Boby Prints www.the36thavenue.com

115. Easy Tutorial of How to Make Washable Reusable Bowl Covers By The Gracious Wife www.thegraciouswife.com
116. Reversible Kitchen Mixer Cover with Paddy Quilting Fabric swoodsonsays.com

117. Hot Pan or Skillet Handle Cover: Easy Sewing Project for Kitchen Uses so-sew-easy.com
118. Regular Sewing Project DIY Patriotic Bandana Bowl Covers: Cheap Washable and Reusable www.sadieseasongoods.com