Crowning Glory: 21 Easy Paper Crown Craft Ideas for Preschoolers
www.paper-and-glue.com
Let's be honest, you're probably not gonna get the most original ideas for the paper crown craft. But that's okay! We've got some tried and true classics that will work just as well for your little princess or prince.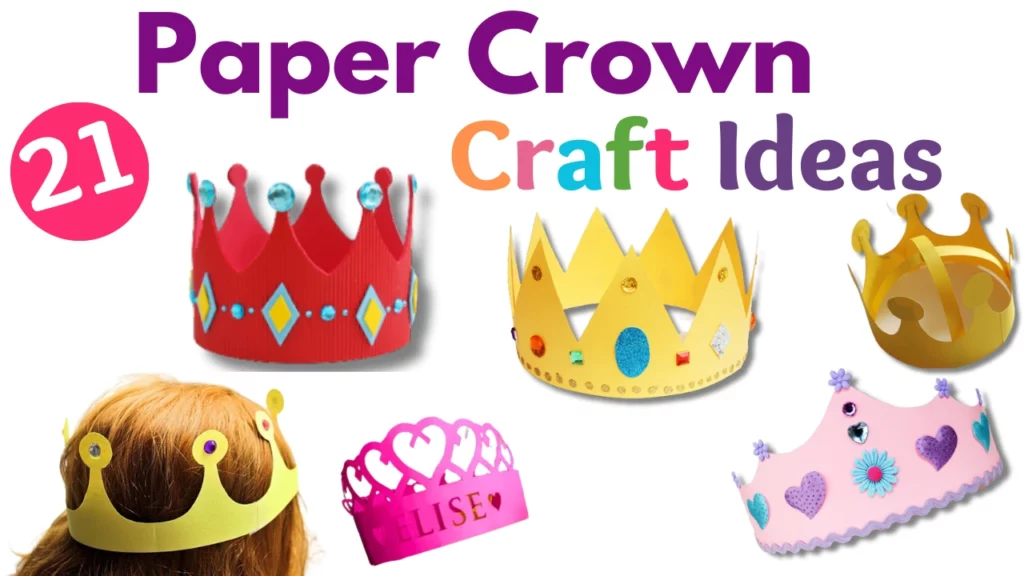 Paper crowns are a fun way to celebrate a special occasion, whether it's a birthday or just because. Also, paper crowns are a great craft idea for kids to make.
Crown Images Gallery – Scroll down for source sites and printables
17 Easy Paper Crown Crafts  – Tutorial Links
Construction Paper Crown – Step-by-Step Tutorial – The craft home family
Fun and easy king crown for school projects, you will be happy to do this with your kids –wermemorykeepers
Customized name crown for your princess and prince birthday party –merrimentdesign
No glue origami Tiara paper crown – youtube video
Cute sun crown- 10minutesofqualitytime
Rainbow paper crown – handmadecharlotte
Crystal and festive pom-poms birthday crowns – Asubtlerevelry
Free printable fairy tale style paper crown template, print, color, and cut –kitchentableclassroom
Royal crown with construction paper, fam sheet, and fake gems – firstpalette
Simple and easy printable birthday crown that matches with classic party-sayyes
Print, trace and cut and decorate, an easy paper crown for all parties –Madewithhappy
Creative quick and easy abstract paper crown for all ages – Instructables
Make fall leaves stitched to the paper band for whimsical photos -clickinmoms
How to make simple origami crowns for kids – consumer crafts
Folded paper crowns – Instagram
Beautiful flower crowns and construction paper crowns for spring party –krokotak
DIY Origami Princess crown – step-by-step video tutorial videodude
Diy crown template and step-by-step instruction – papelisimo
Easy Origami Paper Craft: A Clear Tutorial for Crafting Pretty Paper Crown – paper and glue
Origami paper crown with glitter foam stars for girls – Studio by Kiran

They can be used as decorations at parties, or they can be worn as part of a costume. You can also use them to give your child a sense of ownership over their birthday crown (or any other special occasion).
The best part is that it's easy to do! You can make them from scratch or use store-bought supplies. The best part? They're easy enough for preschoolers to make themselves!
There are so many different kinds of paper crowns that you can choose from. Some are more elaborate than others, but all are still super easy to make. Use your imagination and have some fun!
Tutorial In Short – How To
The first step is to gather your materials. You will need paper, scissors, and glue.
Cut out the parts of the crown based on the pattern that you want to use.
Then fold each piece in half, and glue them together so that they form a circle.
Make sure that all of the edges are glued down firmly!
Next, cut out small circles from colored paper and glue them onto some white cardboard.
 This will be the base for your finished crown! Glue on some fake gems or glitter if you want!