Boo-tiful Crafts: 70 Halloween Crafts for Toddlers & Preschool Kids
Halloween crafting and DIY decorations! It's the time of the year when creativity knows no bounds, and we get to let our spooktacular imaginations run wild.
Halloween is like a magical playground for us crafty souls. From ghoulish ghosts to grinning pumpkins, the possibilities are endless!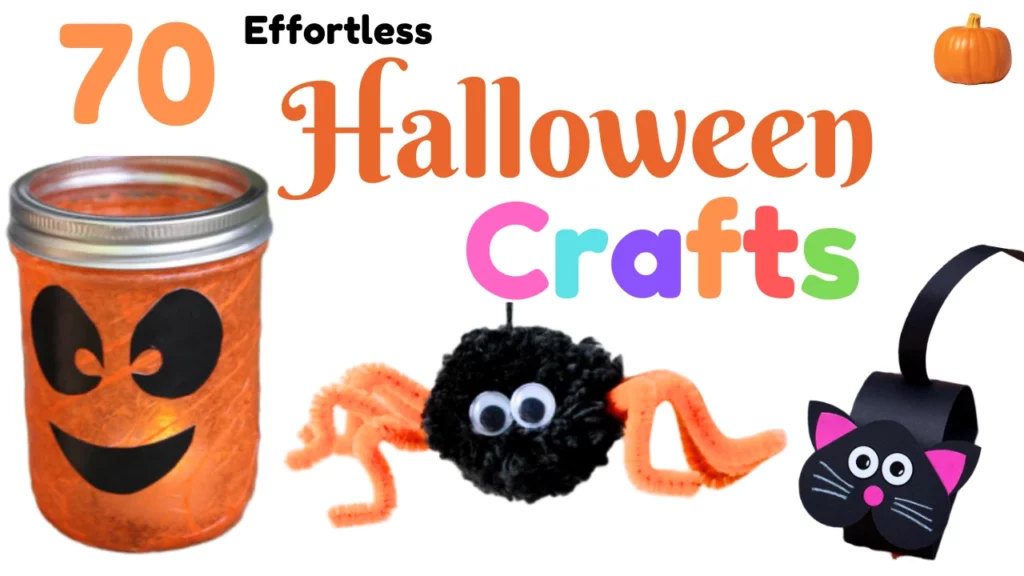 There's something incredibly satisfying about crafting our own decorations and infusing our homes with that eerie charm.
Plus, it's an opportunity to showcase our unique style and personality through our creepy creations.
Let's summon the spirits of creativity and embark on this spine-chilling crafting adventure!
Get your cauldrons ready, and let's brew up some DIY Halloween magic that will leave everyone bewitched by your crafty talents. Happy crafting and have a boo-tiful Halloween!
Gather your craft supplies, and let the hauntingly delightful journey begin!
67 Bright and Creative Easy
Halloween

Craft Ideas

Paper plate Jack O Lantern, easy pumpkin craft – Mombrite

Paper Planet pumpkin masks for Halloween –Makinglifeblissful



1. Create Halloween Puffy Ghosts with Construction paper and cotton balls glue thrivinghomeblog.com
2. Spooky Halloween Spider Web with Black Paper Plate Thread and Felt / Eva Foam Spiders annelilydesign.blogspot.com




3. Web an Adorable Halloween Pompom Pipe Cleaner Spider with wiggle eyes www.redtedart.com
4. Try this super easy Halloween itsy bitsy spider craft – toddler crafts www.easypeasyandfun.com




5. Spooky spider mason jar craft for kids with spiders, glowsticks, and cotton balls www.naturalbeachliving.com
Get tangled in the spookiest craft of the season – Halloween Spider Webs with Yarn! 🕸️🎃
Create a web of enchantment as you spin your way into a hauntingly fun crafting adventure.
Let's weave some frightful and fabulous spider webs to add a touch of eerie elegance to your Halloween decor. A
re you ready to get crafty and catch some spooky vibes? Let's begin our web-spinning journey! 🕷️🕸️👻
6. Keep your toddler hand busy with this easy spiderweb lacing activity www.thecrazyoutdoormama.com




7. Happy Halloween incy wincy spider art – toddler handprint and wiggle eyes www.learningandexploringthroughplay.com
Ghostly Handprints! Get ready to create a boo-tiful masterpiece that will give everyone
White paint or washable white ink pads –  Black construction paper or cardstock – A paintbrush or sponge (if using paint) – Your little creative hands, ready to make ghostly magic!
8. Build cute and spooky spiders with play dough, pipe cleaners, and googly eyes www.craftymorning.com



Prepare the Workspace: Lay down some newspaper or plastic to protect your crafting area. Halloween can be a little messy, and we wouldn't want any ghoulish surprises on the table!
Ghostly Handprint Time: Dip your hand into the white paint or gently press it onto the ink pad. Make sure your fingers and palm are evenly coated – we want perfect ghostly outlines!
Spooky Stamps: Press your ghostly hand firmly onto the black construction paper. Gently lift your hand to reveal a ghostly handprint on the paper. Boo-tiful!
Create a Haunting Handprint Scene: Repeat the process with your other hand and even your friends' hands, if they dare! Arrange the handprints on the paper to create a spooky scene with ghostly spirits floating around.
Add Some Personal Ghoul-ishness: Feel free to add fun details to your ghostly handprints. You can draw ghost faces on each handprint or even turn them into little Halloween characters with hats and costumes.
Scare-tastic Display: Let your ghostly handprint masterpiece dry completely. Once it's dry, you can display it proudly on your walls, doors, or anywhere that needs a touch of Halloween magic.
Fun of Halloween Crafts
Crafting homemade Halloween decorations comes with a bag full of treats!
Firstly, it's a pocket-friendly way to spookify your space without breaking the bank.
Plus, you get the freedom to customize every detail, making each piece one-of-a-kind.
Let's not forget the joy of involving the whole family in crafting fun—bonding time at its finest!
And hey, it's not just about the decorations; it's the pride and joy of saying, "I made that!" when people admire your eerie masterpieces.
9. Make creepy-crawly cute spiders with styrofoam balls, yarn pipe cleaner, and wiggle eyes www.hellowonderful.co
10. Preschool Halloween Cardboard Tube Monster Craft with paper rolls eyes and kids craft foam happyhooligans.ca




11. Make Inexpensive Halloween Spider Sack Decor with the Kids – Preschool craft modernparentsmessykids.com
12. Easy Halloween Spider Craft for Kids – Black pom pom, popsicle sticks and eyes myhomebasedlife.com




13. Halloween Toilet Paper Roll Armbands with Flapping Bat wings – Toddler Craft savvysassymoms.com
14. Toddlers Learn shapes with Easy Halloween Witch Craft – www.toddlerapproved.com



What's So Special About Halloween Crafts
Halloween is all about the chills, thrills, and creativity spills! Who said crafting can't be playful and mischievous?
Whether you're conjuring up creepy-cute paper plate masks or brewing wicked witch wreaths, every craft is an adventure filled with giggles and spooktacular surprises.
It's a chance to channel our inner artists and bring Halloween magic to life in the form of bats, ghosts, and pumpkins galore!
The best part? There's no right or wrong—just let your creativity run riot, and you'll have a hauntingly good time.
15. Halloween Toilet Paper Roll Monster Craft for Kids with Cardboard paper Glue and Paint www.thebestideasforkids.com
16. Easy Glow in the Dark Halloween Monster Craft for Toddlers www.thebestideasforkids.com



This Halloween try creative and super-easy crafts and arts with your preschoolers.
Create effortless easy finger paint art, spooky puppets, creepy crawly spiders, greenish cute and scary monsters, funny geometrical shape witches, glow-in-the-dark toddle's sensory bin and slime, gloomy glowing Halloween monster lanterns and recycling egg cartoon and paper roll monsters.
17. Make Easy Construction Paper Strip Pumpkin Craft with Toddlers nurturestore.co.uk
18. Do Easy 3 Ingredient Halloween Monster Slime – Sensory Activity for Kids www.thebestideasforkids.com




19. Create Your Own Halloween Jack-O-Lantern Jar Craft for Kids with Tealight, Tissue Paper, and PVA Glue www.redtedart.com
20. Do Colorful and Creative Halloween Neon Mason Jar Mummies with Yarn, Jar, and Bright Tissue Paper kidscraftroom.com





21. Make Eye-Catching Halloween Paper Bag Witch Craft for Kids with Paper Plates Lime Green Paint and Lunch Bag iheartcraftythings.com
22. Hot Glue Pinecone and Black felt for Cute and Creepy Halloween Bats for kids www.firefliesandmudpies.com




23. Create a Playful Halloween Witch with Paper Plate, Bright colors and Cardstock iheartcraftythings.com
24. Make a Paper Bobble-Head Up Down Bright Black Cat Halloween Craft for Preschoolers www.firefliesandmudpies.com




25. Do Pumpkin Craft for Kids with Bright Orange and Green Paper Strips for this Halloween www.firefliesandmudpies.com
26. Try to make these Bright Halloween Paper Plate Pumpkins for Toddler Craft www.firefliesandmudpies.com




27. Do Easy Paper Strip Black Cat for Halloween Toddler Craft www.easypeasyandfun.com
28. Make some Super Easy Popsicle Stick Monsters Craft www.iheartartsncrafts.com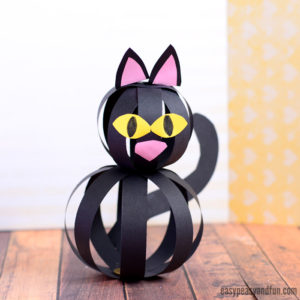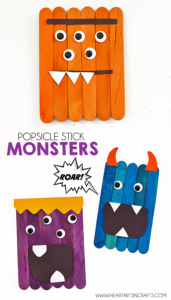 29. Cute Popsicle Stick Yarn Halloween Spider Web Craft for Toddlers fine Motor Skills buggyandbuddy.com
30. Trick or Treat Smell my feet Witch- funny n cute paint your toddler's feet and stamp www.pinkieforpink.com




31. Make Halloween Sensory Bin with easy Colored Spaghetti & Glow in Dark Bouncy Eyeball www.simpleeverydaymom.com
32. Seasonal Crafts for Nooks and Shelves Pinecone Spiders: Creepy Cute and Scary Halloween Spider Crafts for Toddlers www.firefliesandmudpies.com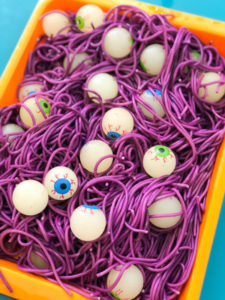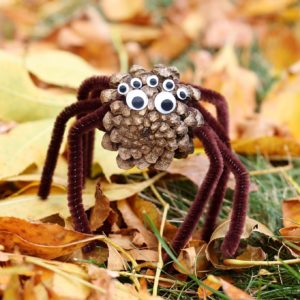 33. Favorite Fall Season Apple Stamping Pumpkin Craft for Preschoolers www.madetobeamomma.com
34. Create these easy popsicle stick monster puppets for this Halloween Preschoolers Craft mommymoment.ca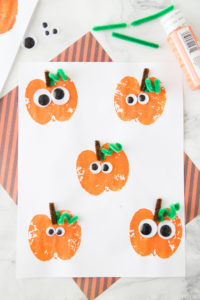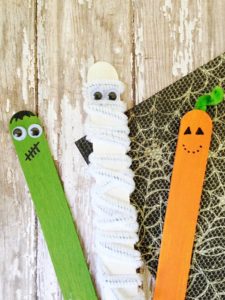 35. Halloween Footprint Ghost Craft for Kids – Paint Crayons and Marker www.craftymorning.com
36. Halloween Papercup Ghost stack and Bowling Game www.spiritedpuddlejumper.com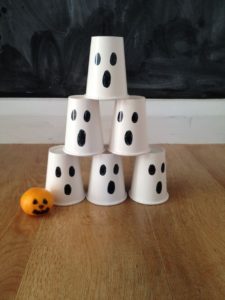 37. Cute Little Halloween Egg Carton Monsters craft for kids – for Recycling/Repurposing lovers www.thecrafttrain.com
Calling all crafty creatures of the night! 🦇✨ Get ready to flap your creative wings as we craft the cutest and creepiest critters for Halloween – Egg Carton Bats! 🎃🌕 Gather your spooky supplies, and let's transform simple egg cartons into adorable nocturnal friends. These batty little creations will hang around, adding a spook-tastic charm to your Halloween decorations
Egg carton bats and more bat crafts for Halloween –artsy craftsy mom


38. Make Halloween Candy Holders with Paper Tubes Marker and Wrapping Paper craftingagreenworld.com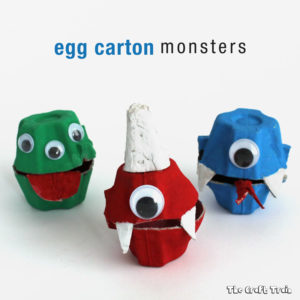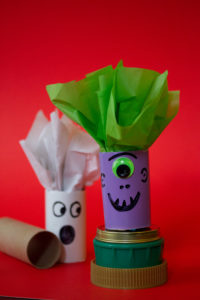 39. Mix and Match Pumpkin Face Craft / Game for Kids with Velcro, Foam, and Pumpkin www.makeandtakes.com
40. Frankenstein Sun Catcher Toddler Craft with Contact Paper and Tissue Paper fromabcstoacts.com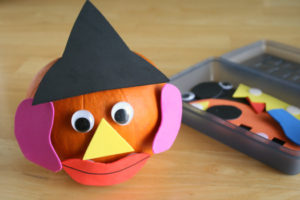 41. Do this super cheap Halloween spiderweb wall decor with black trash bags howaboutorange.blogspot.com
42. Make spooky Halloween lanterns with Mod Podge Tissue Paper Mason Jar and tealight candles www.erinspain.com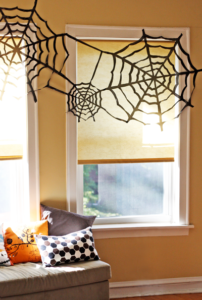 44. Create tissue paper Halloween pumpkin sunlight catchers www.herecomethegirlsblog.com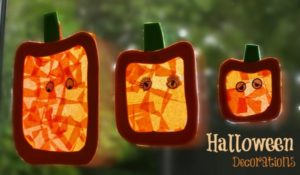 45. Create customized cards with handprint Halloween witchcrafts www.craftymorning.com
46. Halloween party decor – cute Halloween Character Cups with orange cups and googly eyes chickenscratchny.com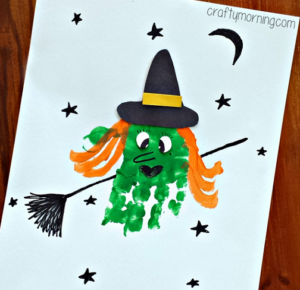 47. Craft an adorable Witch for this Halloween with construction paper, cardstock and glue iheartcraftythings.com
48. Create Memorable Gifts with Toddler Handprint Halloween Craft on Airy Dry Clay and Paint nontoygifts.com




49. Popsicle Stick Frankenstein Craft for Kids Easy to make and Paint www.craftymorning.com
50. Craft Easy Paper Jack O'Lantern with A4sheets and Cardstock www.easypeasyandfun.com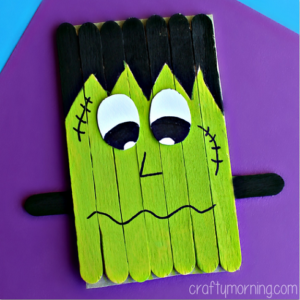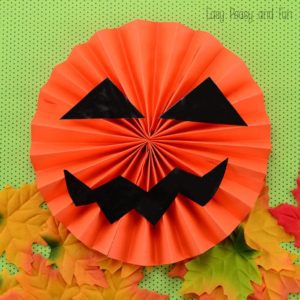 51. Your kids will love these adorable and inexpensive coffee filter Jack o' lantern sun catchers www.firefliesandmudpies.com
52. Bring the Smell of Halloween – Make Cute and Adorable Cinnamon Pumpkin Candles helloglow.co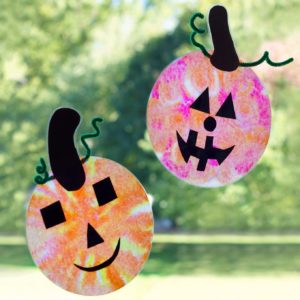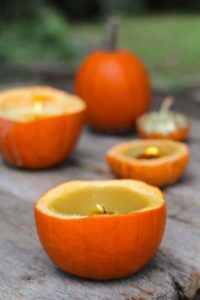 53. Repurpose your old socks into a Halloween black sock cat in just 15 minutes frogprincepaperie.com
54. Fill the Halloween Leftover Candies in Mason Jars and Decorate to Make Scarecrow Treat Jars www.thecentsiblelife.com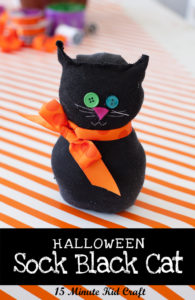 55. Craft Witch Brooms with Striped Paper Straws as Halloween Party Favors and Table Decor www.craftaholicsanonymous.net
56. Make Spooky Halloween Spider Soap – Kids would love to craft with Glycerin, Spider toy, Mould and Fragrance Oil www.happinessishomemade.net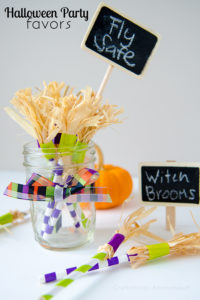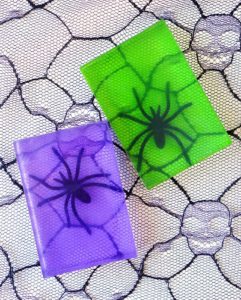 57. Kids will love to make these Halloween paper bag monsters with paper bags, paint, and glue iheartcraftythings.com
58. Totally Adorable Easy Halloween Crafts for Kids – Video Tutorial www.youtube.com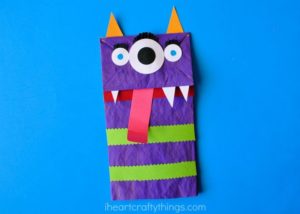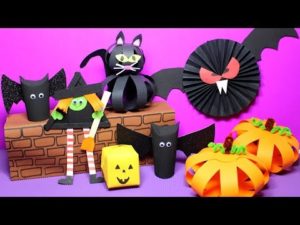 59. Upcycle Your Terracotta Flower Pots into Friendly Halloween Spiders with Pot, Paint and Cleaners www.creativegreenliving.com
60. Make Create Halloween Pumpkin Luminaries Craft with Recycled Glass Jars, Mod Podge, Makers, and Tissue Paper www.creativegreenliving.com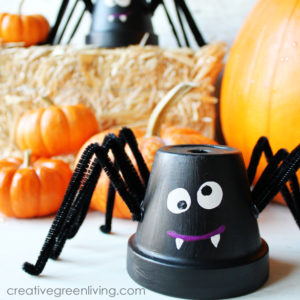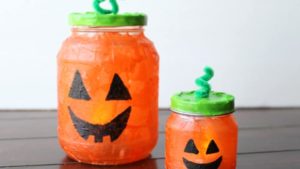 61. Paint with Your Kids to Make Halloween Mason Jar Ghost Lantern – Paint, Stickers, Marker, Jar and Tealight Candle oldsaltfarm.com
62. Craft Bright and Colorful Monster Party Hats for this Halloween with Duct tape and Party Hats studiodiy.com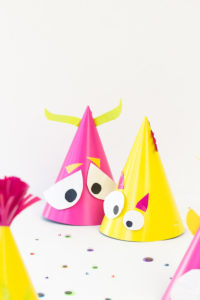 63. Create Colorful Painted Pumpkin Owl with Your Young Crafters and Skip Halloween Pumpkin Carving iheartcraftythings.com
64. Create Edible Halloween Monster Lollipops – for Trick or Treat and Halloween Candy for Classmates www.happygoluckyblog.com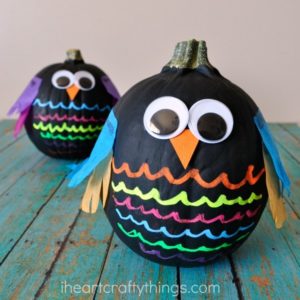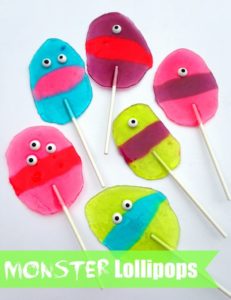 65. Kids Halloween Adorable Frankenstein – Crafted with Paper Plate, Foam and Googly Eyes www.anightowlblog.com
66. Vibrant and Cute Cardboard Tube Aliens Halloween Kids Craft artsycraftsymom.com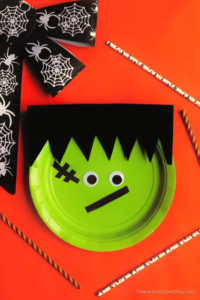 Create whimsical Halloween rainbow paper tube bat craft for kids: paper tube, construction paper, glue www.hellowonderful.co
Do this super cheap Halloween spiderweb wall decor with black trash bags howaboutorange.blogspot.com
Make spooky Halloween lanterns with mod podge tissue paper mason jar and tealight candles www.erinspain.com
Diy flying bats papercraft www.momshavequestionstoo.com





Diy paper plate skeleton www.the36thavenue.com

Halloween Coloring Pages and Template