Gooey & Crispy Swiss Cuisine: 17 Traditional Foods of Switzerland
Hey there, foodies and culinary adventurers! Today, we're diving into the mouthwatering world of Swiss cuisine – a delightful fusion of flavors, traditions, and influences that will leave you craving more.
Switzerland is not only known for its stunning landscapes, but also for its delicious and diverse culinary offerings.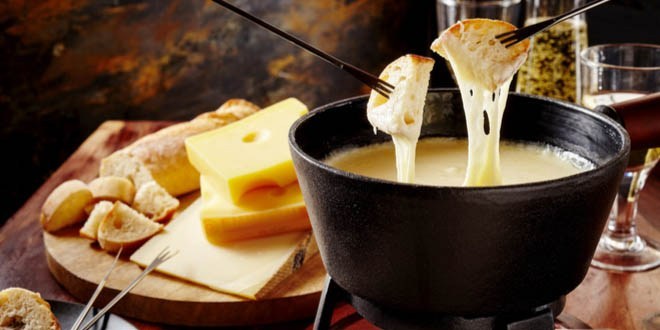 What to Expect @ Switzerland
Picture this: a country where every dish tells a story and every bite transports you to a world of taste sensations.
From the rolling green hills to the snow-capped mountains, Switzerland's food is a reflection of its rich cultural heritage and its close ties to neighboring countries.
From the velvety smooth chocolate that melts in your mouth to the assortment of world-class cheeses, every morsel is a testament to their commitment to excellence.
And let's not forget the wines and dairy products that add that extra touch of indulgence to the Swiss dining experience.
We'll start with the ultimate crowd-pleaser – fondue! Picture yourself dipping a crusty piece of bread into a bubbling pot of melted cheese, surrounded by friends and laughter. Oh yes, we're going there!
We're going to uncover the most iconic and traditional Swiss foods and beverages that have been passed down through generations.
From gooey fondue to crispy rösti, and from smooth Swiss chocolate to delightful wines, get ready to savor the flavors that define Switzerland's foodie paradise.
So, grab a seat at our virtual dining table, and let's dig into the mouthwatering world of Swiss food together! Bon appétit! 😋🥂
17 Traditional Swiss Foods

Swiss cuisine is a captivating tapestry of flavors woven together by its diverse regional influences.
Switzerland's unique geographical location, nestled between France, Germany, and Italy, has contributed significantly to its culinary melting pot.
Over the centuries, each neighboring culture has left its mark on Swiss cuisine, resulting in a harmonious blend of French finesse, German heartiness, and Italian flair.
For example, in the French-speaking regions, you'll find dishes like quiches and coq au vin, while German-inspired sausages and hearty stews dominate in the German-speaking areas.
Meanwhile, Italian pasta and risotto dishes make an appearance in the southern Ticino region.
Fondue: Ready for a gooey, cheese-filled adventure? Fondue is the ultimate Swiss delight! Picture this – a communal pot of melted cheese, bubbling away, surrounded by friends, laughter, and deliciousness. Grab those bread cubes and dip away for a flavor explosion that's impossible to resist. It's the perfect way to bring people together over a pot of pure cheesy goodness!
1. Switzerland cheese fondue: warm, rich taste goes great with French bread theculturetrip.com
2. Switzerland foods rösti: crisp on the outside and soft and melting inside www.gutekueche.ch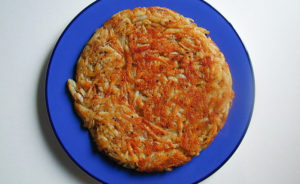 Swiss cuisine are its cherished traditional ingredients: Cheese, potatoes, and dairy products hold a special place in the heart of Swiss cooking.
With an astonishing variety of cheese, from the world-famous Emmental and Gruyère to lesser-known regional cheeses, it's no wonder Switzerland is renowned as a cheese lover's paradise.
Potatoes, in turn, play a fundamental role in Swiss cooking, appearing in many dishes like the iconic rösti – crispy, golden potato pancakes that warm both the body and soul. And let's not forget about the dairy! From rich, creamy butter to delectable creams and yogurt, Swiss dairy products elevate the taste and texture of countless dishes.
Incorporating these traditional ingredients with influences from neighboring countries, Swiss cuisine has become a symphony of tastes, offering something for every palate.
So, when you savor Swiss dishes, you're not only experiencing the best of regional diversity but also appreciating the authentic flavors that have been passed down through generations
3. Traditional Swiss dish: Switzerland, fondue great with dry white wine travelforfoodhub.com
Birchermüesli: This healthy and delicious muesli is a breakfast dream come true.
It's a simple blend of oats, creamy yogurt, and an abundance of fresh fruits.
The combination of flavors and textures is pure bliss, making Birchermüesli the perfect way to start your day with a smile.
4. Switzerland bircher muesli: healthy, creamy, and fruity breakfast www.carolinescooking.com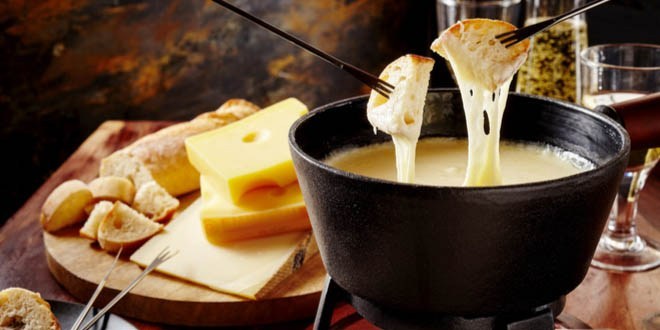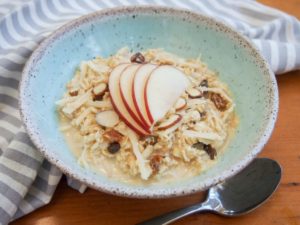 5. Swiss bircher muesli yogurt, milk, and fruit: perfect breakfast when no time laurencariscooks.com
Raclette:
Imagine a wheel of raclette cheese, slowly melted, and then poured over boiled potatoes, pickles, and cured meats. Every bite is a celebration of flavors, and you'll find yourself scraping your plate for every last drop of that heavenly cheese. It's a warm and cozy culinary experience that'll leave you craving more!
6. Raclette Switzerland foods: raclette with potatoes, cornichons, and pickled onions www.christinascucina.com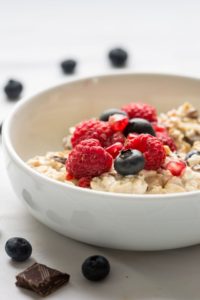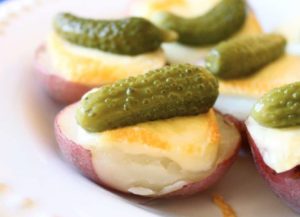 7. Swiss raclette recipe: served with potatoes and a sparkling glass of wine www.food.com
Rösti is a true comfort food that has won the hearts of Swiss locals and food enthusiasts worldwide. This culinary gem consists of coarsely grated potatoes, often seasoned with a sprinkle of salt and pepper, and then fried until golden and crispy on the outside, while remaining tender and fluffy on the inside. It's a deliciously simple creation that packs a punch of flavor and texture!
8. Basler Mehlsuppe (swiss carnival soup): roasted flour soup butter, flour, beef stalk, and grated gruyere www.morselsandsauces.com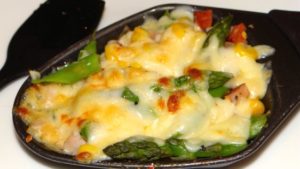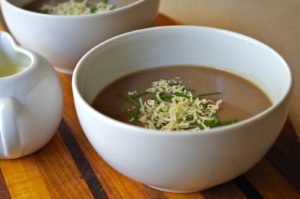 9. Crockpot braised beef ragu with polenta recipe pinchofyum.com
10. Switzerland tartiflette: smoky bacon, reblochon cheese, caramelized onions, and nutty cream www.booths.co.uk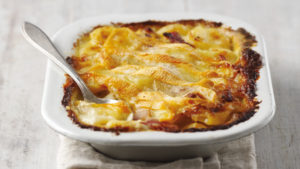 11. Älplermagronen swiss foods: goes great with stewed apple, bacon, and fried onions www.bettybossi.ch
Alplermagronen, also known as Alpine Macaroni, is a hearty and comforting dish that originates from the picturesque mountainous regions of Switzerland
At the heart of Alplermagronen are two beloved staples: pasta and potatoes.
Generous amounts of Swiss cheese, often Emmental or Gruyère, are melted into the pasta and potato mixture, creating a creamy, gooey, and utterly indulgent sauce.
The rich and nutty flavors of the cheese infuse every forkful with delightful warmth.
12. Baked whole vacherin mont d'or: with new potatoes, gherkins, and French bread thehappyfoodie.co.uk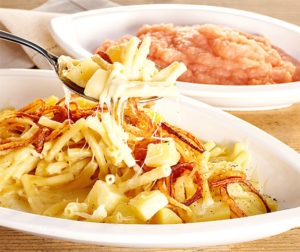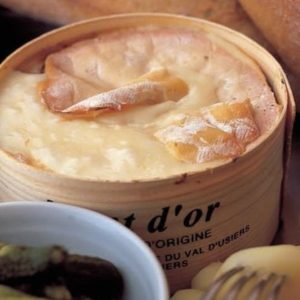 13. Baked whole vacherin mont d'or with chat potatoes and cornichons – soul-filling culinary www.delicious.com.au
Nusstorte – a beloved Swiss nut tart that'll have you reaching for seconds in no time.
This pastry masterpiece is a delightful blend of a buttery, crumbly crust generously filled with a luscious mixture of walnuts or almonds, caramel, and honey.
The combination of crunchy nuts and gooey sweetness is simply irresistible, making Nusstorte a must-try treat for anyone with a sweet tooth.
14. Drool-worthy Swiss food graubünden nut pie | fusion of cream and nuts www.graubuenden.ch




15. Basler Leckerli swiss christmas food hazelnuts, almonds, fruit, honey, glazed ginger, and kirsch www.foodandwine.com
Zürcher Geschnetzeltes: This mouthwatering Swiss dish that's short on name but big on flavor!
Tender slices of veal are lovingly cooked in a creamy mushroom and white wine sauce, creating a rich and luxurious taste sensation.
The succulent veal is expertly paired with Rösti, a Swiss potato dish that's crispy on the outside and fluffy on the inside.
This delightful combination of tender meat and hearty potatoes makes for a truly satisfying and comforting meal.
16. Zürcher Geschnetzeltes Swiss food goes great with rosti, noodles or rice www.lecker.de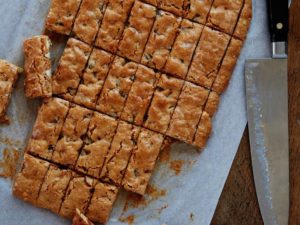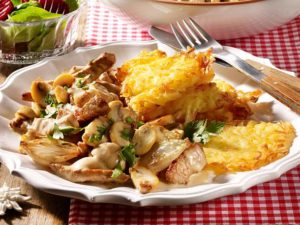 17. Switzerland foods zurchergeschnetzletes : delicious and mouthful ichkocheheute.de
The Engadiner Nusstorte appears like an unassuming pie, but it holds within it an explosion of flavors and textures that will captivate your taste buds.
a sumptuous combination of toasted walnuts or almonds, caramel, and a hint of fresh cream.
These ingredients come together to create a rich, nutty, and buttery flavor that dances on your palate.
The filling is lovingly nestled between layers of flaky, buttery pastry that adds a satisfying crunch to each bite.

> Engadiner Nusstorte – Cramel Walnut Tart –bestdesserts
18. Potato rösti cakes Swiss food: golden potato patties with onion and sage www.bbcgoodfood.com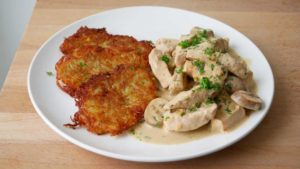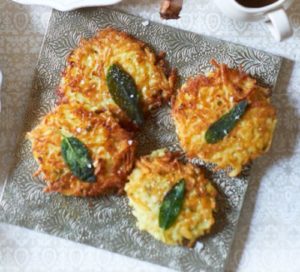 19. The Swiss diet schedule: typical Swiss foods to taste on time of the day www.expatica.com
Berner Platte
This special platter brings together an assortment of mouthwatering Swiss meats, sausages, and potatoes, all served in delicious harmony.
It's a dish that's reserved for those cherished moments of celebration and togetherness.
So, when you find yourself in Switzerland during a festive occasion, don't miss the chance to indulge in the hearty goodness of Berner Platte!
20. Potato rösti, bacon & egg stacks with tomato relish fast food-ish Swiss breakfast simply-delicious-food.com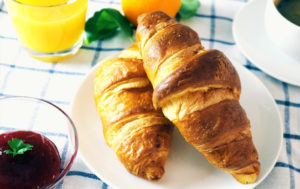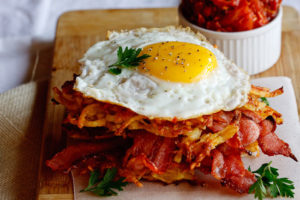 21. Zurich-style veal with creamy mushroom sauce and mashed potatoes: a classic dish from Zurich eatlittlebird.com
22. Zopf Swiss bread: braid bread for breakfast to dinner www.cookwithkushi.com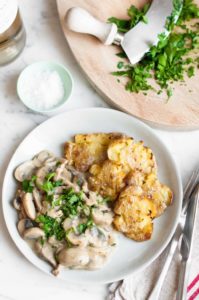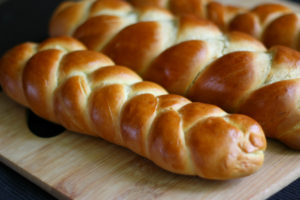 23. Swiss mushroom loaf appetizer: loaf stuffed with Swiss cheese and mushrooms www.tasteofhome.com
Saffron Risotto: With saffron lends its rich flavor and vibrant color to the dish,  each spoonful is a luxurious journey of taste, with the creamy rice and saffron-infused goodness melting in your mouth.

Ticino's culinary gem is a celebration of flavors that'll leave you craving more. Indulge in the golden perfection of Saffron Risotto!
24. Flammekueche (alsatian pizza): flat pizza appetizer cnz.to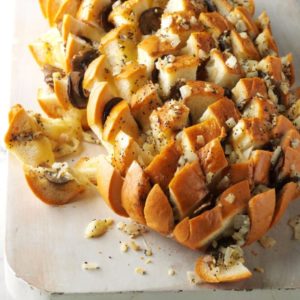 25. Swiss potato soup recipe www.tasteofhome.com
26. Traditional swiss easter rice tart recipe: crunchy, soft, and sweet www.spoonabilities.com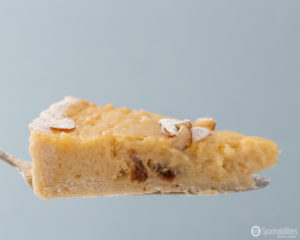 Switzerland, fondue is great with dry white wine
I say "Swiss dish of rich, velvety, cheesy heaven", you say? If you said anything other than cheese fondue, you need to visit Switzerland and try this food.