Welcome Home: 80 Porch & Front Door Decor Ideas
ofspringandsummer.blogspot.com
Your home's entrance is the first glimpse of the warmth and personality within. It's the gateway to your personal sanctuary, the place where you welcome guests, and the canvas upon which you can express your unique style.
From the enchanting charm of a cottage door adorned with seasonal wreaths to the modern elegance of a sleek urban entryway, your porch and front door hold endless possibilities for creative decor.
Porch & Front Door Decor Ideas
A quick and simple porch decor idea with your old wicker furniture.
1. Diy Contemporary Porch Decor Idea With Gray Wicker Furniture Contrasted With Colorful Cushions www.hgtv.com
2. Diy Porch Decor In Vintage Style With Antique-looking Metal Porch Planter In White Paint www.southernliving.com



A traditional doorway decor idea with 'Welcome' wood sign 6′ tall in length and extremely inexpensive as made of old pallets.
3. Diy Front Proch Decor Style With Rustic Welcome Board And Large Clay Planter knotandnestdesigns.com
4. Diy Fall-wreath Door Decor With Hydrangea And Monogram On Grapevine Base www.idealpin.com



A luxurious-looking but easily affordable porch decor idea for summer days.
5. Diy Summer Porch Decor Idea With Sparkling Tunnies And Modern Seating Furniture With A Geometric Rug kelleynan.com
6. Mason Jar Lanterns: Diy Dreamy Porch Decor Idea With Dollar Store Materials By Orchard Girls orchardgirls.blogspot.com



7. Captivating Porch Decor Idea In Subtle Mediterranean Style For Seaside Areas enmiespaciovital.blogspot.com
8. Aesthetically Embellished Porch Idea With Simple Wooden Bench And Hanging Planters www.thepaintedchandelierblog.com



Another wonderful yet cheap DIY doorway decor idea with rustic welcome board.
9. Unique Rocking Chair Planter With Bold Yellow Accent For A Captivating Porch Look www.homestoriesatoz.com
10. Diy Doorway Decor With Welcome Sign And A Pretty Gardenia Plant Decor Inside Barrel Planter sweetsmorgasbord.wordpress.com



11. French Style Porch Entrance Decor With Re-purposed Metallic Planters www.savvysouthernstyle.net
12. Super Charming Porch Decor Idea For Summertime In Seashore Style With Seashells And Other Ocean-objects www.cottageintheoaks.com



Steal this exclusive front porch look easily with this quick-to-follow tutorial.
13. Whimsical Porch Entryway Decor Idea With Polka-dotted Tiered Planters In Beautiful Paints www.positivelysplendid.com
14. Welcoming Front Porch Decor Idea With Large Planter, Vintage Lantern, And A Geometric Rug thehowtohome.com



15. Diy Beach Cottage Decor For The Summer Porch With Classy Seashore Touch betweennapsontheporch.net
16. Diy Perfectly Organized Garden Party Decor Idea For Large Open Porch Area freshideen.com
Seasonal Elegance
As the seasons shift, your decor can too. Join us on a journey through the calendar year, exploring how you can celebrate each season and holiday with creativity and flair. From vibrant spring blooms to the cozy warmth of winter wreaths, we've got seasonal decor ideas to infuse your home with the spirit of the moment.
A brilliant and Eco-friendly porch decor idea for scorching summer days.
A DIY garden touch with rustic planters out of recycled objects increase the beauty of this porch more noticeably.
17. Diy Summer Porch Decor Idea With Hello Sunshine Sign And Glass Greenhouse Planter Tabletops www.designdazzle.com
18. An Outdoor Renovation With Large Geometric Rug And Rustic Seating Furniture With Hidden Storage thefreshexchange.com



19. Welcome Home Porch Décor With Bold Color Strokes In Furniture, Cushions, And Flower Decors paintyourselfasmile.com
20. Sparkling Porch Decor Idea With Light Garlands: A Wonderful Diy For A Dreamy Outdoor bonnieprojects.blogspot.com



21. Seasonal Simplicity Spring Home Tour Rustic Porch View With Potting Bench Planter Display www.simplicityinthesouth.com
22. Repurposed Succulent Lantern Mini-garden Tutorial For A Mesmerizing Front Porch View happyhourprojects.com



A classic front porch decor idea in vintage cottage style.
Spring is here and its time to take your curb appeal to the next level with this great ideas! 1) Carriage house style doors with some simple hardware upgrades! Click here to see what you will need! 2) Your garbage cans are always an eye sore, so hide them…
23. Summer Front Porch Decor In Cottage Style With Large Metallic Lanterns And Terracotta Planters www.cottageintheoaks.com
24. A Flowery Front Porch Decor Idea With Bushier Planters And Wire-lanterns To Boost Your Curb Appeal fetchingdaisies.com



25. Diy Porch Adornment In Bohemian Style With Woven Bench Seat And Classic Cushions www.instagram.com
26. Simple Porch Decor Idea With Painted Wooden Crate Plant Stand And Unusual Diy Planters www.tospitimas.gr



27. Stunning Summer Front Porch Decorations With Different Types Of Planters Over Tree Logs www.alivelyhope.com
28. Bright And Graphic Porch Decorating Idea With Recycled Metallic Vase As Porch Tabletop www.serendipityrefined.com



Revamp the whole look of your ordinary porch into a luxurious one with this easy style.
29. Cozy Porch Decor For Summertime With Bohemian Hammock And Rocky Planters www.instagram.com
30. Classy Diy Porch Decor Idea For How To Makeover Your Patio For Spring By Monica Wants It www.monicawantsit.com



31. Diy Trendy Porch Adornment With Inspirational 4th Of July Patriotic Touch www.savvysouthernstyle.net
32. Ravishing Porch Decor Idea With Luxurious Furniture Set By Refresh Restyle refreshrestyle.com



A perfect combination of cozy and environmentally friendly porch decor idea.
Whether you're a seasoned DIY enthusiast or just starting, there's something for everyone. From simple, quick fixes to more elaborate projects, we'll walk you through creating your own custom door decor. You'll be amazed at how a little creativity and a few materials can transform your entrance into a welcoming work of art.
33. A Super Classy Porch Decor Idea For Amethyst Open Air Porch With Cozy Seating Area adelaparvu.com
34. Wicker Summer Porch Decor Idea With Eco-friendly Greenery Adornments And Colorful Furnishings www.dintelo.es



An old-school porch decor idea with concrete planters for natural rural look.
35. Totally Rustic Porch Look With Heavy-size Multi-level Rectangular Concrete Planter todaysgardens.org
36. A Magical Garden Background Decor Idea For Front Porch Area With Old Wooden Wheel www.fleamarketgardening.org



Upgrade the style statement of your home with this classy porch interior designing.
37. Modern Zen Porch Seating Area With Large Cane-made Chairs And A Classy Side Table karenkempf.com
38. Diy Monogram Planter Tutorial With Wooden Alphabet In The Wrap Of Flowers For Dreamy Front Porch www.remodelaholic.com



Steal this totally rural view for your front porch area with some cheap and recycled products with this easy tutorial.
39. Country Style Farmhouse Front Porch Decor Idea With Old Ladder And Diy Lanterns littlefarmstead.blogspot.com
40. Farmhouse Style Summer Porch Decor With Cycle And A Vintage Flower Market Embellishment sarahjoyblog.com



41. Spring Porch Decor In Rustic Farmhouse Pattern By The House Of Hawthornes www.houseofhawthornes.com
42. Ladders In Décor: A Floral Front Porch Adornment Idea With Diy Ladder Stuffed With Pretty Flowers www.ashbeedesign.com



Learn to redecorate the simple porch view of your house with these small yet clever decor addition through this easy tutorial.
43. Spring Porch Reveal: A Spectacular Porch Decor Idea With Rocking Chair Set And Pretty Floral Accents funhomethings.com
44. Refreshingly Flowery Front Porch Decor Idea For Spring Or Summertime With Hanging Planters www.jennaburger.com



Yellow is the flavor for bright summer or refreshing spring, so, learn to use this color for beautifying your porch with tutorial.
45. Captivating Front Porch Decor With Yellow Accent In Cottage Charm: Spring Front Porch Idea satoridesignforliving.com
46. Wonderful Door Dressup Idea With Trendy Summer Front Porch Embellishments www.cleanandscentsible.com



47. Impactful Front Porch Decor Idea To Add Curb Appeal To Your Entrance: Diy House Adornment startathomedecor.com
48. Totally Magical Front Porc View Charming Lantern And Metallic Planter With Vintage Touch hannashantverk.blogspot.com



Learn to blend countryside interior perfectly with rustic Boho-style in this unique pattern.
49. Country Farmhouse Porch Decor Idea With A Catchy Boho Touch: Diy Home Decor thediymommy.com
50. Ravishing Porch Decor Idea With Hello Summer Sign And Some Pretty Floral Touch www.petitepartystudio.com



White is an excellent shade to try on your porch area to increase it's elegance more noticeably. So, learn to blend that color suitably with every used object on porch smartly through this tutorial.
Even a nicely decorated door could enhance the whole look of your front porch amazingly, and this tutorial is the best example of that.
51. Elegant Front Porch Decor Idea With White Accents And Recycled Watering Can Turn Flower Vase www.onsuttonplace.com
52. Summer Front Porch Decorating With Dressup Door: Diy Fall Wreath With Grapevine findinghomefarms.com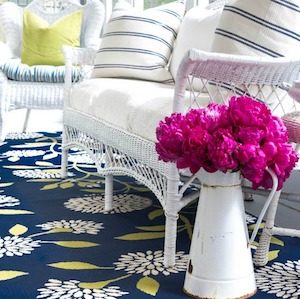 A totally envious DIY look look idea with a classy wooden partition and vintage side table merged with the classic furnishing brilliantly.
53. A Classic Front Porch Designing Idea With Wooden Furniture, Colorful Dhurrie, And Large Chandeliers www.bhg.com
54. Diy Porch Decor Idea With Plant Hanger With Three Tiered Plant Holder By The House Of Hawthornes www.houseofhawthornes.com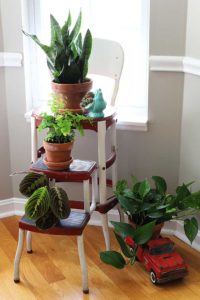 55. Summer Porch Decorating Idea With A Wonderful Combination Of Farmhouse Style Barrel Planter And Vintage Style Clay Pots www.houseofhawthornes.com
56. Summer Painted Planters: The Easiest Way To Revamp The Porch Look Quickly With The Season Touch www.thecraftedsparrow.com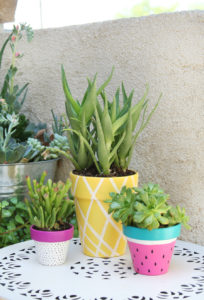 57. Easy Tutorial Of Diy Front Porch Planter With Gold Dipped Legs For A Captivating Porch View home-heart-and-hands.blogspot.com
58. Inspirational Outdoor Decoration Idea In Countryside Style With Recycled Old Washtub Planter littlebrags.blogspot.com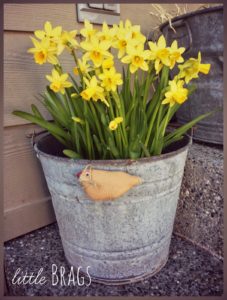 This summer be ready with a suitable porch view easily with these wonderful whitewashed terracotta pots.
59. Diy Garden Project: Topsy Turvy Flower Planters With Terracotta Pots For A Striking Porch View weheartthis.com
60. Summer Front Porch Decor Idea With Whitewashedterra Cotta Pot And A Rustic Wooden Plant-holder www.tidbits-cami.com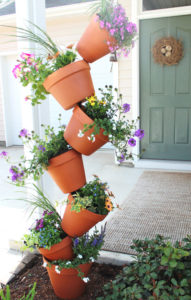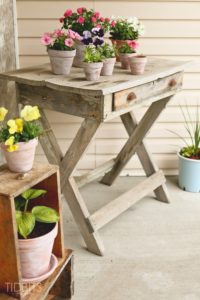 61. Summer Celebration Series With Unique Three-tiered Planter For Pretty Flowering Plants www.housebyhoff.com
62. Farmhouse Type Front Porch Decor Idea With Galvanized Metal Panter: Diy Rustic Outdoor Decor ofspringandsummer.blogspot.com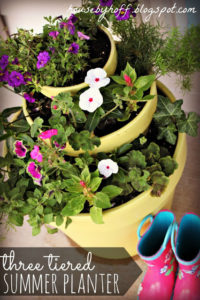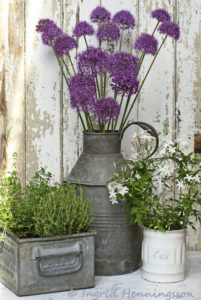 This tiered fairy garden object would make the look of your porch area absolutely magical from every aspect.
63. Diy Three-tiered Fairy Graden Planter For Front Porch Decoration: A Mesmerizing House Decor Idea juliapalosini.com
64. Diy Haning Rain Gutter Planter In Tiered Shape With Charming Bold Blue Accent www.makeit-loveit.com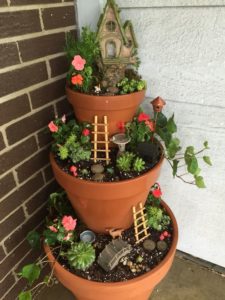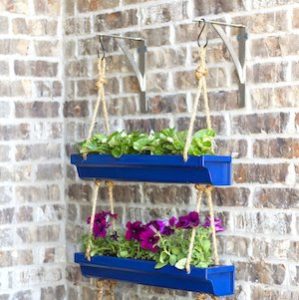 Improve the whole view of your house entrance with this wonderful chandelier planter.
65. Summer Front Porch Decorating Idea With Diy Wooden Flower Crat Decor For A Charming House Entrance www.cleanandscentsible.com
66. Chandelier Planter Tutorial: A Totally Exclusive House Decorating Idea For Porch Area diyshowoff.com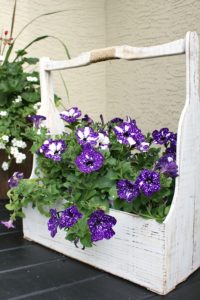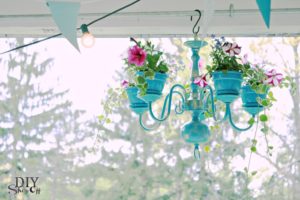 Learn to make some colorful hanging planters from colanders and use them properly to increase the whole look  of your porch with this tutorial.
67. Flower Pot Centerpiece: Easy And Inexpensive Diy Craft Idea To Decorate Your Porch hearthandvine.com
68. Diy Colander Planter: Easy Tutorial Of How To Make Your Porch Charming With Hanging Planters www.countryliving.com



69. Back Porch Adornment Idea: Diy Summer Back Porch Floral Decor Idea On Cane-made Partition www.houseofhawthornes.com
70. Front Porch Spring Tour: Porch Decoration With Bold Color Accents thehambyhome.com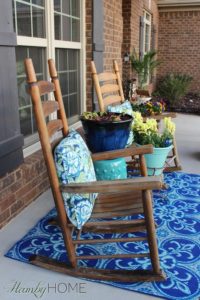 71. Tutorial Of How To Make A Stacked Pot Planter: Vertical Planting Idea For Restricted Proch Area allparenting.com
72. Diy Farmhouse Type Shallow Planter From Recycled Whisky Barrel With Tiering Layers thehambyhome.com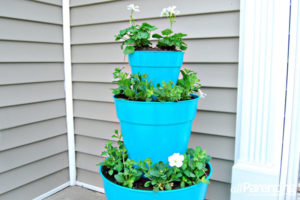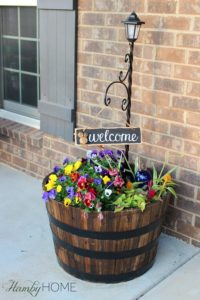 73. Stacked Diy Planter: Easy Exterior Decoration Trick For Small Front Porch Area www.homedit.com
74. Diy Hanging Planter With Attached Wooden Stand: A Beautiful Craft Idea For Front Porch Area www.theweatheredfox.com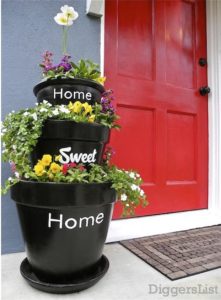 Be summer ready with a perfectly suitable porch decor craft with this simple tutorial.
75. Diy Watermelon Wreath Tutorial For Summer Porch Decor With Cotton Fabric Straps Over Wire Frame www.craftcreatecook.com
76. Diy Summer Banner Tutorial: A Perfect Porch Decor Idea For Colorful Summertime todayscreativelife.com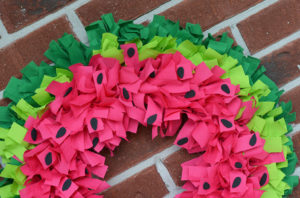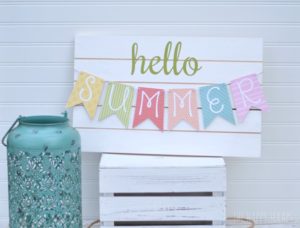 77. Weekend Project: Fruit Slice Welcome Mat For Summer-ready Front Porch thehousethatlarsbuilt.com
78. Diy Wooden Porch Swing With Cozy Cushions: A House Exterior Idea For Front Porch Area www.shanty-2-chic.com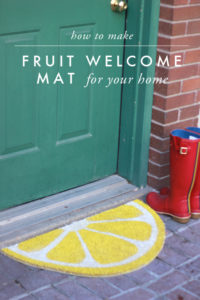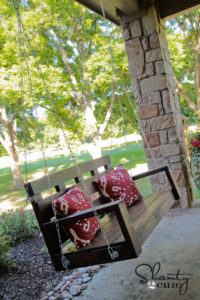 79. Tutorial Of Welcome Mat For Front Porch Area With Diy Watermelon Wedge Prints By Dream Green Diy www.dreamgreendiy.com
80. Classy Front Porch Decor Idea With Hello Wooden Mat And Bold Clay Planters At The Entrance www.hertoolbelt.com