Space Savvy: 84 Closet Organization & Garage Storage Ideas
Are you tired of battling the clutter in your home? Don't worry; you're not alone! Life can get chaotic, and things seem to pile up faster than we can organize them.
But fear not – it's time to embrace the chaos and discover the power of creative storage solutions!
From overflowing closets to messy garages, clutter can be overwhelming. But here's the thing – clutter is just an opportunity in disguise.
It's a chance to get crafty, to think outside the box, and to create storage that not only brings order but also adds a touch of personality to your space.
Let's tap into our inner DIY magic and find ingenious ways to tame the chaos.
With a little imagination and some crafting know-how, we can turn cluttered spaces into organized heavens.
So, buckle up and get ready to embark on an exciting journey of creative storage solutions!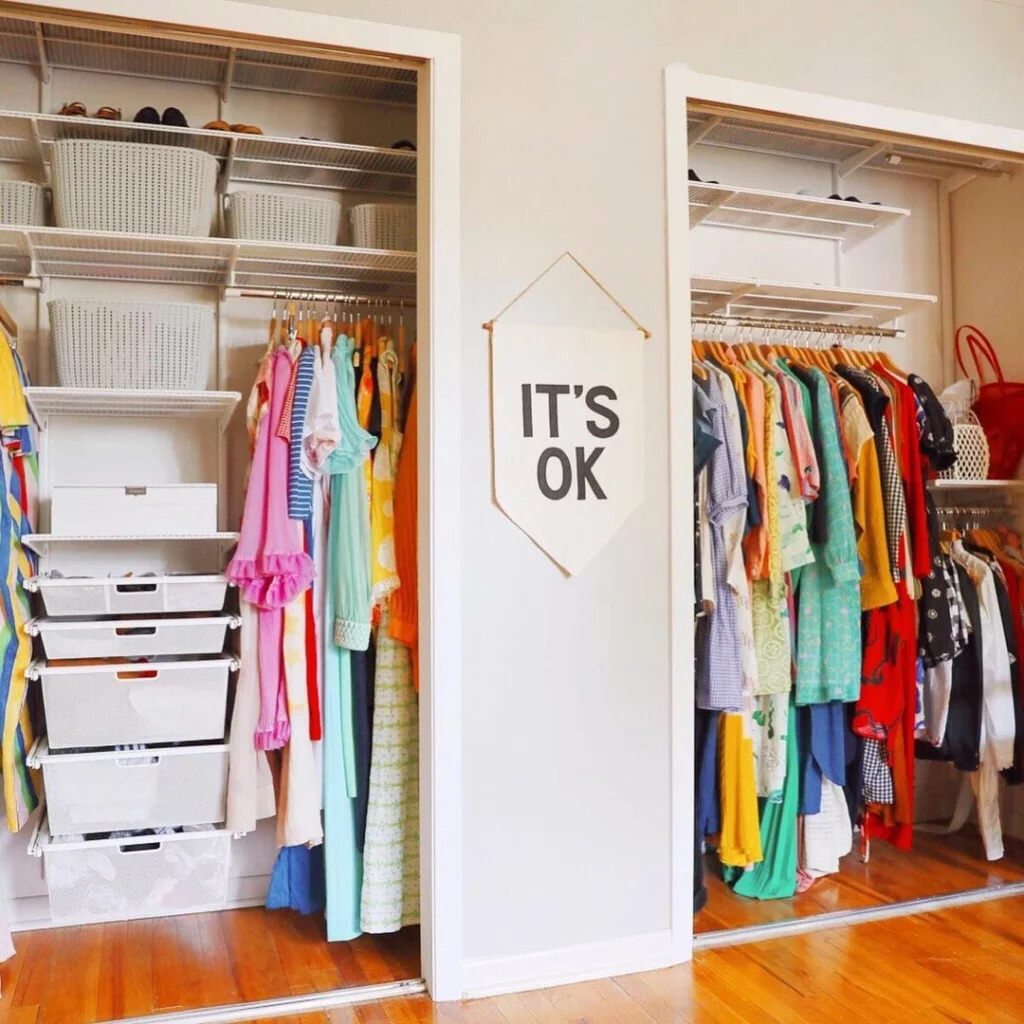 DIY Organization: Wardrobe & Garage Storage Ideas
Space-Savvy Hangers: Upgrade your hangers to slim, velvet, or cascading ones to maximize hanging space and keep clothes wrinkle-free.
Clever Closet Dividers: Use DIY dividers to sort and categorize your clothes by type, season, or color for quick and easy outfit selection.
Stylish Shoe Racks: Craft custom shoe racks or use hanging organizers to keep your favorite footwear neatly displayed and easily accessible.
1 Color Coordinated Pretty Closet Organization for Large Closet with Several Shelves www.kijashi.com



2. Closet Helper DIY Organizer in Colorful Basket Bins with Clear Tags for Different Stuff: www.bhg.com
3 Smart and Quick Eclectic Storage Solution for Open Closet Organization Process www.buyma.com



They say magic is all about transformation, and that's precisely what we're going to do with DIY crafting!
Say goodbye to messy spaces, and get ready to witness the enchanting power of storage solutions that you create with your own hands.
Crafting storage isn't just about tidying up; it's about personalization.
We'll unleash the magic of custom shelves, clever organizers, and space-saving solutions that perfectly fit your needs.
Accessory Heaven: Install hooks or small shelves to store accessories like scarves, belts, and jewelry, adding flair to your wardrobe.
Drawer Bliss: Make use of drawer dividers to keep socks, underwear, and accessories neatly organized for stress-free mornings.
Scarf and Tie Display: Hang scarves and ties on a towel rack or multi-hanger to showcase them while saving drawer space.
4 Super Chic Closet Organization with Rolling Garment Rack with Racks for the Quick Access freshmommyblog.com
5 Nice Showcase cum Closet with Pretty Display Pattern through Glass Door as Show Stopper memorabledecor.com



From repurposing old items to creating new and functional pieces, we'll learn how to make the most of what we have.
Crafting storage is not only practical but also fun and rewarding.
The sense of accomplishment when you step back and see your organized haven is pure magic.
6 Extremely Simple Hook Organize for Closet Stuff with the Perfect Open Display abeautifulmess.com
8 Fancy Closet Organization in Minimalism with Three Shelves Garment Rack www.un-fancy.com



Utilize Vertical Space: Add shelves or hanging organizers to maximize vertical storage for bulkier items or seasonal clothing.
DIY Shelf Inserts: Customize shelves with DIY fabric or acrylic dividers to prevent items from toppling over and creating a mess.
Clear Storage Bins: Utilize clear bins to store off-season clothing, bedding, or accessories, making it easy to see what's inside.
9 TwoFloored Well Organized Pretty Closet for Two Different People in One Single Cabinet furniture.clarkssurfarthawaii.com
10 Easy Closet Organization with Clear Divisions for Clutter-Free Wardrobe Look www.realsimple.com




11 Contemporary Closet Organization for Men with Huge Storage Space www.psycho-fash.com
12 Appealing Closet Arrangement with color-coordinated Shelves and Vertical Storage Hangers bdesignr.com




13 RollOut Storage Solution with Pull Out Drawer Patterned Closet with Various Divisions www.bestofinteriors.com
14 Simple and Speedy Closet Organizer with Cane Basket Bins and Perfectly Separated Storage Shelves organizedliving.com




15 Closet Organization with Vertical Hangers with Storage Pockets for Small Accessories
16 Utterly Easy DIY Closet Organization in Builtin Wardrobe Shelves with Various Sturdy Cases www.houseofhepworths.com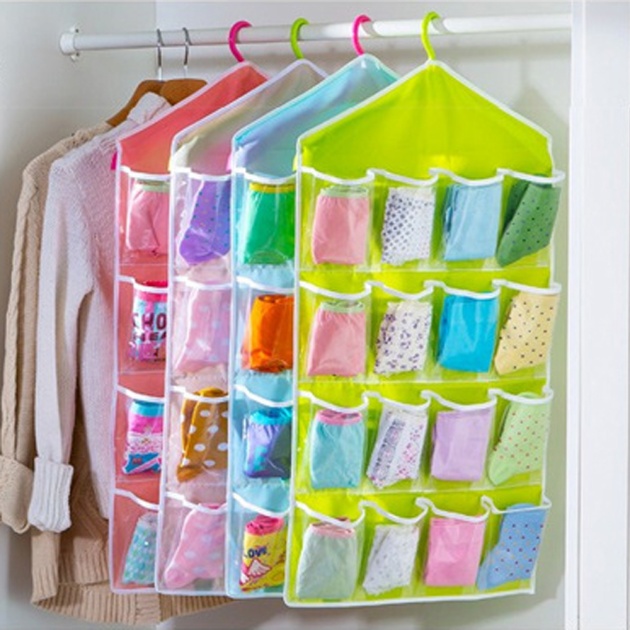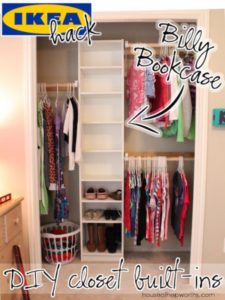 17 Smartly Ordered Clothes by Hanging Them Vertically through Old Curtain Rings inside a Large Wooden Hanger www.bestofinteriors.com
18 Neat Closet Arrangement with NoSlip Hangers for Your Clothes inmyownstyle.com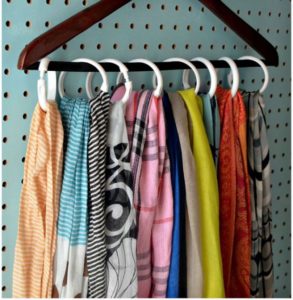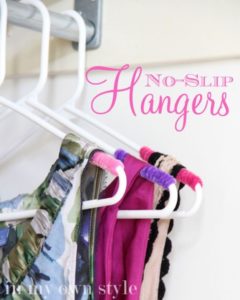 19 Open Closet Organization that is Designed with Basic Tenet to Make the Process Easier www.a-francesa.com
20 Wide and Classy Closet Organization with Immense Storage Space for both Clothes and Fashion Accessories goop.com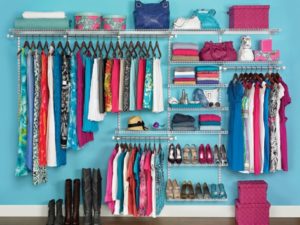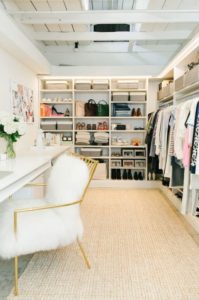 21 Plain Shoe Closet Organization with Open Display in Rollover Shelf Pattern comoorganizarlacasa.com
22 Adorable Nursery Closet Organization with Baskets Bins Shelves and Hangers www.twotwentyone.net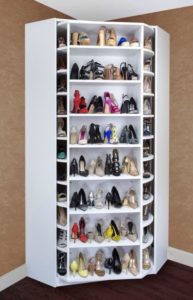 23 Open Display Closet Organization with Temporary Storage Solution www.yahowto.com
24 Easy to Make Hanger Hacks for Adjusting a Bunch of Clothes effortlessly on a Single Hanger Rod www.brit.co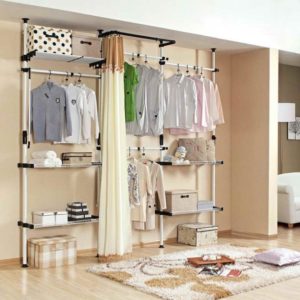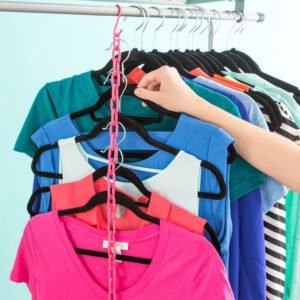 25 Catchy DIY Closet Organizing Process for Nursery Stuff with Shelves Hangers and Baskets www.brit.co
26 Clever Closet Organization Idea for Small Closets with an Open Display and Portable Drawer Sets www.whoseideawasittobuythishouse.com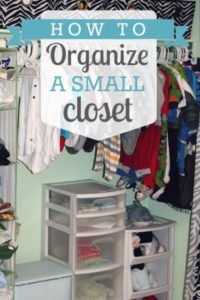 27 Plain Closet Arrangement in Plastic Bins and Wire Baskets with Levels for Different Closet Stuff importtestsite.wordpress.com
28 Catchy Closet Arrangement with some Nice Decorative Stuff on an Open Display Cabinet Pattern www.erinspain.com




30 Undemanding Vertically Hanging Closet Style with Wide Storage Space and an over the shelf Shoe Storage www.apartmenttherapy.com
31 Creative DIY Storage Solution with Clothespins over Wooden Board as the Quick Closet Organizer www.directobras.pt




32 Plain Open Closet Organization with Easy to Move Plastic Racks and Extended Shelf Organized with Several Basket Bins www.avenuelifestyle.com
33 Rustic Cane Made Storage Bins as Closet Organizer with Lock System dearlillieblog.blogspot.hu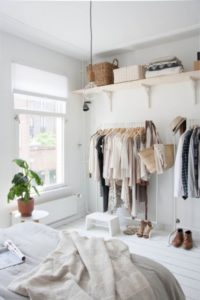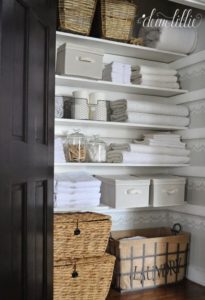 34 Uncomplicated and LowCost Storage Solution with DIY Shelves in an Open Display Pattern lauratrevey.com
35 Cheap and Nice Closet Storage Solution with Repurposing Old Crates and Hangers www.laurelparknews.com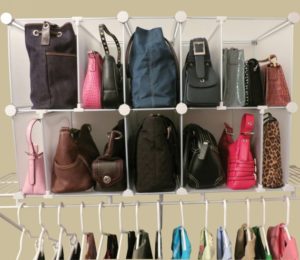 38 Smart Vertical Storage Cabinet for Easy Closet Organization with a High Shelf above the hanging Section Pattern www.whowhatwear.com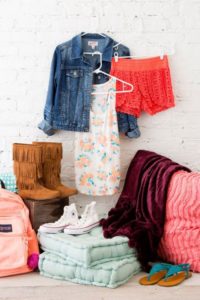 39 Sophisticated Hallway Closet Dilemma with Pretty Sliding Door as the Easiest Organizer vae.by
40 Inbuilt Organized Closet Idea for Small Accessories inside a Wide Wall Frame www.homedit.com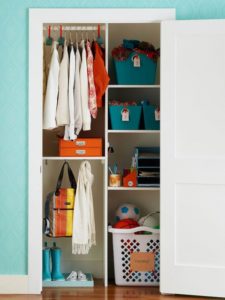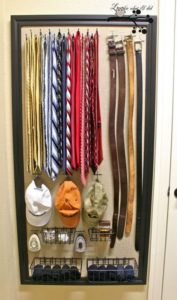 Build inexpensive closet organizer and Use Budget Fabric Bins www.lovelyetc.com
DIY slide-out Hanging organizer www.viewalongtheway.com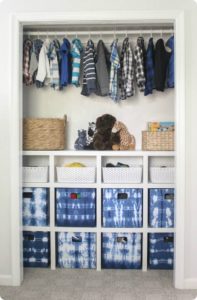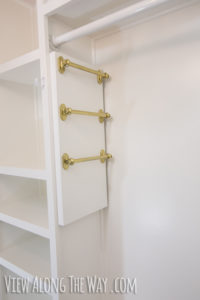 Utilize Doors: Hang shoe organizers or small baskets on the inside of closet doors for additional storage space.
Foldable Stackables: Fold and stack items like sweaters or jeans vertically to save space and maintain an organized appearance.
Labeled Containers: Use labels or color-coded tags on storage bins to quickly identify their contents and maintain order.
Utilize the Maximum Space a Master Room Closet Organization Challenge www.abowlfulloflemons.net
Kids Room: Closet Organization for Kids www.polishedhabitat.com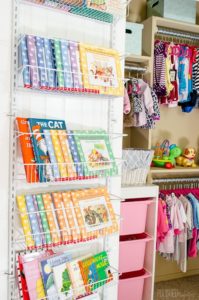 Hook the Handbags on the inner side of the Closet Door howtonestforless.com
Labeled Organized Closet Storage Ideas: Stress-Free Crisp and Clear Labeled Closet inmyownstyle.com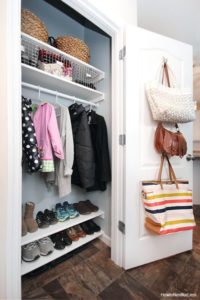 13. Seasonal Rotation: Rotate your wardrobe seasonally to keep your closet clutter-free and to make it easier to find what you need.
14. Under-Shelf Baskets: Install under-shelf baskets to add extra storage for accessories, purses, or other small items.
15. Dual-Purpose Furniture: Consider incorporating furniture with built-in storage, such as ottomans or benches, to keep items out of sight.

 Add Mirrors: If your closet doesn't have a built-in mirror, consider adding one to the inside of the door or on a wall for quick outfit checks.
Use Adjustable Shelves: Install adjustable shelves to accommodate different clothing heights and make the most of your closet space.
 Keep a Donation Bag: Keep a bag or box in your closet to collect clothes you no longer want. When it's full, take it to a donation center.

Garage Storage Ideas
Transform your garage from a cluttered space into an organized and efficient storage haven with these smart garage storage ideas:
Wall-Mounted Shelves: Install sturdy, wall-mounted shelves to keep items off the floor and create extra storage space for boxes, bins, and tools.
Overhead Storage Racks: Utilize the ceiling space by adding overhead storage racks to store bulky or seasonal items that are used less frequently.
Pegboards: Hang pegboards on the wall to organize and display frequently used tools, gardening equipment, and smaller items with hooks and baskets.
Tool Wall Organizer: Create a designated area on the wall for a tool organizer with hooks and holders to keep your tools easily accessible and well-organized.
1 Black Pegboard Wall for Tool Display pinklittlenotebook.com
2 Recycled DIY Power Tool Caddy from PVC Pipes www.remodelaholic.com




3 Repurposed Pallet Storage Box from Lawn Care Tools fixlovely.blogspot.hu
4 DIY WallHanging Pocket Display for Paint Cans hisugarplum.com




5 Simple Arts Crafts Accessory Racks for Tool Display www.iheartorganizing.com
6 DIY DualPurpose Wall Storage Solution for Garage dontworrybehappykeeplearning.blogspot.hu




7 Beautiful and Efficient Inbuilt Storage Closet Orientation
8 Easy Garage Organization Ideas with Bins www.diydesignfanatic.com




Simple Garage Garden Tools Stage Idea newlywoodwards.com
10 Brilliant Garage Organization with Pantry www.bhg.com



Bins and Clear Containers: Use labeled bins and clear plastic containers to store and easily identify items, making it simple to locate what you need.
Magnetic Strips: Install magnetic strips on the wall to keep small metal tools and items organized and within reach.
Sports Equipment Storage: Invest in sports equipment organizers or build a DIY rack to neatly store bicycles, skateboards, and other sports gear.
Workbench with Storage: Create a functional workbench with built-in storage drawers or cabinets for tools, hardware, and DIY supplies.
11 Super Smart DIY OvertheDoor Shelving Unit
12 DIY Rustic L Shelves from Repurposed Wooden Frame



Garden Tool Organizer: Use a garden tool organizer to store shovels, rakes, and other gardening tools in an organized and space-saving manner.
Label Everything: Label storage containers, drawers, and shelves to quickly identify their contents and maintain order.
DIY Hooks and Racks: Get creative with DIY hooks and racks made from materials like PVC pipes, wood, or repurposed items.
Trash and Recycling Station: Designate an area for trash and recycling bins to keep your garage clean and organized.
13 DIY Rolling Pegboard Tool Organizer with DoubleSided Storage www.instructables.com
14 ScrewOff Hanging Hardware Holders for Garage www.chezlarsson.com




15 Classy Wall Mounted Garage Organization Project
16 Easy DIY Cod Collectors from PVC Pipes www.glennbates.com




17 DIY Labeled Bucket Stash Rack Organizer domesticcharm.blogspot.hu
18 DIY Garage Storage for Mobile Tool Tote countryandvictoriantimes.com




19 Clever Garage Shelving with Cane Buckets www.justagirlblog.com
20 Handmade Rustic Outdoor Supply Shelf www.phillyfido.net




21 Simple Garage Organization Idea for Spanner and Tools
22 DIY Paint Display through Repurposed Wooden Shelves www.instructables.com




23 DIY Pull Stow Pegboard Tool Mounts www.diy-projekte.de
24 Pretty Garage Makeover with Colorful Shelf Racks www.handmadecharlotte.com




25 DIY WallHanging Buckets as Garage Tool Storage abeautifulmess.com
26 DIY Wooden Tape Dispenser Garage Storage www.popularwoodworking.com




27 Super Chic Sliding Storage System on Garage Ceiling www.familyhandyman.com
28 Simple DIY Screwdriver Coat Rack homemade-modern.com




29 WallShelf Storage Ideas for Extra Studs designedtodwell.blogspot.sk
30 DIY Plain Recycling Bin Hanger as Garage Storage www.familyhandyman.com



Bike Hooks or Racks: Hang bikes on the wall with specialized hooks or racks to free up floor space and keep them organized.
Boot and Shoe Rack: Place a boot and shoe rack near the garage entrance to prevent mud and dirt from entering your home.
Magnetic Tool Holder: Attach a magnetic tool holder to the inside of a cabinet door or on the wall to keep small metal tools organized and easily accessible.
Ladder Storage: Install ladder hooks or brackets on the wall or ceiling to store ladders securely and out of the way.
DIY PVC Organizers: Create custom PVC organizers to store items like garden hoses, brooms, and extension cords neatly.
31 DIY Storage Cabinet on Unused Garage Space www.familyhandyman.com
32 DIY Simple Carpentry Shelf from Recycled Wood www.popularwoodworking.com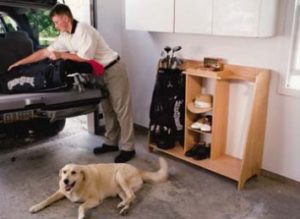 33 Easy Economical Large Garage Shelving Project ana-white.com
34 Overhead Shelve as Perfect Garage Storage ana-white.com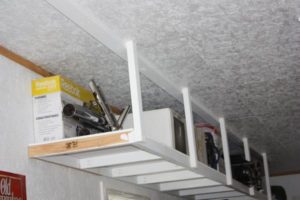 35 DIY WallMounted Lumber Racks for Garage ana-white.com
36 Giant DIY Garage Cabinet with Sliding Doors www.familyhandyman.com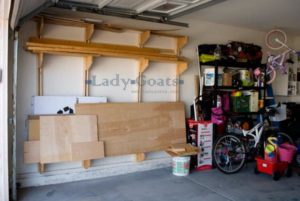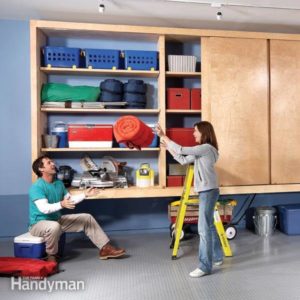 37 Smart and Trendy DIY Wall Tool Holder woodgears.ca
38 DIY Useful Foldup Suspended Shelves turtlesandtails.blogspot.ca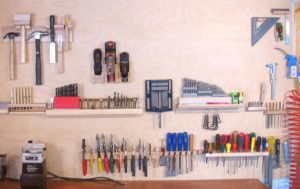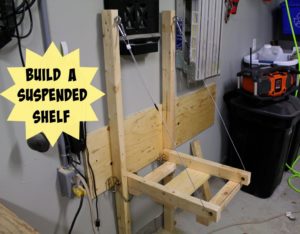 39 Stylish Garage Storage WallShelf cum Workshop Table www.home-dzine.co.za
Garage Storage Bench and Drawers for Organized and Stress-Free Workplace www.instructables.com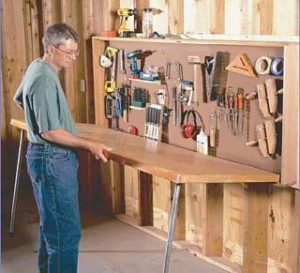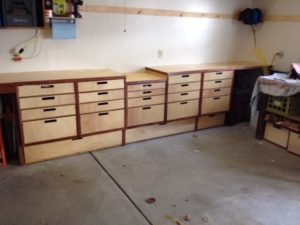 How to Utilize Maximum Space in Your Garage – DIY Garage Storage Ideas www.remodelandolacasa.com