Kitchen to Patio: 60 Indoor and Outdoor Herb Garden Ideas
www.tuvie.com
There's something undeniably magical about growing your own herbs. Whether you have a spacious garden or a cozy kitchen windowsill, cultivating herbs brings a touch of nature and a burst of flavor into your daily life.
Herbs are more than mere plants; they are the key to transforming ordinary dishes into culinary masterpieces and the secret to making your home environment fresh and inviting.
Indoor and Outdoor Herb Garden Ideas
We've compiled a rich tapestry of concepts that will take you on a journey from your indoor kitchen to your outdoor sanctuary.
These ideas not only provide a feast for the senses but also offer practical solutions for enhancing your living spaces.
Indoor herb gardens bring the allure of the outdoors to your interior, allowing you to savor the beauty and aroma of herbs even in the heart of your home.
Meanwhile, outdoor herb gardens create pockets of serenity and fragrance in your outdoor space, inviting you to relax and connect with nature.
From vertical gardens to repurposed containers and fragrant herbal walls, you'll find inspiration to create your own herbal haven.
Discover the enchantment of bringing life to your living spaces, one leaf at a time, and the pleasure of harvesting your homegrown herbs to elevate your culinary creations.
Make your herb gardening experience easier than ever with these simple mason jar planters with this easy planting tutorial.
1. Diy Herb Garden With Mason Jars: Super Easy And Inexpensive Way Of Cultivating Herbs blog.consumercrafts.com
2. Amazing Pallet Vertical Herb Garden: Diy Hanging Planter With Name Tags www.99palletideas.com



Make your indoor gardening glance totally unforgettable with this wonderful ladder-style window herb planting pattern.
3. Tea Cup Mini Herb Garden: Diy Cup And Saucer Planters For An Indoor Herb Gardening www.getcreativejuice.com
4. Highly Impactful Ladder-style Window Herb Gardening For A Mesmerizing Indoor Garden View www.estiloydeco.com



5. Diy Mounted Mason Jar Planter For Herb Gardening On Sturdy Wood Panel Hanging On Metallic Holders camillestyles.com
6. Easy-to-maintain Pretty Little Palis Planter: Diy Herb Gardening With Metallic Pots www.onsuttonplace.com



Learn to reuse your old fence post to make vertical herb gardening with this easy tutorial.
7. Up-cycled Vertical Herb Gardening With Fence Posts: A Farmhouse Type Indoor Gardening Idea With Tags rebeccasbirdgardensblog.blogspot.hu
8. Simple Heb Gardening Idea With Clay Planter In Hanging Shelves: Diy Indoor Gardening www.kreativ-welt.de



9. Exclusive Fountain Of Herbs: Diy Herb Gardening In Tiered Metallic Planter www.maverickitchen.me
10. Trendy Kitchen Shelf Herb Gardening: Repurposed Diy Indoor Herb Gardening Idea purple-id.dk



A countryside style sturdy hanging garden idea for herb gardening.
11. Diy Kitchen Herb Gardening With Metal Tubs Hanging From Curtain Rod Hangers www.hgtv.com
12. Wall Hanging Potted Herb Gardening: Diy Vertical Herb Planting With Terracotta Pots www.facebook.com



If you have enough space for a built-in shelf in your kitchen then, this indoor herb gardening idea would definitely go with your effort for sure!
13. Farmhouse Style Rustic Three-tiered Herb Gardening With Old Pallets: Vertical Gardening On Wall www.palletwoodprojects.com
14. Totally Secure Built-in Mini Bookshelf Herb Gardening Idea For Wide Kitchen Places projetos.habitissimo.com.br



15. Step-up Herb Gardening With Metallic Planters: A Wonderful Herb Gardening Idea For Wide Places www.apartmenttherapy.com
16. Painted Pot Herb Gardening Idea With Hanging Planters And Rope Hangers www.thebirdandhersong.com



A totally nature-inspired and environmental-friendly hanging garden idea for herbs.
17. Eco-friendly Hanging Herb Gardening With Tin Cans: Nature-inspired Hanging Herb Planting From Driftwood ladelicateparenthese.com
18. Fresh Chalk-wall Hanging Herb Garden With Glass Jars: A Classy Hanging Garden Idea www.thietkenoithatchungcuhn.com



19. Vertical Hanging Herb Gardening With Painted Tin Cans With Chain Hangers de.dawanda.com
20. Diy Herb Gardening In Countryside Style: Rustic A-shape Farm-shelf Herb Gardening Idea With Clay Planters www.craftionary.net



21. Diy Mason Jar Herb Gardening In Window Box Holder With Chalkboard Tags www.makeit-loveit.com
22. Diy Vertical Herb Gardening With Mason Jars: Shabby Chic Painted Mason Jar Heb Planters homeremediesrx.com



This is a wonderful DIY herb gardening trick for small and open outdoor gardening spots.
23. Diy Recycled Herb Gardening Idea: Vintner-inspired Wine Box Herb Garden For Outdoors stitchawishdesigns.com
24. Diy Glass Jar Hanging Planter For Herb Gardening: Vertical Indoor Gardening With A Twist www.awin1.com



Learn to make unique herb planter out of re-purposed coffee tins with this easy tutorial.
25. Three-way Sunroom Herb Gardening Idea With Vertical Planters Mad Of Fresh Wood Planks photos.hgtv.com
26. Easy Peasy Diy Herb Planter With Tin Can: Coffee Tin Makeover Tutorial With Paint And Name Tags www.homeyohmy.com



27. Captivating Herb Gardening With Decorative Wooden Boxes And Vases On Wall-based Vertical Gardening blogvitrinedeluxo.com.br
28. Tin Can Herb Gardening: Diy Vertical Planting With Tin Planters On Old Door Base www.sweetpaulmag-digital.com



Make your hands easy-reach to the needed herbs during your cooking session and learn to grow some useful herbs in your own kitchen area quickly with this tutorial.
29. Vertical Wall Hanging Herb Gardening On Kitchen Shelf Base With Metallic Planters julieblanner.com
30. Diy Counter-top Herb Gardening In Tin Can: A Brilliant Indoor Gardening Idea In The Wrap Of Indoor Decoration www.hgtv.com



A classy indoor herb gardening idea with catchy ceramic planters hanging from nails with ropes.
31. Diy Vertically Hanging Herb Gardening With Cup-turn Planters: Gardening With Home Decor in.pinterest.com
32. All-white Hanging Planter With Ceramic Pots: Indoor Herb Garden Ideas By Creative Juice www.babble.com



A totally rustic-looking wall-hanging planters for sturdy indoor herb gardening in countryside style.
33. Diy Indoor Herb Gardening With Terracotta Planter And Chalkboard Paint For Clear Name Tags redirect.viglink.com
34. Farmstyle Indoor Herb Gardening With Wooden Box Planters Hanging With Metallic Clumps thestir.cafemom.com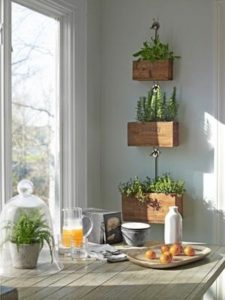 35. Super Easy And Affordable Vertical Herb Gardening With Fabric Pocket Planters www.instructables.com
36. Totally Fascinating Wide And Open Vertical Herb Gardening Idea With Hanging Terracotta Planters deborahsilver.com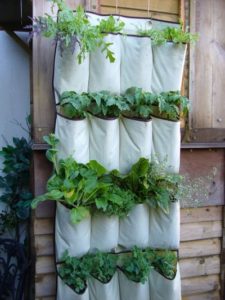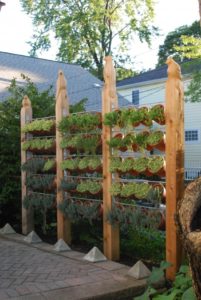 Learn to turn an old IKEA bar kart into a movable herb planter with this simple tutorial.
37. Easily Moveable Herb Planters On Wheel From Old Ikea Bar Cart: Diy Gardening i.pinimg.com
38. Highly Impressive Vertical Herb Gardening From Old Plastic Bottle: An Eco-friendly Recycling Project www.instructables.com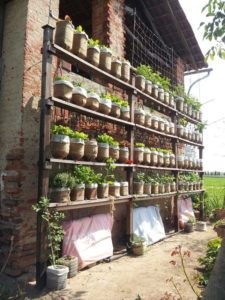 Learn to make a sturdy and farm-style outdoor herb gardening trick with these galvanized gutters.
39. Industrial Style Galvanized Gutter Hanging Planter: Vertical Herb Gardening With Rope Hangers www.suburban-bees.com
40. Diy Recycled Herb Gardening With Old Tool Boxes: Tiered Hanging Planters With Name Tags www.instructables.com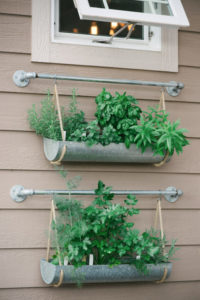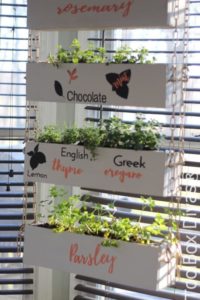 41. Diy Vertical Herb Barely Planters: Contemporary Herb Planting Idea For Outdoor Gardening www.manmadediy.com
42. Wonderful Vertical Herb Gardening With Clay Pots On Hexagon Wire Netting Base homemadelovely.com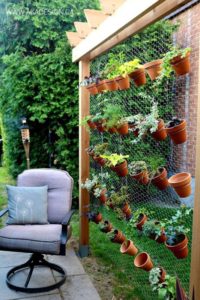 Make your indoor herb gardening look neat and classier with these metal bucket hanging planters.
43. Diy Wall-hanging Herb Gardening With Tiny Metal Bucket Planter For Indoors www.tenjuneblog.com
44. Simple Outdoor Herb Gardening With Usual Planters Set On Metallic Shower Caddy www.hometalk.com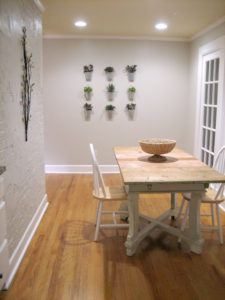 Steal the Space look with this unique window sticky herb planter that gives us a perfect alien-feel with its exclusive manufacture style.
45. Uniquely Made Vertical Herb Gardening With Narrow Planters Hanging On Rustic Wooden Board Base www.instructables.com
46. Amazingly Trendy Sticky Window Planter For Indoor Herb Gardening gardentherapy.ca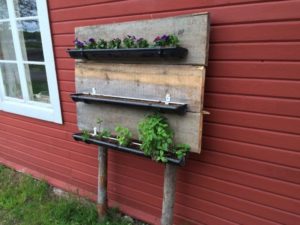 47. Diy Vertical Gardening: Hanging White Planters On Wooden Stand With Mid Decoration For A Pretty Herb Gardening angelamariemade.com
48. Spectacular Herb Gardening Idea With Three-tiered Wooden Planter Box For Small Garden Areas www.blesserhouse.com



You don't need to collect any particular type of planting pot to give your herb gardening a balanced look. Even some randomly collected planters like wooden box, terracotta pot, tin bucket, etc. could give you an organized gardening look with this type of smart vertical herb gardening idea.
49. Easy Peasy Vertical Herb Gardening With Upcycled Ladder Using Various Planters Together www.goodhousekeeping.com
50. Totally Rustic Farm-style Vertical Herb Gardening Idea With Upcycle Two-salvaged Screens On Bar Wood Panels www.instructables.com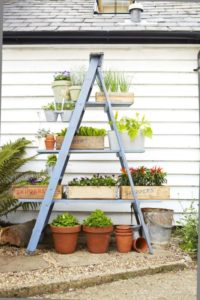 51. Diy Wall-hanging Indoor Herb Gardening For Kitchen Area With Minimalistically Designed Pipe Panters www.tuvie.com
52. Super Stylish Vertical Herb Gardening Idea With Painted Shelves Set On Wall In Stair-pattern qoster.com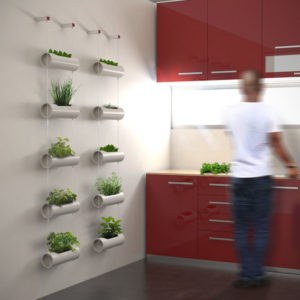 53. Diy Indoor Herb Gardening Idea In Large Cup Planters On Wooden Shelving Above The Kitchen Counter i.pinimg.com
54. Diy Little Hanging Gardening: Vertical Herb Gardening With Terracotta Pots Set On Light-toned Wood And Hanging On Ropes www.instructables.com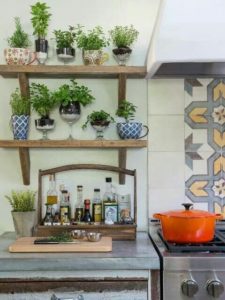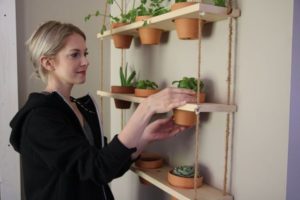 Learn to make herb cultivation with everlasting and trendy-looking planters in a contemporary vertical gardening style.
55. Happy Green Vertical Herb Garden With Recycled Ammo Cans Hanging With Sturdy Metal Chain ryanbenoitdesign.com
56. Diy Vertical Herb Gardening In Cottage Style With Can Planter Hanging On Dock Cleats In Nautical Design simplestylings.com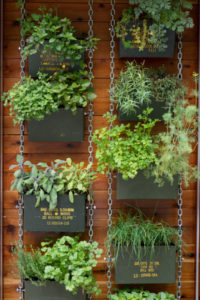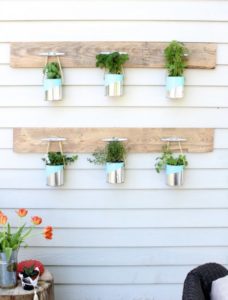 57. Vertical Herb Gardening With Small To Large Wall-hanging Wooden Planters Highlighted With Nametags i.pinimg.com
58. Diy Herb Gardening In Colored Mason Jars With Amazing Self-watering Facility www.uncommongoods.com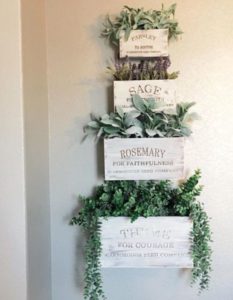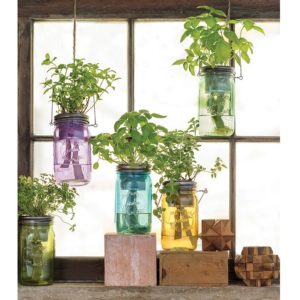 59. Super Charming Vertical Herb Gardening With Recycled Ladder And Old Watering Can Turn Planters In Yellow Accent www.instructables.com
60. Wide Vertical Herb Gardening Idea With Plastic Pop Bottles: A Diy Indoor Hanging Garden Idea dirt.asla.org



Merge your flowering pots and herb planters together easily with this totally wonderful DIY herb gardening idea.
61. Creative Herb Gardening Idea Inside Old Wooden Crate With Terracotta Planters gardeningforlife.org
62. Cool And Contemporary Diy Herb Gardening Idea With Recycling Goodness: Coca-cola Can Vertical Herb Planter www.recyclart.org