Creative Garden Designs: 77 Planters & DIY Garden Ideas
susiequte.blogspot.com
Gardens are nature's blank canvas, awaiting the artistic touch of those who tend to them.
There's a certain magic in planting a seed, nurturing it, and watching it flourish into a burst of life and color.
If you're a dedicated green enthusiast or a novice with a budding interest in gardening, you're in the right place.
DIY Planters & Garden Design Ideas
One of the beautiful aspects of DIY garden ideas is that they allow you to shape your outdoor space according to your personal vision.
Whether you dream of a lush, wildflower meadow, a structured and formal garden, or a mix of both, there's an idea here that will cater to your design preferences.
DIY gardening often involves repurposing everyday items, turning them into practical and creative garden solutions.
We'll uncover ideas for turning old wooden crates into raised beds, using vintage teacups as planters, and even recycling pallets to construct vertical gardens.
Easy wooden project with step by step instruction to make your garden place more attractive.
1. A Pallet Wood Garden Walkway: Diy Rustic Outdoor Decor Idea www.funkyjunkinteriors.net
2. Diy Garden Bench: Wonderful Wood Pallet Project For Outdoor Area www.instructables.com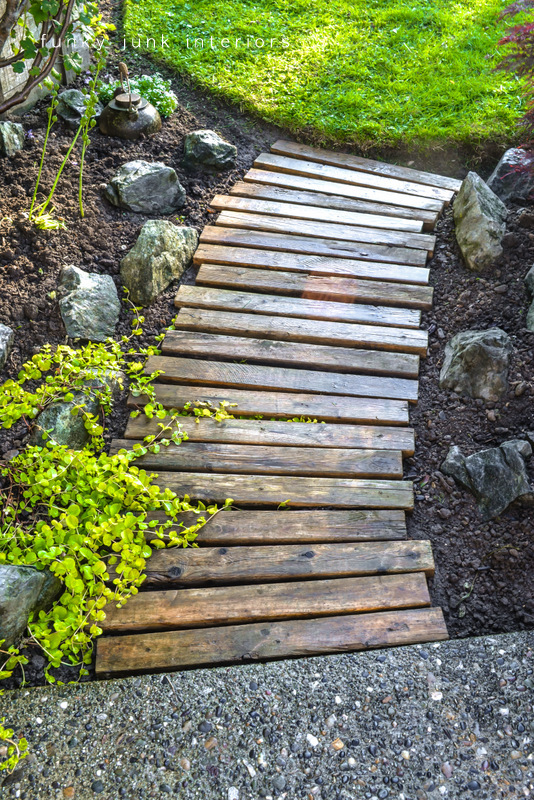 Super simple tutorial of how to make a simple standing pallet herb garden in free pattern.
3. Free Standing Pallet Herb Garden From Old Crates: Rustic Gardening Craft diyshowoff.com
4. Large Diy Wooden Planter Tutorial With Rope Addition By Cherished Bliss cherishedbliss.com



A mesmerizing DIY gardening idea for modern gardeners with clay planters with an absolute visual treat.
A re-purposed glass project to steal a whimsical view for your boring garden area.
5. Contemporary Diy Garden Project: Topsy Turvy Flower Planter With Terracotta Pots weheartthis.com
6. How To Make Outdoor Glass Hanging Lights With Sturdy Chain Strings inmyownstyle.com



Make your garden area or outdoor space winter ready with this rustic fire pit project.
7. Tutorial Of How To Build A Fire Pit Easily With Concrete Block: Diy Garden Project For Winters www.hgtv.com
8. Diy Fountain For Garden Area With Trendy Clay Vase: A Cheap Garden Decor Craft www.gardenstew.com



9. How To Build A Portable Potting Bench Or Garden Cart With Wheels From Old Pallets www.todayshomeowner.com
10. Watering Can That Pours Crystals: Totally Magical Garden Display craftsbyamanda.com



So, whether you're an experienced gardener looking for fresh inspiration or someone who's just started exploring the joys of gardening, these DIY garden ideas are here to ignite your creativity.
Get ready to roll up your sleeves, grab your gardening tools, and embark on an adventure that transforms your outdoor space into a haven of natural beauty.
11. Garden Glove Rack With Clothespin Hooks Over Sturdy Plywood Base www.instructables.com
12. Inexpensive Recycling Project For Garden: Diy Hanging Planters Made From Old Plastic Bottles helloglow.co



13. Diy Restoration Hardware Garden Spheres With Concrete Objects simpledetailsblog.blogspot.com
14. Hanging Bird Bath Glass Craft: An Upcycling Casserole Dish Lid With Chain Hanging www.sadieseasongoods.com



An organized garden area with raised garden boxes with bushier herb plants.
15. Easy-to-prepare Diy Stone Planter Tutorial With Concrete Squares 1000threadsblog.com
16. Vintage Tool Box Planters: Diy Recycling Garden Project For An Organized Herb Garden satoridesignforliving.com



An inexpensive and great garden project idea for roof gardening purpose.
17. Tutorial Of How To Build A Modern Grid Trellis From Garden Stakes francoisetmoi.com
18. Diy Outdoor Flower Bench Craft: A Wooden Project With Fresh Wood Planks www.burkatron.com



19. Diy Pallet Wood Hose Holder With Built-in Planter And Hidden Storage Cabin diycandy.com
20. Cowboy Boot Planters: A Rustic Gardening Idea By Dream A Little Bigger www.dreamalittlebigger.com



A set of garden tools with same paint accents on wooden surface.
21. Tutorial Of Diy Paint Dipped Garden Tools By Sarah Hearts sarahhearts.com
22. Diy Outdoor Apron: Free Sewing Project For Gardening Purpose satoridesignforliving.com



Steal the landscaping view for your own garden with this super trendy cinder-block concrete planters.
Give your outdoor area a mesmerizing fantasy look with this magical glass lantern garland through this easy tutorial.
23. Colorful Cinderblock Planter Out Of Concrete For A Succulent Garden View akailochiclife.com
24. Mason Jar Lantern Garland For A Captivating Garden Look francoisetmoi.com



A trendy gardening idea with smart house interior touch with the prefect blend of wood, brass, and metallic clumps according to the project's need.
25. Modern House Number Planter: A Diy Wooden Project On Concrete Base abeautifulmess.com
26. Diy Washi Tape Garden Markers: A Cheap Graden Craft Idea By Sarah Hearts sarahhearts.com



The cheapest gardening project within $5 for your light hanging plants.
27. Diy Criss Cross Outdoor Planters With Wood Planks By Centsational Style centsationalstyle.com
28. Diy Hanging Planter: Landscaping Idea For Balcony Garden Inside Embroidery Hoop Frame www.northstory.ca



29. Handmade Diy Modern Staghorn Fern Planter With Sheet Moss On Monofilament Base www.vitaminihandmade.com
30. Diy Monogram Planter: A Letter Planting Object With Wooden Base www.burkatron.com



31. Mosaic Tile Window Box Planter By Centsational Style: A Landscaping Garden Project With Tiles centsationalstyle.com
32. Tutorial Of How To Make Your Own Gradient Planters For Indoor Gardening With Rocky Base abeautifulmess.com



A rustic garden view for indoor gardening with inexpensive cane basket sets.
33. Diy Cane Basket Hanging Garden Tutorial By A Beautiful Mess abeautifulmess.com
34. Tulip In A Row: Diy Gardening With Tulip Plants In Terracotta Planter With Pebble Decor sequingardens.org



A cheap planting idea for succulent plants in tin can with burlap decorations.
35. Succulents In Recycled Tin Cans: Rustic Planting Ideas By Home Heart Haven homehearthaven.com
36. Diy Mason Jar Succulent Pots With Free Printable Gift Tags And Nice Paint Accents lollyjane.com



Learn to craft this wonderful seashell planter to grab a beach look easily for your garden area.
37. Diy Rustic Succulent Pots: Clay Planter With Rope Ties www.pinkwhen.com
38. Diy Seashell Planter: Exclusively Made Rustic Plater For Succulents With Large Seashells billabong.com



Revamp the whole look of your outdoor garden area with this rustic basket planter. Use coconut husk rope to increase the rustiness of the planter.
Reuse your old bathroom caddy into a three tier planting holder through this easy tutorial.
39. Laundry Basket Plante Tutorial: A Rustic Planting Pot With Re-purposed Basket In Burlap Wrap elizabethjoandesigns.com
40. Tutorial Of How To Use A Shower Caddy As A Vertical Planter: Sturdy Gardening Method www.dazzlewhilefrazzled.com



Learn how to use a charming candle stand to decorate an indoor planter adorably with this easy tutorial.
41. Indoor Bottle Herb Garden – From Recycled Milk Bottles With Clear Tags grillo-designs.com
42. Flower Pot Centerpiece: Diy Gardening Idea For A Catchy Indoor Gardening hearthandvine.com



43. Diy Succulent Sphere: Wire Or Orbs Garden Spheres Filled With Succulents www.drought-smart-plants.com
44. Fancy Diy Gardening With Clay Planter Embellished With Nail Polished Designs helloglow.co



45. Diy Ikea Window Box Planter Tutorial For Flower Gardening By Howdoseshe.com howdoesshe.com
46. Vertical Vegetable Gardening Idea With Pocket Shoe Organizer Hanging On Metallic Hooks www.instructables.com



An unforgettable garden centerpiece with succulents.
47. Easy Ikea Container Gardening: A Luxurious Centerpiece For Outdoor Gardening fluorescentbeigeblog.com
48. Super Simple Diy Self Watering Herb Garden Ideas From Old Cold Drink Bottles www.ithinkwecouldbefriends.com



Learn to make a wonderful outdoor gardening centerpiece using sphagnum moss, chicken wire and other basic gardening materials with four clay pots.
49. Tutorial Of How To Make A Succulent Turtle Topiary By Gardening In The Shade www.gardeningintheshade.com
50. Diy Plastic Planter From Old Cold Drink Bottle Bottoms With Cute Human Features www.beautifulhomeandgardendiy.com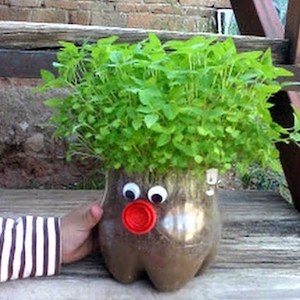 51. Using Toilet Paper Rolls For Seed Starter: A Smart Seedling Choice In Lowbudget ourwabisabilife.com
52. Diy Bird Bath: A Wonderful Planter Style With The Facility Of Tiered Bird Bath Place mamitalks.com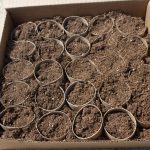 A creative gardening idea using terracotta pot wrapped with coconut husk rope using latex paint layer at the bottom.
53. Rustic Garden Look With Painted Rope-wrapped Pots On Terracotta Planters www.housebyhoff.com
54. Easy-to-follow Video Tutorial Of Making Lettuce Globes On Youtube www.youtube.com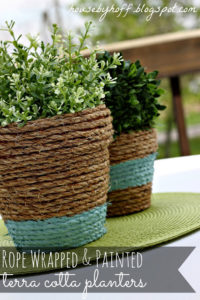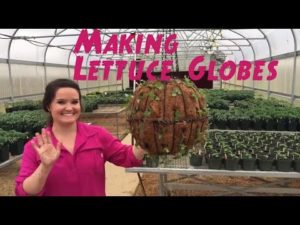 55. Hedgehog Planter From Plastic Bottle Diy: A Creative Garden Decor Idea For Herbs susiequte.blogspot.com
56. Diy Herb Markers On Pebbles With White Markers For An Organized Gardening augustwren.blogspot.com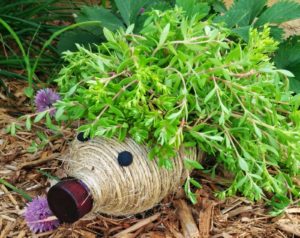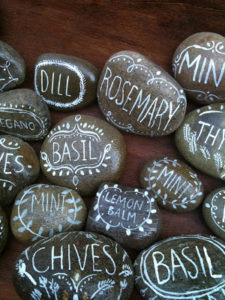 57. Garden Markers Diy Made With Wine Corks: Rustic Garden Decor Idea Within Budget athriftymom.com
58. Mason Jar Lid Plant Label: A Classy Looking Garden Signing Idea In Smart Recycling Process theprudentgarden.com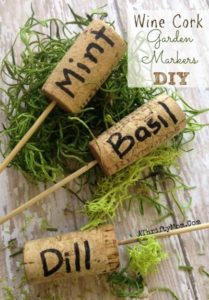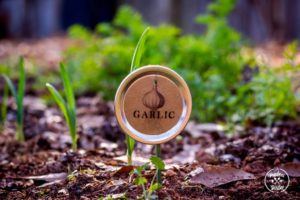 A brilliant DIY garden lighting idea with grapevine for a captivating outdoor view.
59. Diy Garden Decor With Grapevine Lighting Balls For Large Trees www.lynneknowlton.com
60. Diy Hula Hoop Chandelier Wrapped With Light Garland For A Dreamy Outdoor Gardening sarahontheblog.blogspot.com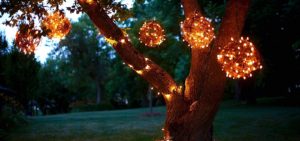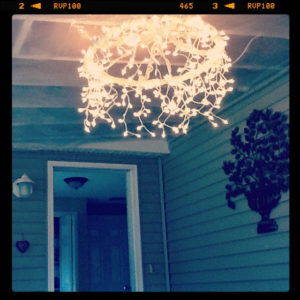 Decorate your outdoor garden area in pro-like glance with dollar store hanging lights.
61. Diy Garden Decor With Dollar Store Hanging Lights For A Gorgeous Pathway www.running-w-scissors.com
62. Diy Rustic Post Light From Old Lumber Pieces: Exclusive Garden Decor Idea the100block.blogspot.com



63. Diy Solar Chandelier: A Luxurious Garden Decor With No-electricity Hasslement www.buzzfeed.com
64. Whimsical Garden Projects: Diy Lighting By Sunset Magazine www.sunset.com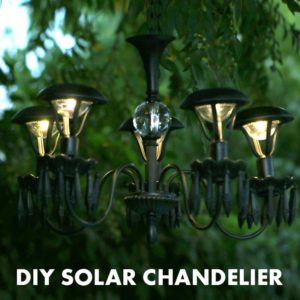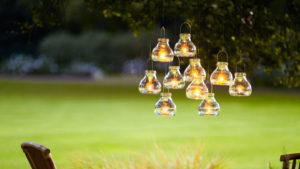 65. Outdoor Tuna Can Lantern: Magical Garden View With Candle Light Style inmyownstyle.com
66. Diy Garden ­mushrooms: Colorful Backyard Projects By Birds & Blooms www.birdsandblooms.com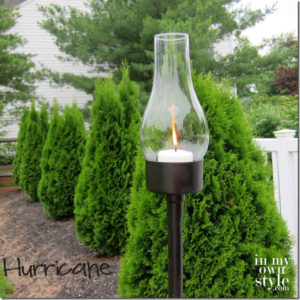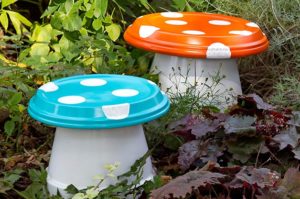 67. Outdoor Hanging Lights Using Mason Jars With Metallic Lids www.ehow.com
68. Tea Cup Bird Feeder: A Smart Diy Garden Projects In Recycling Style www.bushel-and-a-peck.com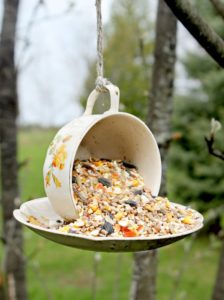 69. Canning Jar Garden Lighting With Subtle Color Accents In Mason Jar Base michelesapples.blogspot.com
70. Diy Inexpensive Flower Pots From Pizza Pan Garden Table With Deep Paint Strokes www.apartmenttherapy.com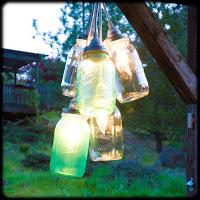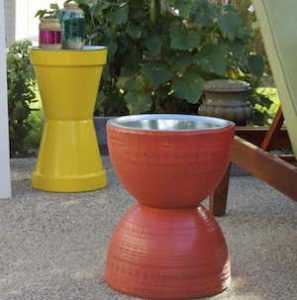 The easiest way to make a stepping stone using a non-stick cake mold in a trendy mosaic pattern.
71. Tutorial Of How To Make Repurposed Folding Strainer Flowers: Catchy Garden Decor With Smart Recycling thriftyrebelvintage.com
72. Tutorial Of Diy Mosaic Garden Stepping Stone Without Fancy Schmancy Mold www.intimateweddings.com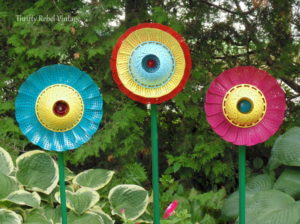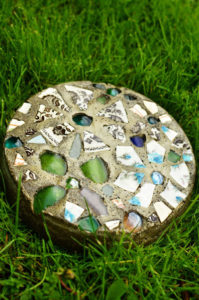 73. Diy Projects And Home Decor For Garden Area: Creative Centerpiece Withterracotta Pot www.thriftyandchic.com
74. Garden Art On The Cheap Diy: Glass Marbles In Fence For A Sparkling Garden View gardendrama.wordpress.com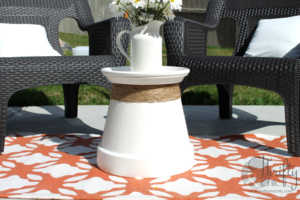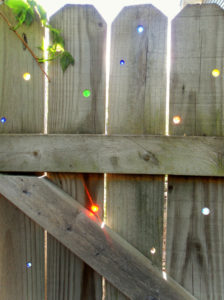 Revamp the whole view of your simple garden area into a magical one with this fascinating fairy garden design.
An artistically made bridge project made of tree buckle over an artificial river prepared with blue pebbles.
75. Diy Cheap Dollar Store Fairy Garden Idea In A Large Tin Tub www.dollartree.com
76. Fairy Garden: Expand And Furnish Idea With Captivating Bridge-over-river Project thejuise.blogspot.com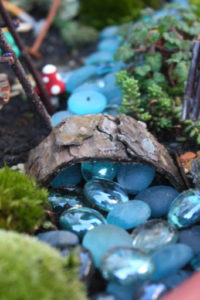 77. Tutorial Of How To Make Flower Fairies With Embroidery Threads And Flower Petals thelemonzestblog.wordpress.com
78. Diy Little Bee Hive Made Of Coconut Husk For A Captivating Fairy Garden Adornment diyfairygardens.com