Unleash the Fun: 60 DIY Outdoor Play Area Ideas for Kids
The great outdoors is nature's grand playground, where the boundless imagination of children comes to life.
When kids step into the open air, they embark on adventures, create memories, and explore the wonders of the world around them. If you're seeking to infuse your outdoor space with laughter, learning, and boundless fun, you're in the right place.

Get ready to roll up your sleeves, gather your materials, and embark on an adventure of crafting and play. Welcome to the world of DIY outdoor play area ideas, where every project promises laughter, discovery, and cherished family moments
1. 1 Simple Diy Hula Hoop Hideout cutediyprojects.com
2. 2 Diy Mudpie Station With Required Tools mysmallpotatoes.com



This is a simple hideout garden set that is extremely easy to craft and set best under the tree-type shady areas. You may need some thin & soft fabric pieces along with twine, tulle, and some comfy sheets, apart from the hula hoop.
A mudpie station is a great outdoor playing spot to build which encourages our kids to play outside the house for some more hours for sure!

Stepping stones are no doubt great decorating objects for a backyard area, and a colorful hopscotch project would definitely engage your kids towards the outdoor space as their perfect playing area in this regard.
Crafting a car wash station is one more magnificent idea to make in your backyard for an exciting playing session for your little ones
3. 3 Colorful Diy Hopscotch Stepping Stones readbetweenthelimes.blogspot.sk
4. 4 Diy Kiddy Car Wash Station With Pipes www.craftymorning.com



We'll explore ways to seamlessly blend the beauty of nature into your outdoor play area, from building treehouses that reach for the sky to constructing charming bird feeders and butterfly gardens that introduce kids to the wonders of wildlife.
If your kids love water adventure then prepare a DIY sand pit with an adventurous pirate flag on an old boat easily through a simple DIY process
A teepee is a wonderful outdoor playing spot to have some exciting outdoor activities thus this DIY pallet and log-made teepee would be a great project in this regard
5. 5 Old Boat Sand Pit With Pirate Flag twolittlepirates.blogspot.sk
6. 6 Diy Simple Pallet Logs Teepee www.1001pallets.com



Biking ramps are easy to craft and you can build them from any type of recycled or reclaimed wooden pallet following the basic crafting methods Thus this project would definitely be a spectacular idea to try for a nice outdoor playing session
Car racing is one of the commonest outdoor playing categories of contemporary kids especially for boys So go for this easy yet hugely useful backyard play are following the below mentioned DIY process
7. 7 Palletmade Diy Biking Ramp swiftlymorgan.blogspot.sk
8. 8 Diy Outdoor Car Track With Proper Decoration niccolaontuesday.blogspot.sk



The beach is one of the most delightful outdoor space out kids enjoy the most so building a DIY beach inside a restricted wooden frame area would be a great idea indeed in this regard
9. 9 Diy Pool Noodle Race Track With Finish Festoon www.ramblingsfromutopia.com
10. 10 Diy Small Beach In The Backyard Inside Rustic Wooden Frame wraysist3rs.blogspot.sk



The climbing wall is a super functional playing plan to make your kids encourage for tracking experience in a natural manner
11. 11 Diy Construct Site Grave Pit With Toy Cars theimaginationtree.com
12. 12 Sturdy And Durable Diy Backyard Climbing Wall www.impatientlycrafty.com



Swing is no doubt a great and thrilling experience to have for any kid so building a DIY swing would surely be a super successful idea in this regard
This type of play set idea comes with a slight high budget than a simple swing project but definitely provide your backyard with a mesmerizing play plan view for your excited kids
13. 13 Diy Ultimate Swing Set With Wood Structure www.blackanddecker.com
14. 14 Magical Club House Swing Set For A Beautiful View www.ryobitools.com



A simple wooden swing is utterly an easy-to-build DIY project and seems more attractive to the children when hanging on such a vibrantly colorful swing stand
This is one more beautiful play set design that comes with a perfect combination of swing and slide in one DIY structure
15. 15 Simple Wooden Swing Set With Colorful Stands www.hgtv.com
16. 16 Diy Homemade Playset With Attached Swing www.instructables.com



Hanging swing sets under Aframe is a new trend of contemporary parks you can get one through a simple DIY like this mentioned link below
This is one more swing set project that comes with a sliding track and could enthrall your kids playing session in a true manner
17. 17 Durable Tripe Swing Sets With The Modern Aframe www.hgtv.com
18. 18 Easytobuild Diy Swing Set With Sliding Track boxycolonial.com



This a combined project of swing slide and trapeze bar which you can easily build from some reclaimed wood through an inexpensive DIY process
19. 19 Diy Nice Playground With Swing Slide Playhouse www.viewalongtheway.com
20. 20 Energetic Rock Wall Swing Set With Wooden Frame www.diynetwork.com



This type of project only resembles intricate but actually very easy to craft and you can even give a colorful look to increase the excitement of your children more thrillingly
21. 21 Diy Unique Swing In Trendy Airplane Shape www.ana-white.com
22. 22 The Standalone Swing With Wellbuilt Roof manditremayne.blogspot.co.id



This is one of the cheapest Diy swing projects that could be made through a smart recycled procedure and could entertain you for a long while
Tire swings are the most rustic one and probably the best experience to taste for every child in their outdoor playing session
23. 23 Plain Diy Tree Swing With Rope And Wood www.abeautifulmess.com
24. 24 Super Easy Tree Hanging Tire Swing With Rope www.diynetwork.com



25. 25 Free Standing Aframe Swing Set With Net Seating www.instructables.com
26. 26 Diy Electrical Swing Set Metallic Aframe www.instructables.com



It is a classylooking indoor playhouse project which you can craft in any open backyard spot and decorate based on your kids fondness
This type of project is best for the grownup kids and most suitable for the ultimate summer season
27. 27 Simple Easy Wooden Indoor Playhouse jenwoodhouse.com
28. 28 Diy Reading Nook Playhouse For Summer vintagerevivals.com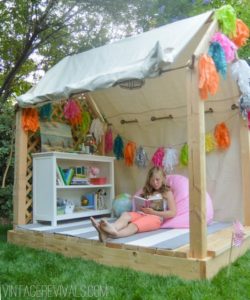 This is a rustic looking playhouse design which could give your kids a countryside feel and flaunts best inside a wide amp green backyard space more spectacularly
29. 29 Whimsical Cob Style Playhouse With Countryside Dcor www.instructables.com
30. 30 Super Chic Diy Playhouse With Castle Front www.instructables.com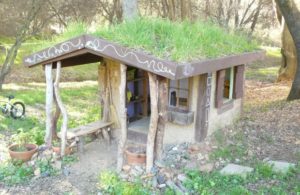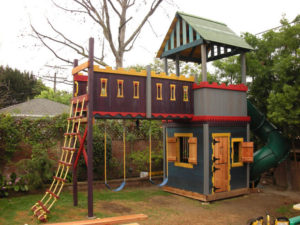 Hideaway playhouse could be used in both playing sessions of indoor games and some exciting outdoor activities
31. 31 Mesmerizing Hideaways Playhouse For Backyard www.thehandmadehome.net
32. 32 The Vibrant Happy Tree House For Cheerful Playing Session www.madewithhappy.com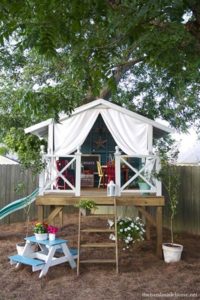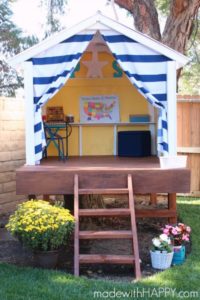 This is one of the most inexpensive DIY playhouse projects of all time that you can build from some stored old pallets following the simplest recycling process
33. 33 Easytobuild Diy Triangular Playhouse www.diynetwork.com
34. 34 Inexpensive Palletmade Diy Playhouse builtbykids.com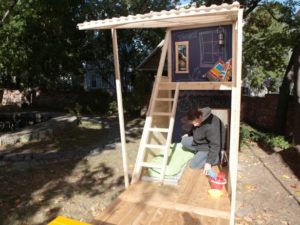 Children love to play outdoors and this is actually a great part of their growth to let them play outside the house with their favorite toys, rides or activities.
There are several backyard activities they can try for an entertaining playing session, like riding bikes, climbing on some playing platforms, sliding slopes, hanging on swings, making mud houses, etc.
These types of activities not only make their playing session cherished but also help them to build their sporty nature.
These days, technology has been playing a wide culprit to our kids, as they keep encouraging them to stay at home and spend some time with technological gaming devices.
This type of habit surely hampers the healthy growth of our kids and only an engaging outdoor playing area could help us to win the battle against the bad technological consequences.
So, here we come up with the top 60 DIY outdoor play area decor ideas to instigate your kids about backyard playing sessions effortlessly.
35. 35 Wellbuilt Diy High Top Playhouse Design www.ana-white.com
36. 36 Plain Log Cabin Playhouse Structure www.instructables.com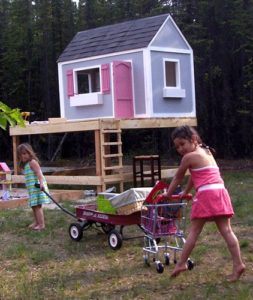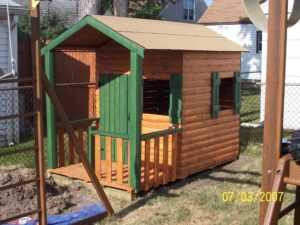 37. 37 Super Classy Playhouse With Sliding Slope www.instructables.com
38. 38 Rustic Playhouse Fort From Reclaimed Wood www.instructables.com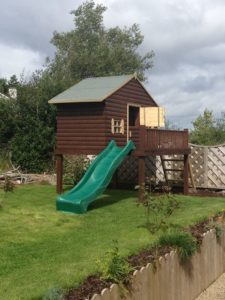 39. 39 Intricately Made Pirate Ship Playhouse www.instructables.com
40. 40 Small The Shed Playhouse Design For Restricted Backyard Area www.aplaceimagined.com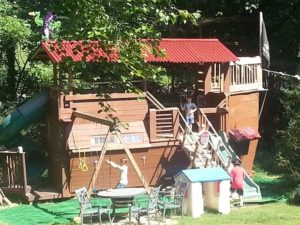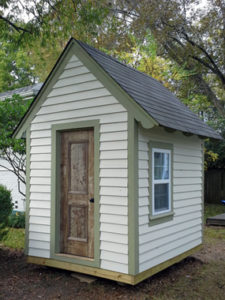 41. Make A Leak Proof Water Blob www.homemadetoast.com
42. Make A Biking Ramp swiftlymorgan.blogspot.sk



43. Sensory Sand Water Playstation frugalfun4boys.com
44. Backyard Outdoor Water Balloon Launcher frugalfun4boys.com



45. Make A Yard Dice www.remodelaholic.com
46. Diy Make A Tether Ball simplykierste.com



47. Recycle Pallets For Outdoor Kitchen Sink www.theempowerededucatoronline.com
48. How To Make A Small Outdoor Bowling Lane For Kids www.remodelaholic.com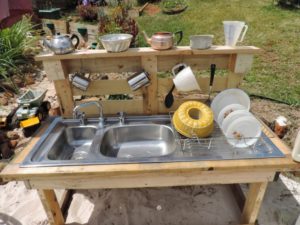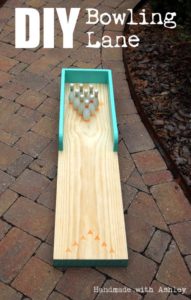 49. Reuse Tyres Outdoor Play Area With Tyres www.theempowerededucatoronline.com
50. Outdoor Chalkboard Area www.heytherehome.com



nbsp
51. Sandpit And Gravel Construction Site Outdoor Play Area theimaginationtree.com
52. Backyard Ball And Marble Run learningthroughtheclutter.blogspot.co.uk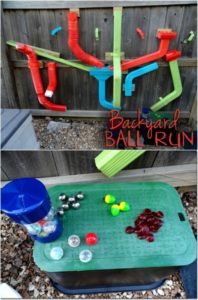 53. Bookcase Into A Sandbox Outdoor Play Area thehomesihavemade.com
54. Make A Tire See Saw For Outdoor Play Area builtbykids.com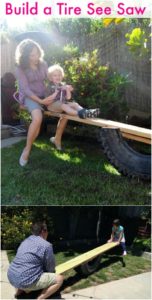 55. Make A Simple Water Slide For Kids Play Area happyhooligans.ca
56. Beautify Your Backyard With This Gravel Sand Chalkboard Play Area batonrouge.citymomsblog.com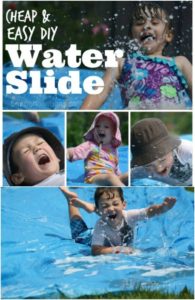 57. Make A Climbing Wall For Slope 
58. Buried Inground Trampoline For Your Kids Outdoor Fun www.allthingsthrifty.com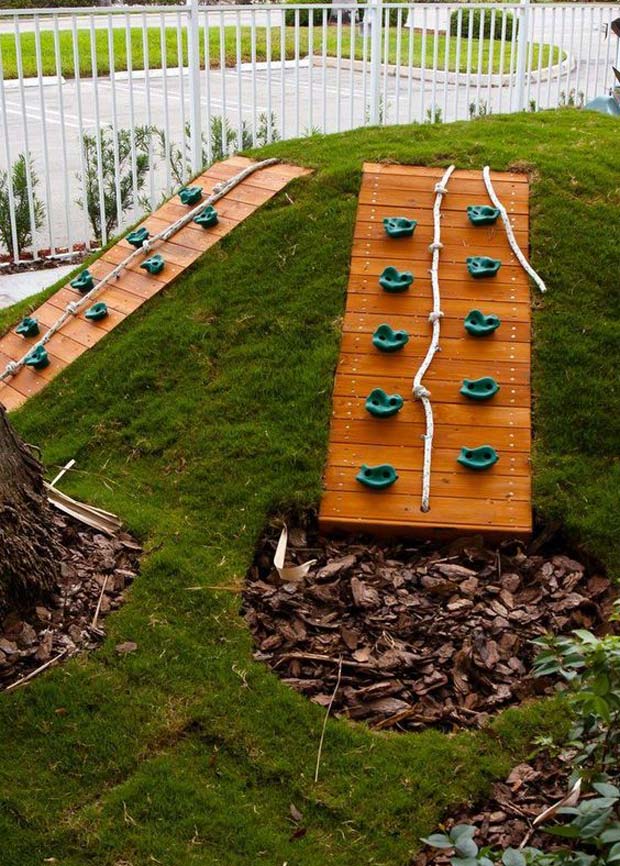 59. Make An Outdoor Pvc Xylophone frugalfun4boys.com
60. Diy Outdoor Wooden Toy Car Track buggyandbuddy.com




61. Make An Inexpensive Outdoor Play Areachalkboard rhythmsofplay.com
62. Cheap Pvc Pipe Stand For Summer Water And Sand Table frugalfun4boys.com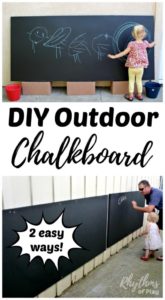 63. Diy Cheap Outdoor Music Wall For Kids Play Area www.funathomewithkids.com
64. Make Easy Recycled Plastic Bottle Water Wall For Summer Outdoor Activities adventuresandplay.com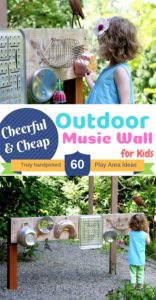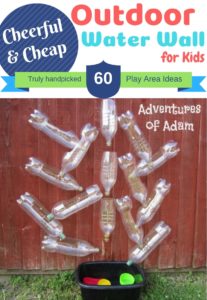 Backyard / outdoor music station and play area for kids sound and sensory learning with bamboo, bells, PVC and Xylophone.
65. Pool Noodle Water Wall For Summer Activities www.toddlerapproved.com
66. Budget Playarea Ideas You Should Try In Your Backyard/outdoor www.facebook.com