Cut, Paste, Create: 42 Easy Paper Collage Making Ideas & Types
www.livewellplaytogether.com
Paper Collage: Just like the mosaics of good olden times, paper collages are made from torn colorful papers glued to drawing.
It's a fun, creative, and inexpensive way to involve kids in the art to make a picture out of paper.
Kids will love the instant gratification of creating their own art just by tearing, cutting, gluing, and stacking pieces of paper.
So grab your scissors, glue, and a stack of magazines, and let's get started on this exciting artistic adventure!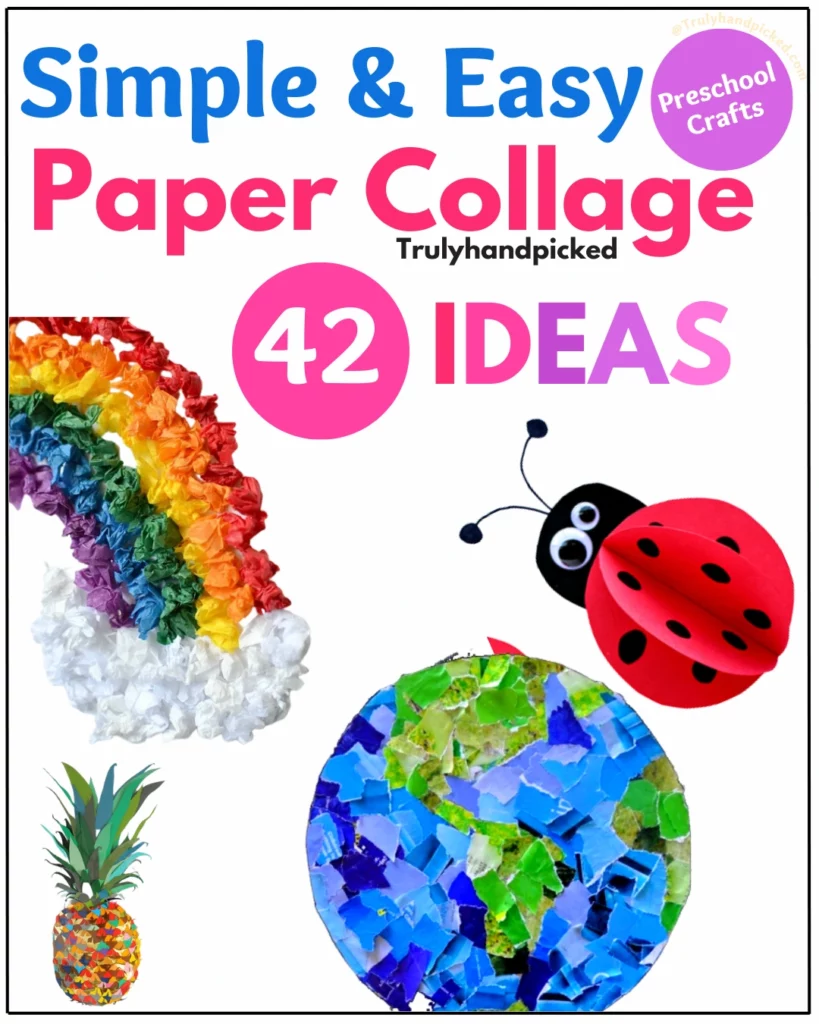 Easy Paper Collage Arts: Collage Making Ideas for Kids
Scroll down for paper collage image inspirations.
Paper Collage Fox – Youtube
Easy earth day torn paper collage (cardboard and magazines)- iheartcraftythings
Paper collage rainbow fish – artsycraftsymom 
Easy newspaper cat – Artproject
Paper collage pineapple art Youtube
Rainbow Paper Collage Craft Idea for Preschool Kids
Paper collage pizza – pretend and play activity – artycraftymom
Gluing paper collage sunflower – artycraftykids
Making a forest with magazine cuts and paper collage – first palette
Autumn Scene – Fall leaves paper collage idea –thefrugalcrafter 
Make a paper collage santa claus for Christmas with scrap magazine cover – iheartcraftythings
Autumn season leaves collage with paper leaves on windows –innerchildfun
Interactive City Paper Collage – bakerross
Making of a name collage with chart paper and pom poms –learning4kids 
Foil Collage with Foil, ribbon, torn paper, and glue –picklebums
Paper collage forest animals and trees –firstpalette
Colored paper collage 3D Sculptures – craftwhack
Chameleon, animals paper collage free printable template –astrobrights
Underwater collage inspiration idea (no tutorial) –corbiearts
Out of the World space paper collage (inspiration for adults) – shuffles
 Where would i like to wake up tomorrow, a scenary window collage –krokotak
A fall season collage for kids, fall leaves on tree –thefrugalcrafter
3D paper craft – Cute lady bug paper collage –crafty morning
Easy to craft rainbow tissue paper collage –thesuburbanmom
Nature collage, make sunflower paper crafts with sketch and tissue paper-kidsactivitiesblog
Food crafts, fruit basket paper collage craft ideas –youtube
Fruits, watermelon paper collage art idea –youtube


More Paper Collage Ideas: Types & Methods
Nature Collage:

Gather various cut-out images of plants, flowers, animals, and natural landscapes from magazines or printed materials.
Create a background using colored or patterned paper as the base.
Arrange and layer the cut-out images to form a nature-inspired scene, such as a garden, forest, or underwater world.
Nature craft collage – kidsactivitiesblog

Travel Collage:

Collect images of famous landmarks, maps, transportation modes, and cultural symbols related to different countries or cities.
Use a map or a globe as the backdrop.
Arrange the cut-out images to represent different travel destinations, showcasing the diversity of cultures and places you wish to visit or have already visited.

Dream Collage:

Find images that represent your dreams, aspirations, and goals from magazines or personal photographs.
Start with a blank canvas or a colored background.
Arrange the images in a way that visually represents your dreams, creating a visual storyboard of your aspirations and desires.
How to make a dream collage – Kidz stories

Fantasy Collage:

Gather images of mythical creatures, fairy tale characters, and magical elements.
Choose a colorful or whimsical background.
Arrange the cut-out images to create a fantastical world or scene, combining elements from different stories or your imagination. Surreal arts fantasy collage – Dribble

Mood Collage:

Collect images that evoke specific emotions or moods, such as happiness, tranquility, excitement, or nostalgia.
Create a background using colored or textured paper that reflects the mood you want to convey.
Arrange the images in a way that visually captures and enhances the intended mood.

Abstract Collage:

Cut out various shapes, patterns, and textures from different colored papers or even recycled materials.
Start with a blank canvas or a solid-colored background.
Arrange the cut-out shapes and textures in an abstract, non-representational manner, exploring different compositions and color combinations.
Why Paper Collage & Paper Collage Ideas for Kids
Just like the other craft activities this also gives kids a sense of accomplishment and gives them a chance to develop fine motor skills.
These collages can also be used in a variety of ways such as decorating your child's bedroom, hanging in the nursery, or on the walls at home.
It's an easy craft activity for kids ages 4+ years old. And Yes, it is an excellent way for kids to express themselves and their imagination.
The materials needed for paper collage are just glue, scissors, paper, and paint.
Make a paper collage from anything you can find – stickers, leaves, napkins, paper clips, etc.
You could even use old magazines or whiteboard pages as templates. All you need is lots of paper and glue!
While paper collage ideas for kids are endless, here are some of our favorite DIY projects:
1. Paper collage trees
2. Paper collage people
3. Paper collage animals
4. Paper collage horses
5. Paper collage cars
Paper collage rainbow – krokotak


Popular Paper Collage-Making Ideas
Few More Paper Collage Ideas Left for Your Choice
Nature Collage: Create a collage using leaves, flowers, and other natural materials found outdoors.
Animal Safari Collage: Make a collage featuring different animals using cut-out pictures from magazines or printed images.
Underwater Adventure Collage: Design an underwater scene with colorful fish, coral reefs, and sea creatures using paper and craft materials.
Space Exploration Collage: Craft a collage with planets, stars, rockets, and astronauts for an out-of-this-world experience.
Seasons Collage: Showcase the four seasons with pictures of trees, flowers, and activities associated with each season.
Transportation Collage: Use images of cars, trains, planes, and boats to create a collage celebrating various modes of transportation.
My Favorite Things Collage: Create a personal collage with pictures of things that make the child happy and inspired.
Food Fiesta Collage: Craft a delicious collage using pictures of favorite foods and treats.
Insect Garden Collage: Arrange cut-out images of butterflies, ladybugs, bees, and other insects in a vibrant garden scene.
Storybook Character Collage: Bring favorite storybook characters to life with images from beloved books.
Together all these paper collage ideas allow kids to explore their creativity, practice fine motor skills, and have fun while creating unique and colorful artwork.