#12 Paper Collage Making Ideas: Easy Arts for Kids
www.livewellplaytogether.com
Paper Collage: Just like the mosaics of good olden times, paper collages are made from torn colorful papers glued to drawing.
Paper Collage Made with Torn Papers
It's like using specific colored paper in place of a crayon on a drawing. Yeah, I know you already know this, let's check out the top paper collage ideas for your preschooler.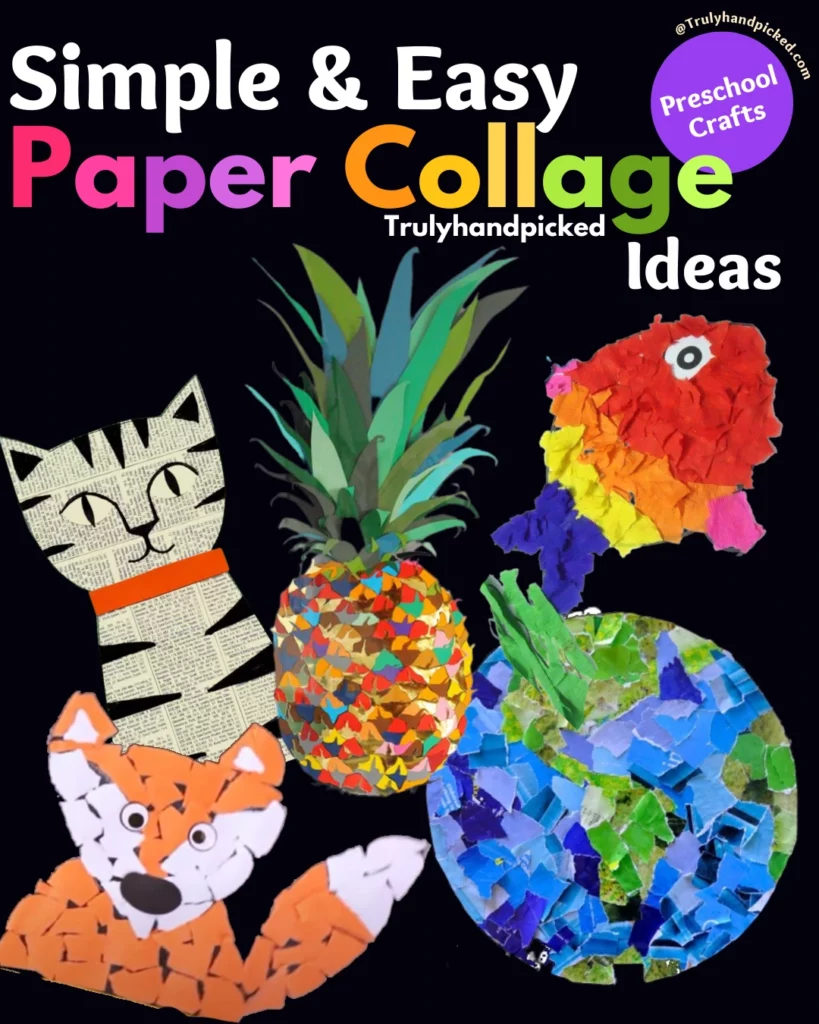 Paper collage Fox – Youtube
Earth day craft paper collage earth  – Iheartcraft
Paper collage rainbow fish – artsycraftsymom 
Easy newspaper cat – Artproject
Paper collage pineapple art Youtube
Rainbow Paper Collage Craft Idea for Preschool Kids
Paper collage pizza – pretend and play activity – artycraftymom
Gluing paper collage sunflower – artycraftykids
Making a forest with magazine cuts and paper collage – first palette
Autumn Scene – Fall leaves paper collage idea –thefrugalcrafter 
Make a paper collage santa claus for Christmas with scrap magazine cover – iheartcraftythings
Autumn season leaves collage with paper leaves on windows –innerchildfun


Why Paper Collage & Paper Collage Ideas for Kids
Paper collage is a fun, creative, and inexpensive way to involve kids in the art to make a picture out of paper.
Kids will love the instant gratification of creating their own art just by tearing, cutting, gluing, and stacking pieces of paper.
Just like the other craft activities this also gives kids a sense of accomplishment and gives them a chance to develop fine motor skills.
These collages can also be used in a variety of ways such as decorating your child's bedroom, hanging in the nursery, or on the walls at home.
It's an easy craft activity for kids ages 4+ years old. And Yes, it is an excellent way for kids to express themselves and their imagination.
The materials needed for paper collage are just glue, scissors, paper, and paint.
Make a paper collage from anything you can find – stickers, leaves, napkins, paper clips, etc.
You could even use old magazines or whiteboard pages as templates. All you need is lots of paper and glue!
While paper collage ideas for kids are endless, here are some of our favorite DIY projects:
1. Paper collage trees
2. Paper collage people
3. Paper collage animals
4. Paper collage horses
5. Paper collage cars
Paper collage rainbow – krokotak