#72 Special Things to do in Switzerland, Attractions, Food, Festival & Cost of living
Things to do in Neuchatel: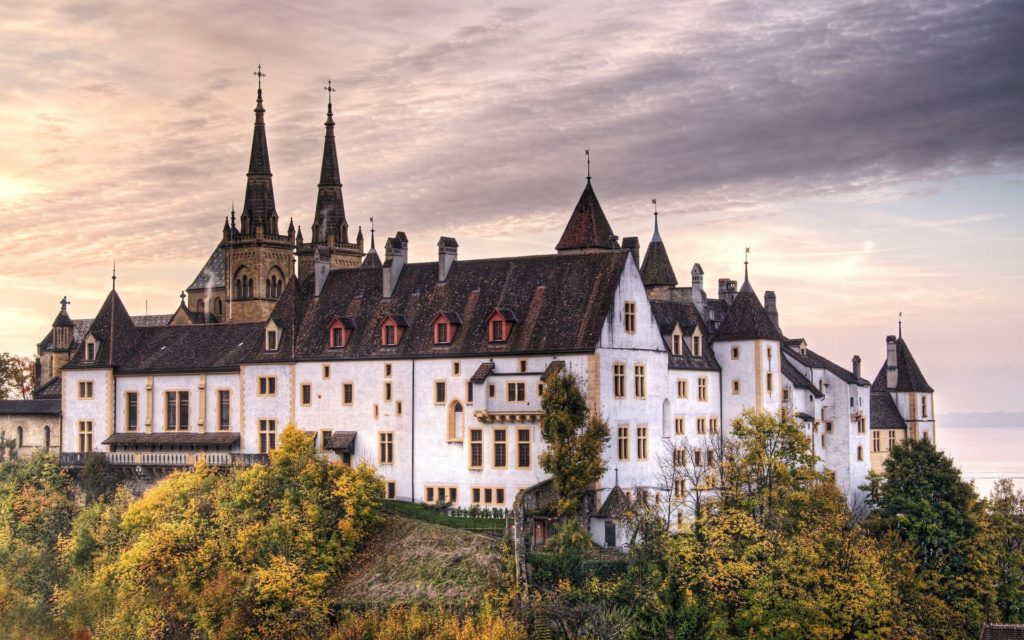 Neuchatel is a three lakes region which is noted for the medieval old town, Jura Mountain and enthralling view of forests along with some amazing wildlife areas. If you are visiting then, you should not avoid the mesmerizing views of this region, which is also enriched with some more wonderful tourist spots!
Creux du Van, Lac de Neuchatel, the Collegial church, The Chateau, Chaumont Panoramic Funicular Railway, Botanical Garden, Place Pury, Musee d'Art et d'Historie, Museum d'historie naturelle, Galerie Quint, Casino Neuchatel, along with some more museums, galleries and Gift shops are those mentionable spots which must visit in Neuchatel place during your Switzerland visit.
Neuchatel is another beautiful place of Switzerland that is also enriched with lots of attractive spots and these three are just the brightest instances of them-
Creux du Van: Creux du Van is the forest area of Neuchâtel that is enriched with trees, parks, wildlife areas and mountain views. This is regarded as the heaven for the wildlife photographers and trackers.
The Collegiale Church: This is the sacred religious place of this Swiss canton that has various historical objects in itself and beautifully embellished with lake and outstanding perks. Though this gothic church is situated in the hills but, the amazing beauty of this church make this one of a worth a watch place of Switzerland!
The Chateau: This is a spectacular place of the canton with several historic walking areas, castles, architectural buildings, historic sites and other ancient landmarks of this country. So, any traveler, who stopover in this area, should not miss one percent of this place for anything else!
It is quite impractical to give detail about every single famous thing of Switzerland in just one article! Consequently, we have mentioned top 10 places of this heaven, which you must not miss if come once in this country! Afterward, we are giving small intros of a few more highlighted places from this region, let's take a look-
Lugano: It is a beautiful city that is situated in southern Switzerland and noted for the luxurious resorts, Lakeside promenade, and its old town territories.
Grindelwald: This is an enchanting village of Switzerland which is famous for Alps base skiing, hiking, and climbing.
Lauterbrunnen: This one also a noted countryside of Switzerland that is highly appreciated for Swiss Alps and Stabbach Falls.
Locarno: This one is an Italian-speaking city of Switzerland, where Lake Maggiore and Castello Visconteo are considered the main attractions of several of world travelers.
Zug: It is a tiny town of Switzerland which is filled with lots of mesmerizing landscaping views and noted for various museums, prehistory, churches, lakes and winter spots.
Wengen: Another captivating village of Switzerland where people could keep involving themselves with verities of fun activities like Alpine skiing, hiking, along with ski resorts and chalets.
Schaffhausen: This is a famous city of northern Switzerland that is massively appreciated for its divining natural beauty of waterfalls, rivers, and castles.
Sion: It is the capital of Swiss canton of Valais and famous for chateaus, museums, wine shops and skiing.
Arosa: This is a tiny Swiss municipality which is immensely noted for ski resorts, chalets, and winter spots along for some hiking and skiing activity.
Solothurn: Another blissful city of Switzerland this is enriched with several sacred cathedrals, churches and Oktoberfest along with theaters and art museums.
Adelboden: it is one more mentionable village of Swiss country which can offer you sledding, hiking, skiing, along with some mesmerizing views of ski resorts and chalet.
Einsiedeln: It is district municipality in the canton of the Schwyz state of Switzerland, which is mostly noted for the several monasteries, criss-cross country skiing, hiking, sledding, and beach volleyball playing.
Leukerbad, Winterthur, Scuol, Vevey, Baden, Ascona, Bellinzona, Pontrisina, etc. are some more mentionable places from this country of charming landscapes.
Switzerland attractions reference myswitzerland.